October 22, 2021
My mother used to say "kahit anong tayog ang narating ng tao, dapat ang dalawang paa nya lagi pa rin nakaapak sa lupa." I think hers was a lesson in humility. No matter who you are and what you are, always be humble.
A visit to my hometown keeps me grounded.  Apak na apak ang dalawang paa ko sa lupa.  Even if I haven't lived there for about 40 years, even if I very seldom visit, I still feel connected to our town.
There is no disconnect. Meron pa rin akong punto. My favorite foods are still inihaw na ayungin na nilagyan ng kulong tubig, asin, at ginayat na sibuyas, sopas Binangonan-style, inihaw na dalag na merong sawsawan na toyo at kalamansi, pinangat na dalag na merong itlog ng dalag, balaw-balaw, sinigang na kanduli (buntot ang akin), ginataang hipon, yung maliit pero malaki ang ulo, ewan kung anong tawag dun.
Our driver, whom I fondly called Kuya Dong(+), even after he'd been retired from my parents' employ, still sent me ginataang hipon once in a while.  His wife Ate Susing would cook it and they would send to us here in Manila. Iglesia sila ni Kristo. Even if they didn't traditionally celebrate Christmas, they would come to our house and join us for the noche buena. Their son Boy, left for abroad to work, and one time he came home, they offered to buy a portion of the lot I inherited from my parents. The sale was overtaken by events. Nalimutan ko na about it. Busy na rin ako. And a few years ago I executed a deed of sale so they could transfer the lot under their name even if I didn't get paid. I just gave the lot, mabait naman sila sa parents ko and to us. Their children and grandchildren live in the property.
Edmund and I's first stop was at the barangay's office in Libis.  One thing that I like about our town is I still have a lot of relatives from my mother's side.  It's rare that would walk into a place without a single person  calling my mom either tiya or lola.  Dati nung buhay pa ang mama ko, meron pang someone calling her 'insan (cousin).  I suppose patay na sila lahat dahil mga 90 – 100 na yang age group na yan.  If someone suddenly appears in front of me looking for her pinsang  Felicing,  medyo kakabahan ako kasi malamang multo na yan na hindi pa naka-move on.
Me with Kapitan Kurdo Santos, ay nalimutan ko names nila.  Yung isa I think pinsan ni Malou Mallari – Panelo.
Inaaya nila ako maglakad to Wawa, to look at the small lot belonging to my parents,  Edmund was game but I didn't want to walk far.  Mainit and actually I was afraid of the dogs.  And daming asong pagala-gala.  Baka makagat ako.  My sister was bitten by a dog when she was little.  She and her yaya were walking to my father's itikan,  merong kahul ng kahol na askal,  binugaw nila using an umbrella, hayun, the dog jumped on my little sister and bit her.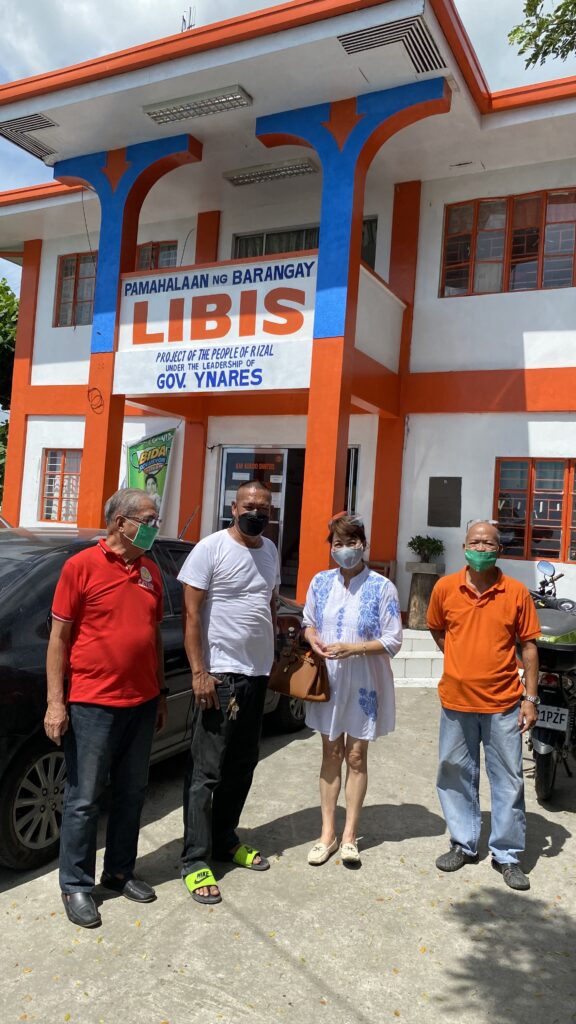 This area used to be called aplaya, a swamp beside the Laguna Lake. This was where the annual Holy Week Passion of Christ was being held (Sinakulo). The bigger crowd attraction was the tirimbi, pospas, and inihaw na pusit.
The area is now full of houses, some  stores, fish port , medical building and barangay office.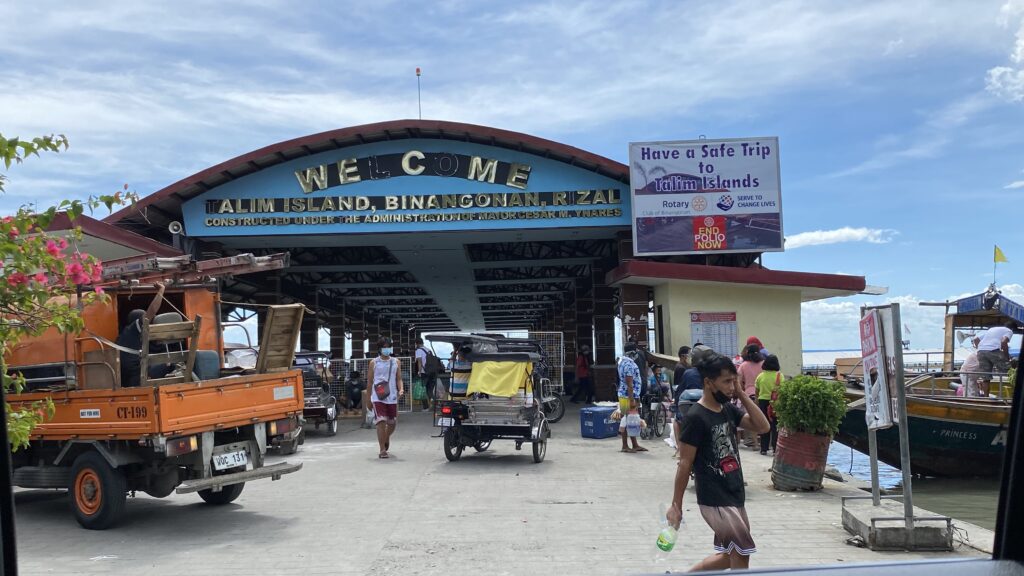 Our second stop was at the Pila-pila church, or Parish of Nuestra Senyors de los Angeles.
I actually like it better to visit the church when there's no Holy Mass.  I can pray quietly and I am not distracted.  For me, a short prayer from the heart is more meaningful than sitting there for one and a half hours while my mind was wandering.  And most of the time the priest go on a monologue na pasiku-sikot.  Parang hindi makatagos .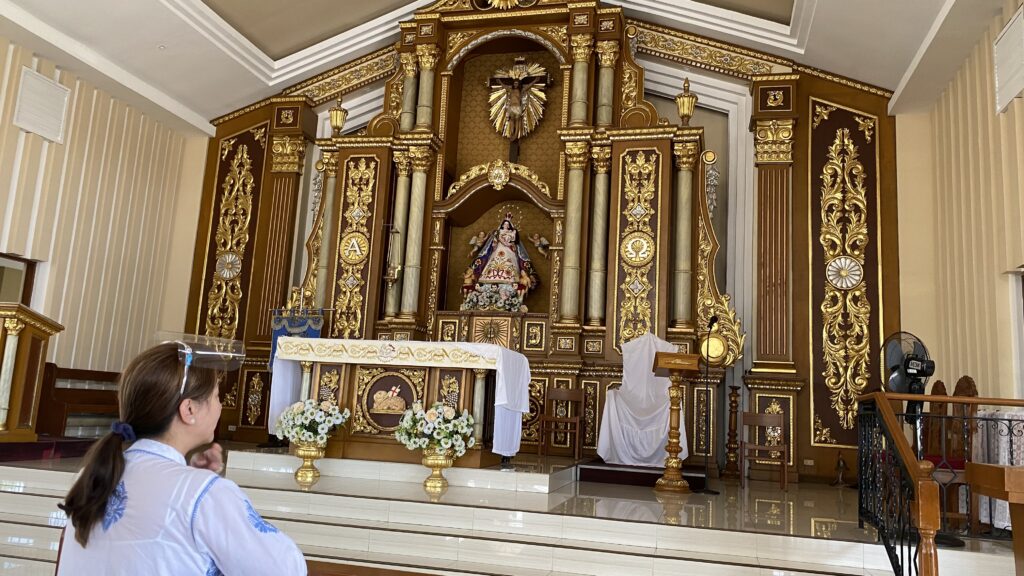 Many residents love to donate dresses for Mama Mary.   My mom did too.   I also donated a dress or two for her.  I think every single one is happy to give her a dress.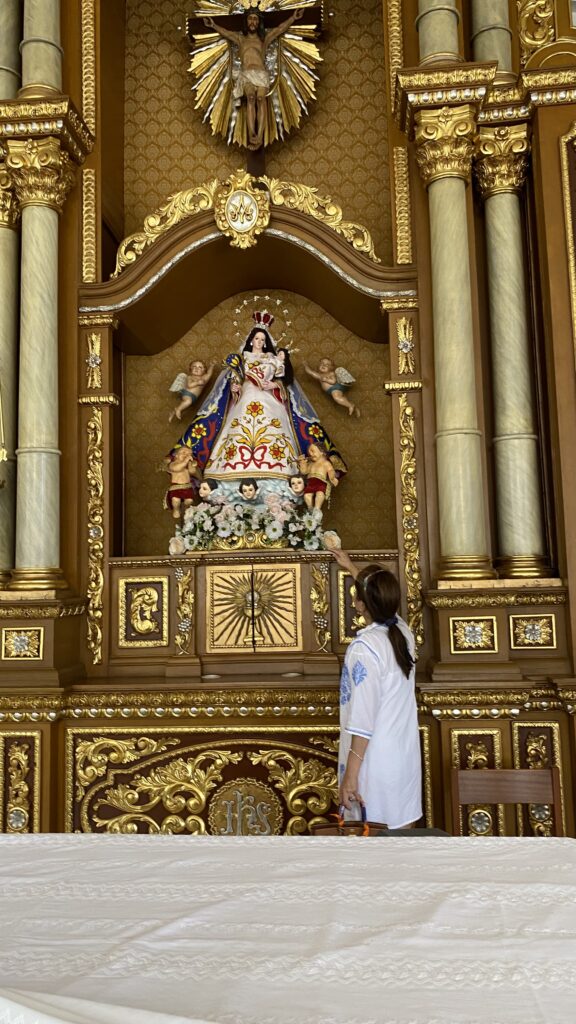 I am not a fan of displaying a kabaong inside the cburch to put prayer requests for the departed.  I find it creepy.  It's just me, maybe others find this a novelty.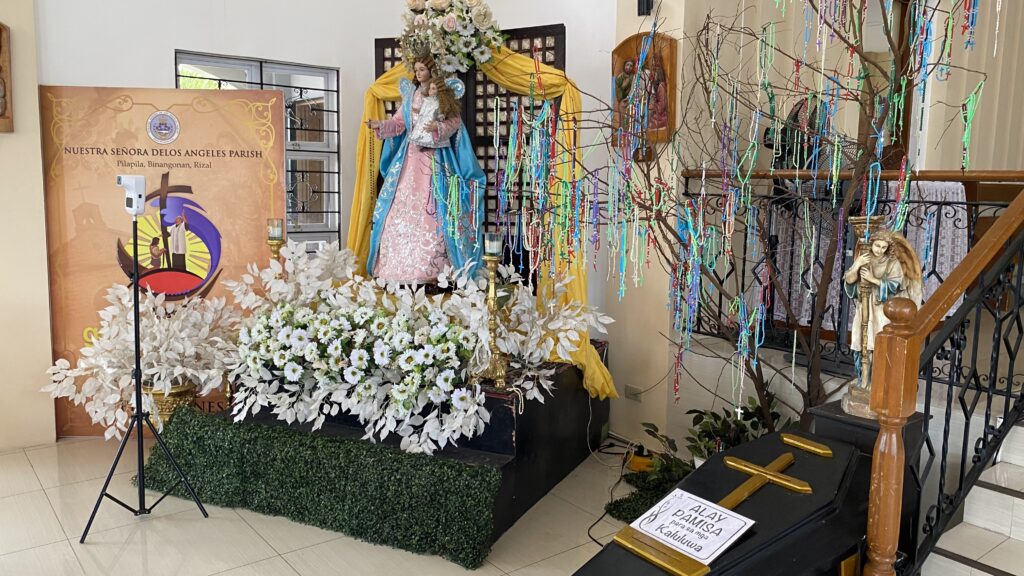 A quick stop at the cemetery.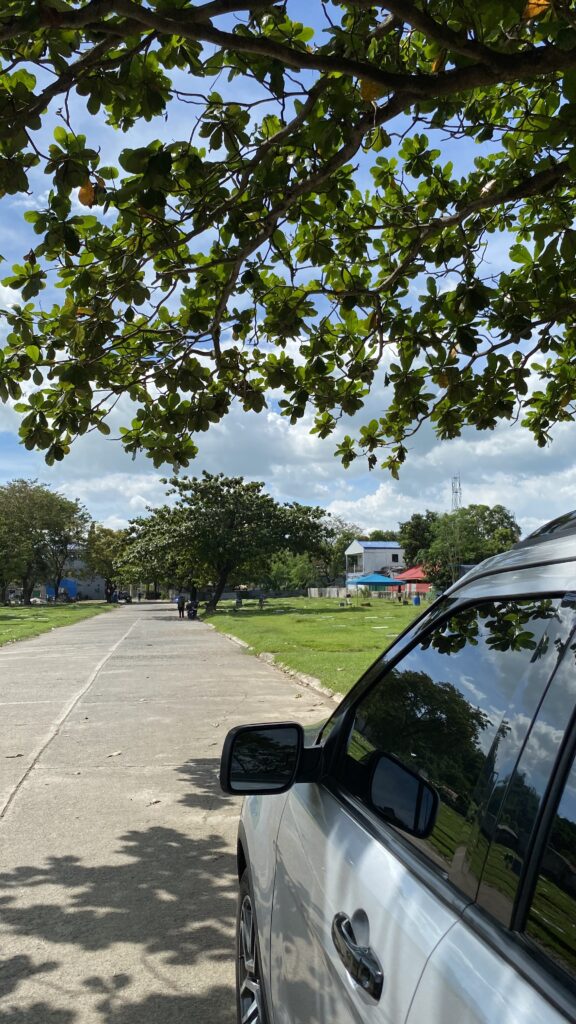 d
Next is a visit to St. Ursula Parish Church.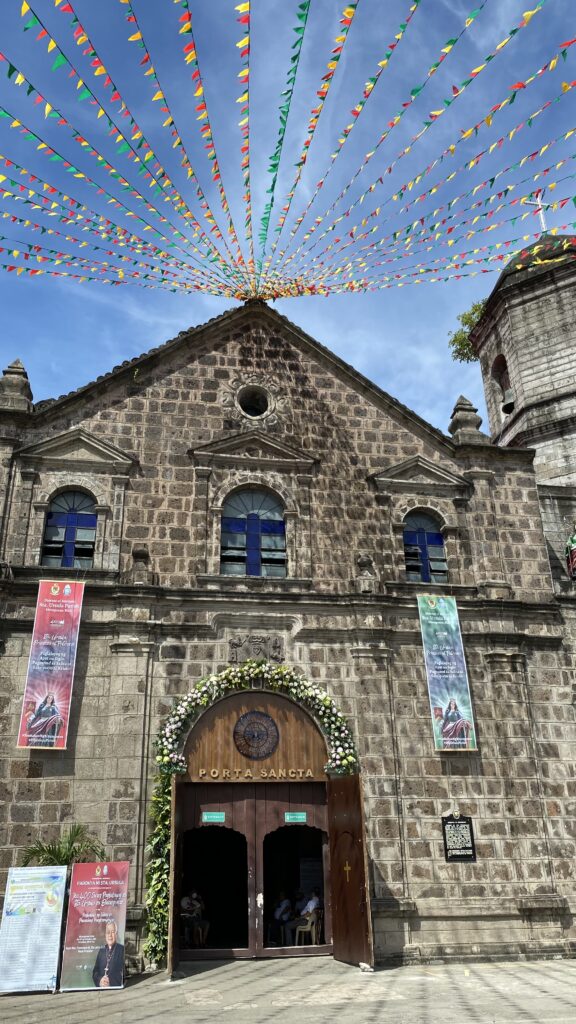 It's nice to walk down the aisle here.  It would be a long and dramatic walk to the altar.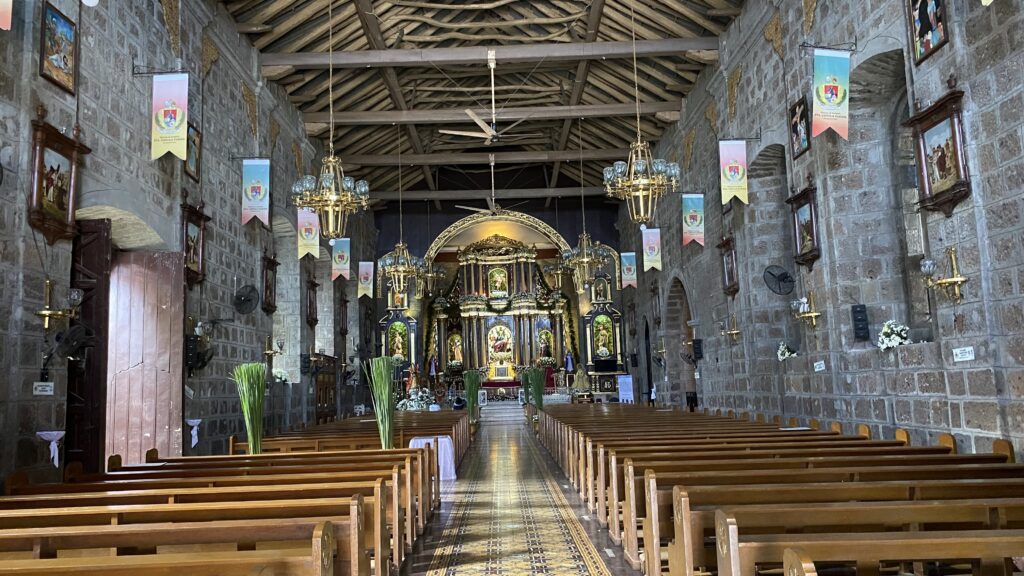 Sa bagal nung bride baka pagdating nya sa altar eh nagbago na yung isip ng groom. Tumakbo na,   He will have a lot of time staring at your face while you're stepping foot by foot towards him.  It's extremely important to look pretty on your wedding day.  Get the best make-up artist.  Kahit pangit ka talaga before and after the wedding.  Basta during your wedding, pang Miss Universe ka.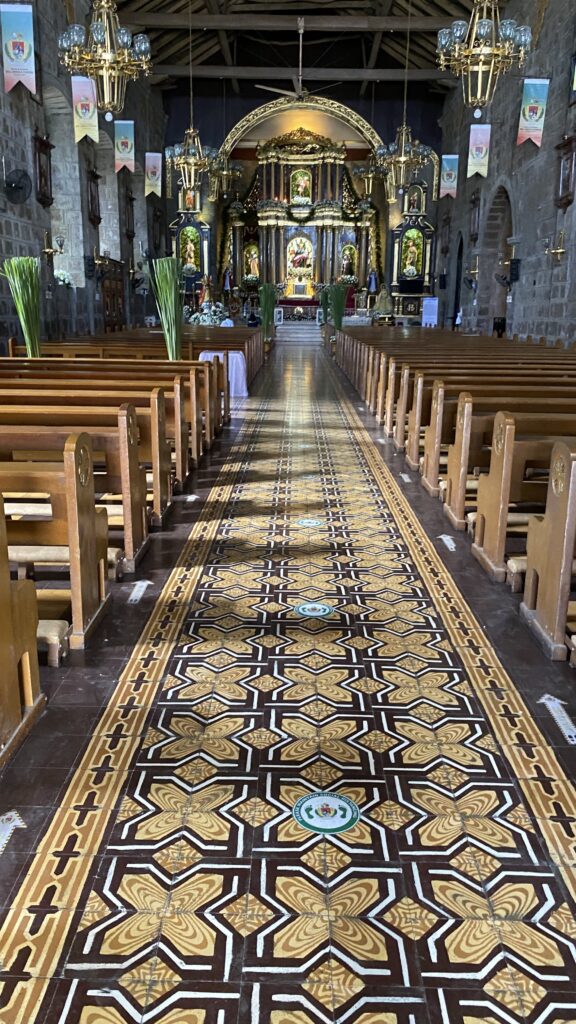 My dearest St. Ursula.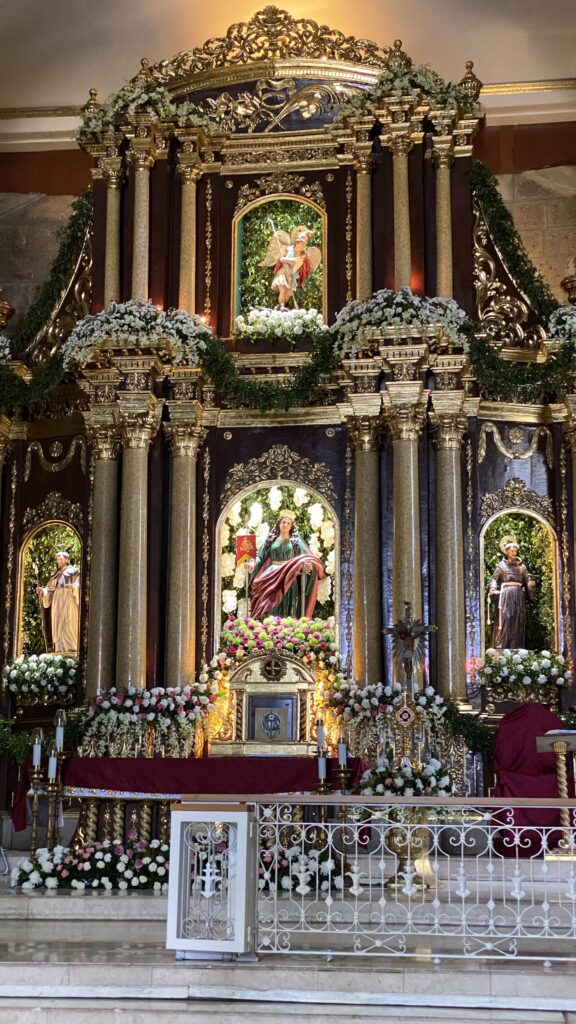 j


We'll renew our vows here on our 75th wedding anniversary.  Naka wheel chair na kami  nun, and sleeping while being pushed to the altar.  It's going to be a long ride from the door to the altar. Paggising namin, we'll look at each other "sino kaaaa???"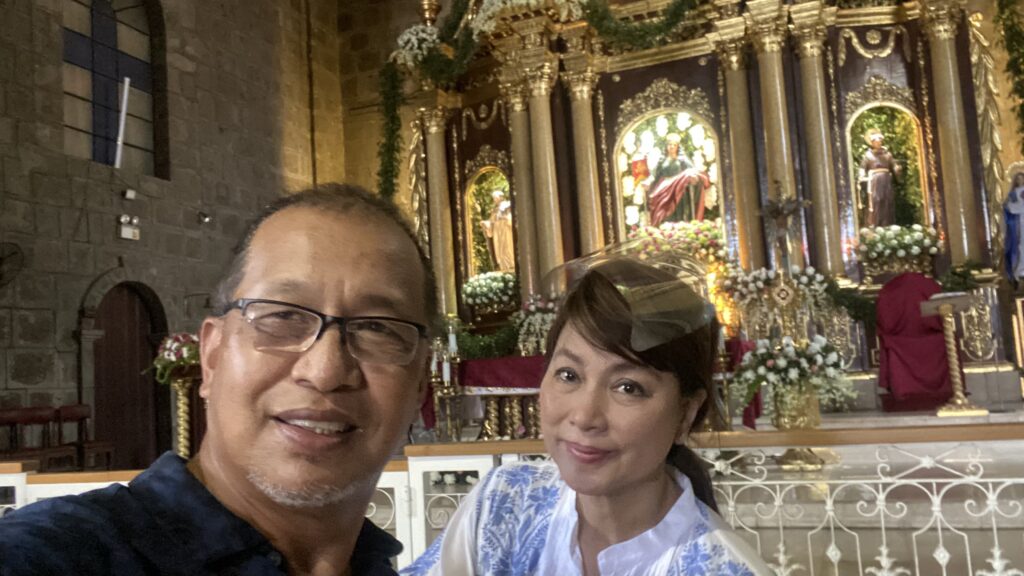 n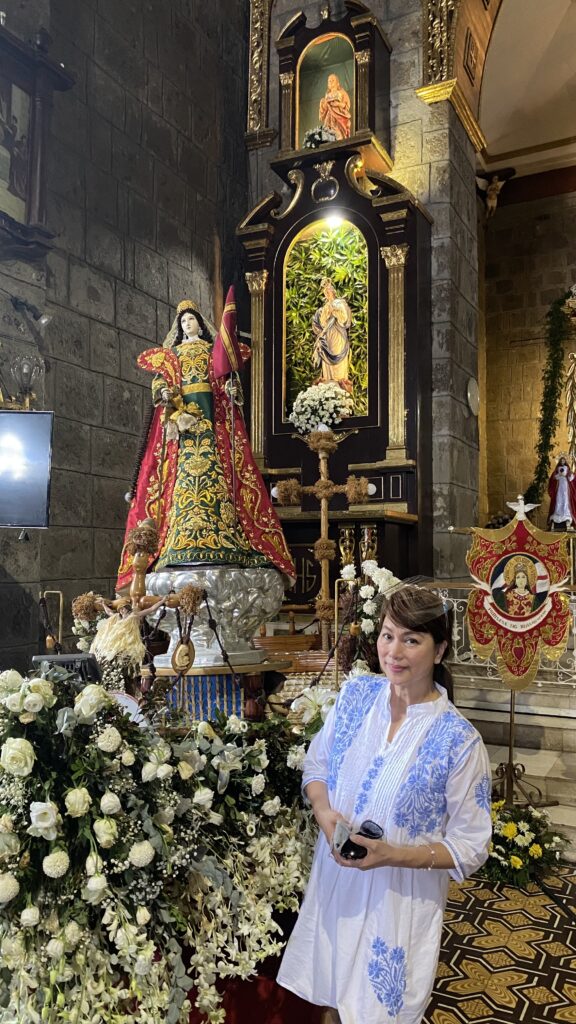 Viva Santa Ursula, please continue to be on our side.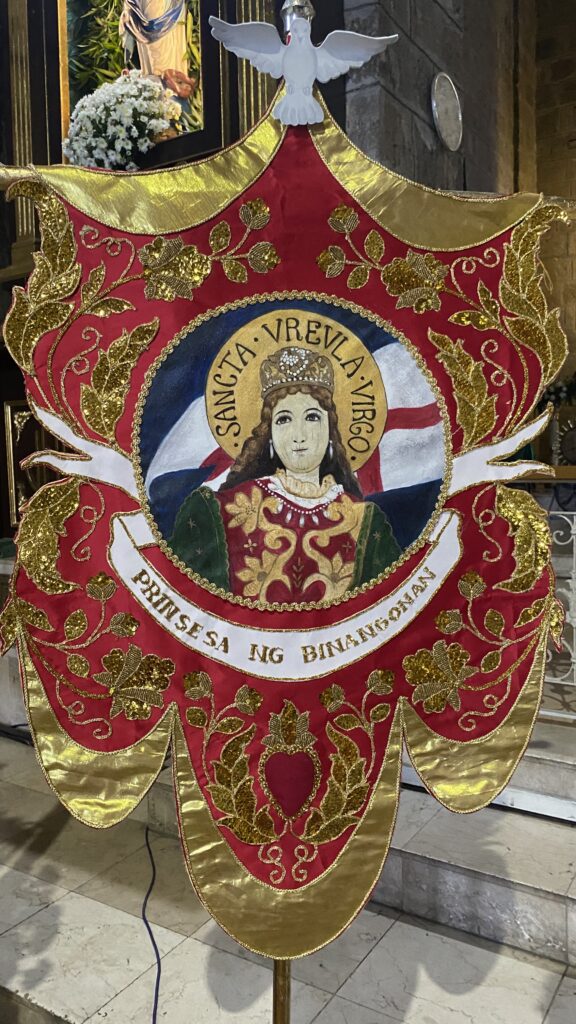 q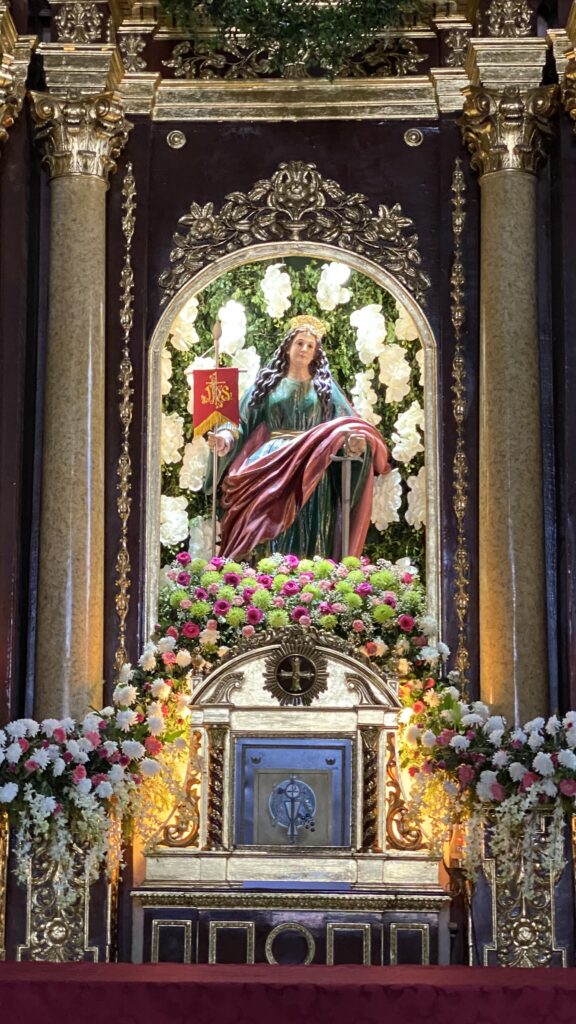 r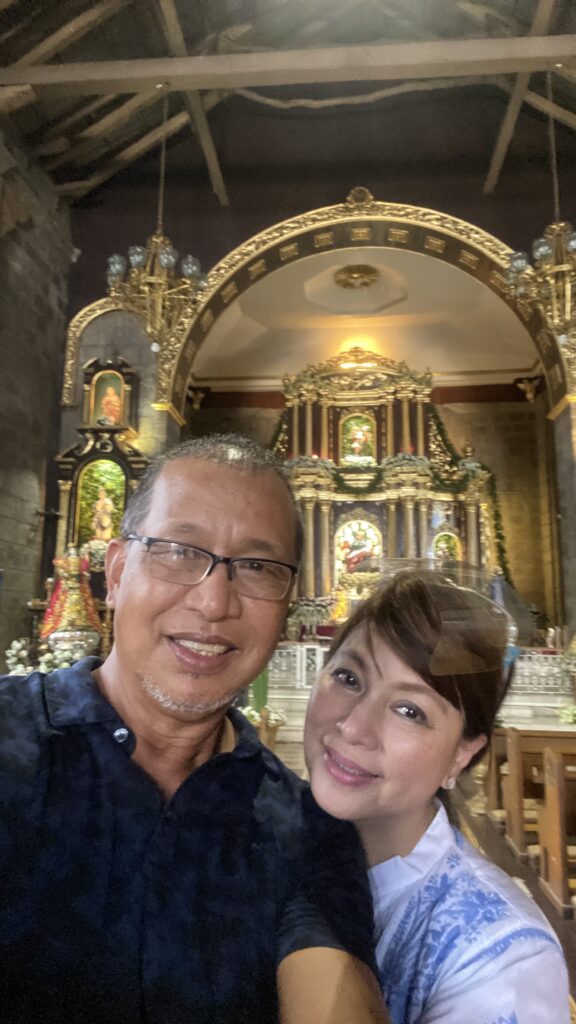 s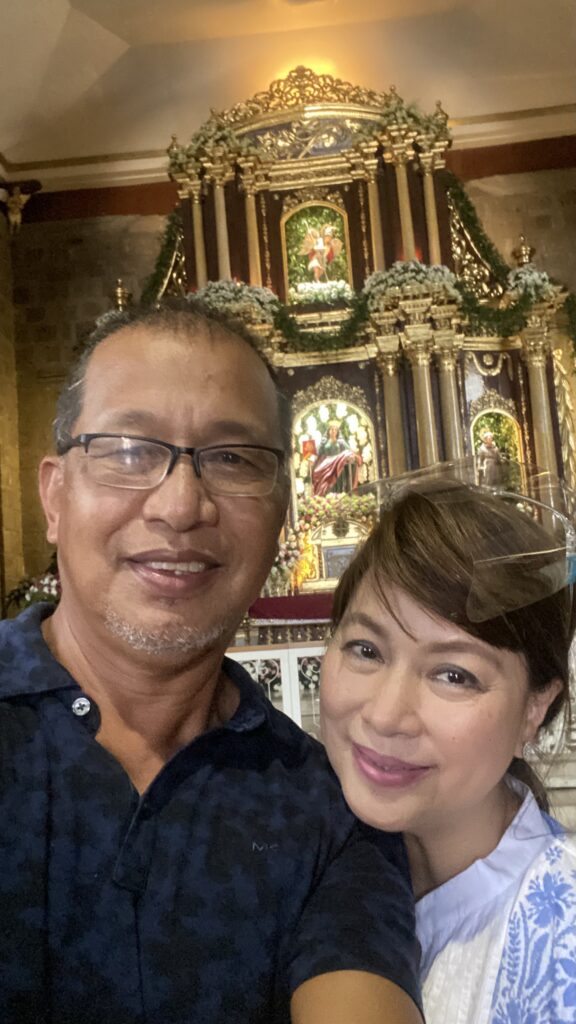 I hope this edifice still stands hundreds of years from now.


u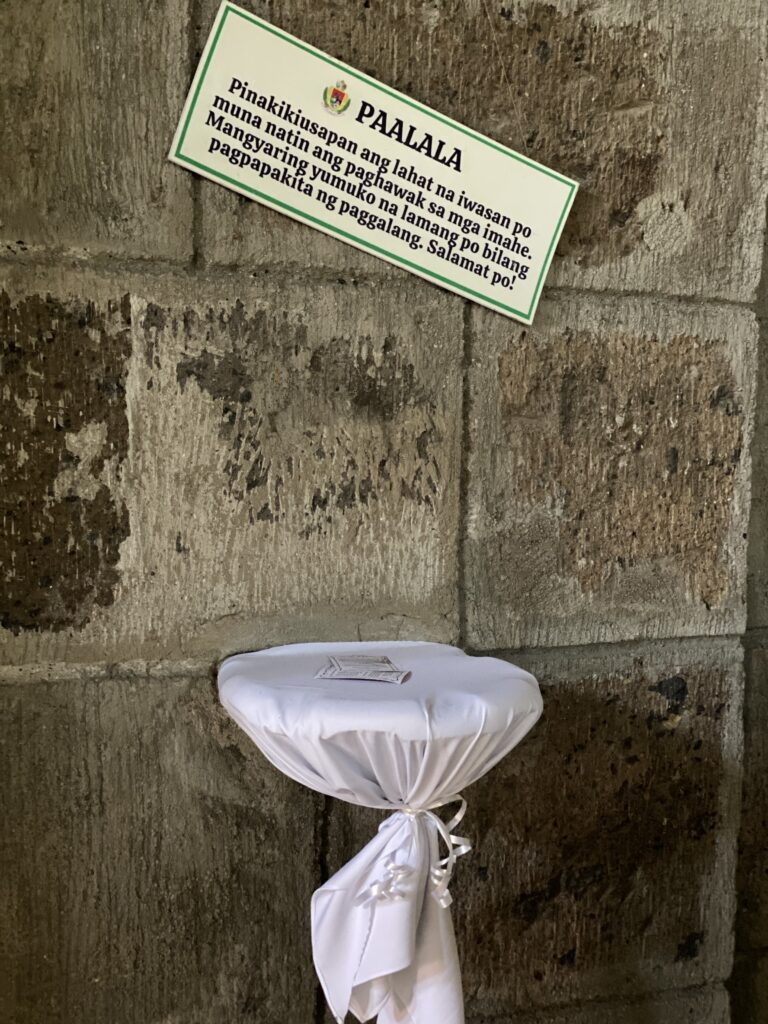 I wanted to offer masses but the parish  office was closed.