Dec 9, 2020
The first thing I noticed when I entered my room was a distinct envelope on my office desk. It was an invitation for Pres. Fidel V. Ramos's 92nd birthday.
FVR served as the 12th President of the Philippines from 1992 to 1998.
He celebrates the same birthday as Kuya Lito, March 18.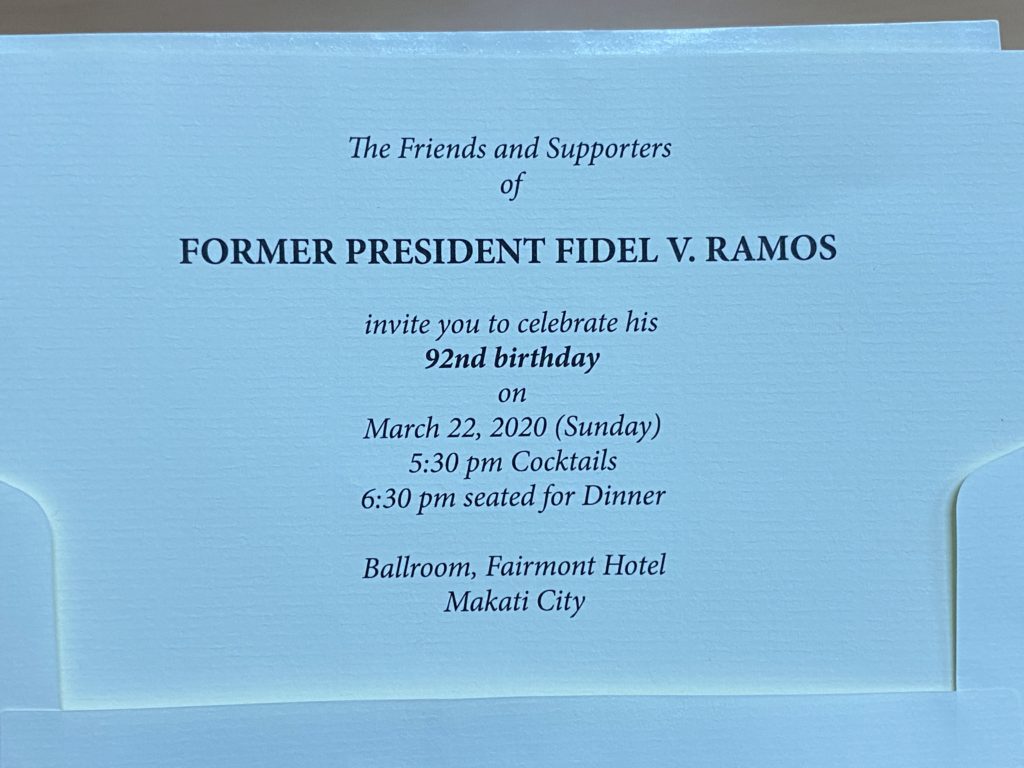 Yen and I left for the US on Feb 25 in time for her destination wedding on March 15.   Lockdown began on March 16.
Aside from missing FVR'S birthday party,  I also missed the big birthday celebration in Camp Aguinaldo of FVR's best friend,  Ret. Brig. General Jose Magno.
The last time I visited FVR at his office in Makati,  he mentioned that his apo, Samuel Ramos Jones, the son of Angel Ramos-Jones, his daughter,  graduated from Yale University.  He was evidently so proud of Sam. He also spoke about his pace maker's battery.
I miss FVR.  Traveling with him and his cabinet secretaries,  during his presidency promoting our country's trade and investments, was one of the highlights of my life.   I was still very young then, in my mid to late 30s. We circled the world attending trade briefings and Filipino community gatherings in his honor. Our itineraries were always hectic because we stayed in one country or city  for a day or, half a day, or the most was for two nights.  We were always on the go.  We didn't have time to do city tours.  We just attended official meetings while Pres. Ramos met with heads of states. To be included in his state visits and in state dinners was a big honor and such a great privilege.
I would like to visit him in January 2021 but I am afraid to be a potential virus carrier. If I can't see him in person maybe I'll just write him a letter. I heard his memory is failing baka when he gets my letter he'll wonder sino ako.
I wish him and Mrs. Ming Ramos good health and many more happy years with their children, grandkids, friends and family.
Belated happy 92nd birthday po.
#philippinepresident #bestpresident #mabuhay #mabuhayangpilipinas #fidelvaldezramos #businessdelegation #statevisits #loveyourcountry