This was a trip just like in the movies. Escape from Manila, The Zombies, Apocalypse Now.
After having been advised that I would only get 3 vaccines for 3 people on June 15 or sometime in July made me seriously think to fly out, escape, fast. My husband was right all along. "Alis na tayo 'tart".
From the passport renewal to getting PAL seats, and finally flying out and making it to America is one and a half months of being on the edge. It's a daily feeling of wanting to survive and come out smiling from this ordeal. Daily FB announcements of who died today and yesterday from Covid added to the anxiety of not knowing whether I would still reach my next birthday, or I will be a viuda soon. Nakaka-praning.
I told my husband hindi sya pwedeng mamatay kasi mahihirapan ako. Akala nya mahihirapan ako pag nawala sya. Yun pala ang sasabihin ko eh mahihirapan akong pumili ng ipapalit sa kanya. Mag-iinterview pa ako. What is your handicap? Must be a minimum of 4 over. Do you love gardening? Do you know how to keep the aquarium clean and the fish healthy?
Can you do plumbing, electrical, carpentry, masonry, automotive repairs? Can you clean the gutters (alulod) and baradong canal? Can you fix the broken washing machine? Can you pukpok the ipises and use tsinelas to squash the spiders? Do you love dogs?  Can you memorize the names of all our dogs? Pixie, Pearl, Lucy, Hugo, Stella, Jack, Choco, Latte, Stitch, Cali, Jersey, Tekla, Tarzan? Do you also do grooming and general dog care like shampoo, toothbrush, clip nails, cut fur?    Do you mind walking our dogs two times a week?   Big shoes to fill.  All around contractor, foreman, handyman, gardener, laborer, and beterinaryo pala kailangan.
Edmund said nag-aambisyon pa daw ako na meron pang liligaw sa akin pag nawala sya. Nay ko, hindi ambisyon yan. Reality. Di ba men like younger women? Ang dami-dami dyan mga retired men ages 95 and above. Meron pa ngang 102. They like women younger than they are. And since they're retired, they have all the time in the world to do gardening, fishing, golf, plumbing, electrical, hiking etc. All of them can qualify, and it's going to be hard to choose which one, as long as they have a complete medical clearance from their doctors, walang hika, walang TB, covid, hindi pa ulyanin, can read or write, can be a candidate. The labor department said we cannot discriminate against race, age, weight, etc.
Yes, we made it. We flew out of Manila on May 5, 2021.
So here's what we went through.
1. A negative RT/PCR test result taken within 72 hours prior to our flight was required. So on May 3 at 3:30 pm we all had RT/PCR swab tests at the Cardinal Santos Hospital in San Juan, one of PAL's accredited testing centers. When Oyen booked our appointments online, the fee was only P3,600 but when we arrived at the testing site, the fee increased to P4,200 / person. So bayad uli kami ng dagdag.
2. We were lucky to be the only people there except for the cashiers, security guards, and lab technicians, or medical technologists. There was a guy but he was ahead of us so by the time we got there, he was almost done.
We watched intently while they were getting the swab test kits to make sure those were still sealed, unused, brand-new. In Indonesia, a lab was caught re-using the swabs. The technicians wash, dry, reuse. Que barbaridad. The mere thought makes me puke already. Mga balasubas at salahula. Yikes!!!
3. Our test results came out in the afternoon of May 4. Online. First was Oyen's. Nerbyos na si Mister Yee bakit daw sa kanya wala pa, baka daw positive sya. Eh kasi he didn't go online to check it. I printed our negative results but my husband was OC kailangan daw original so he personally went to Cardinal to get the original copies only to be told "sir wala ng original, ipi-print na lang." He, however, came home with three white envelopes, original. At least, hindi nasayang ang pagod nya, meron kaming dagdag kalat sa bahay na tatlong pirasong envelopes.
4. Look at your plane tickets. Remember which terminal. We went to Terminal 2, buti na lang our driver hasn't left yet when the security guard approached us to say that PAL leaves from Terminal 1. So lipat kami. This was not the first time that this happened to us. I think third time na ito. One time Edmund and I were dropped off at Naia 1. Our driver had left already before we found out we were at the wrong terminal so we took a cab to bring us to Terminal 2.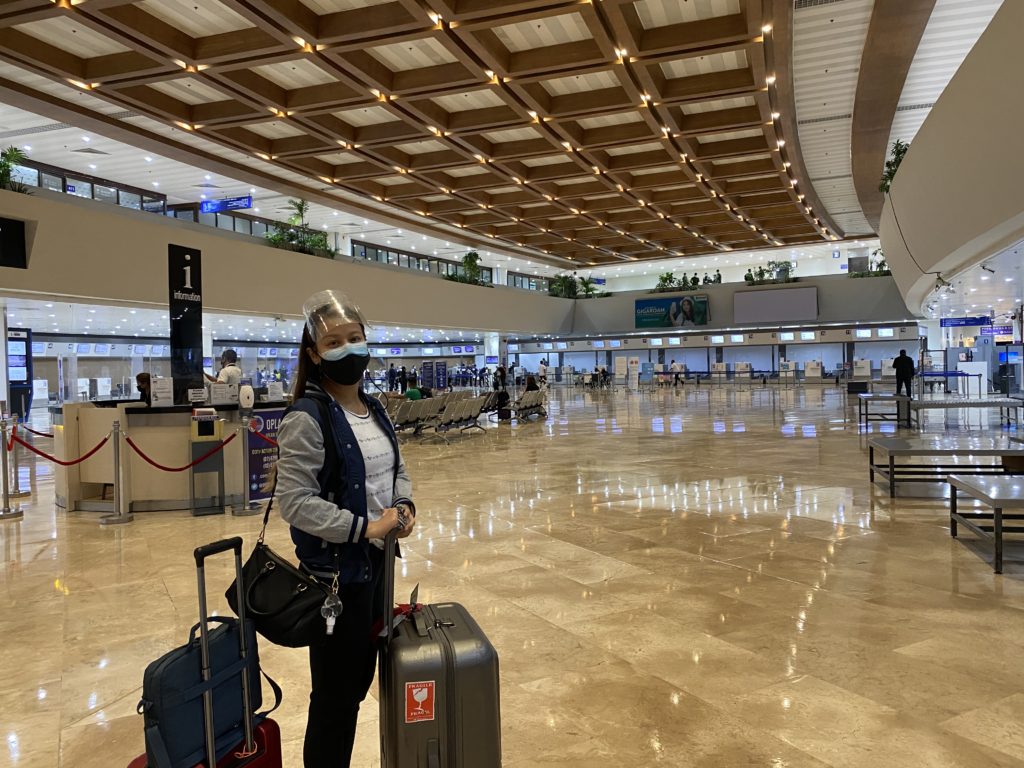 5. Of all the times that we should have traveled light, we chose to travel heavy this time. Ewan ba. Our clothes, shoes, bags, keep traveling back and forth. We don't get to use or wear them naman. After feeling so tired, we promised that next time, talagang-talaga na. We'll just travel light.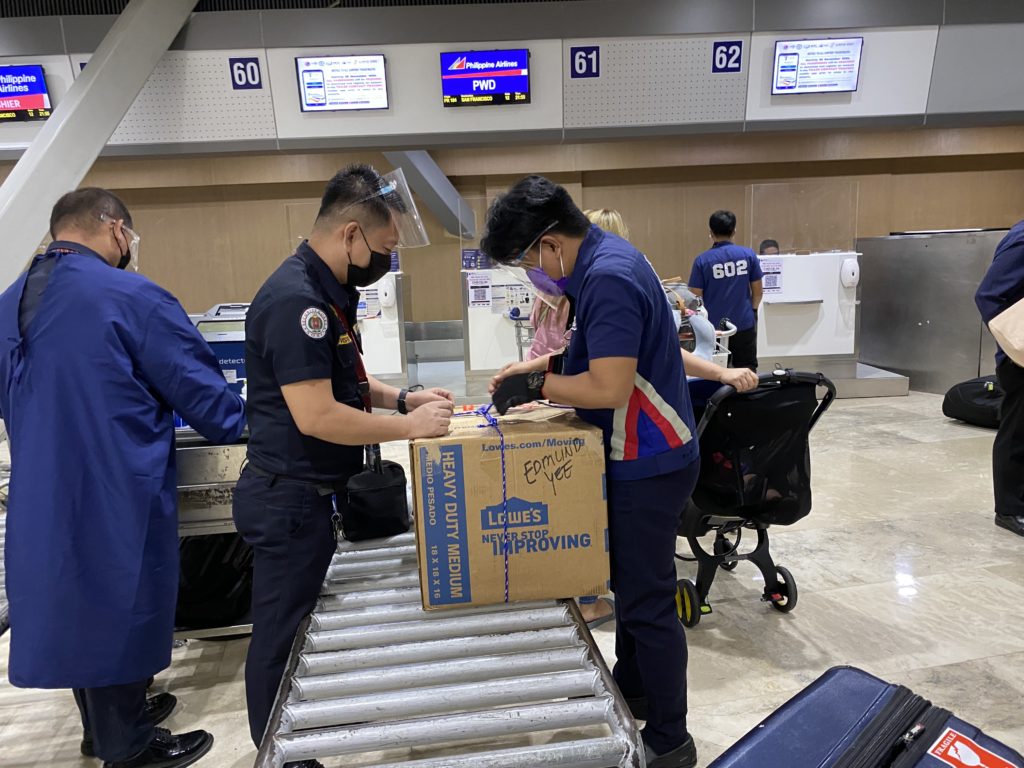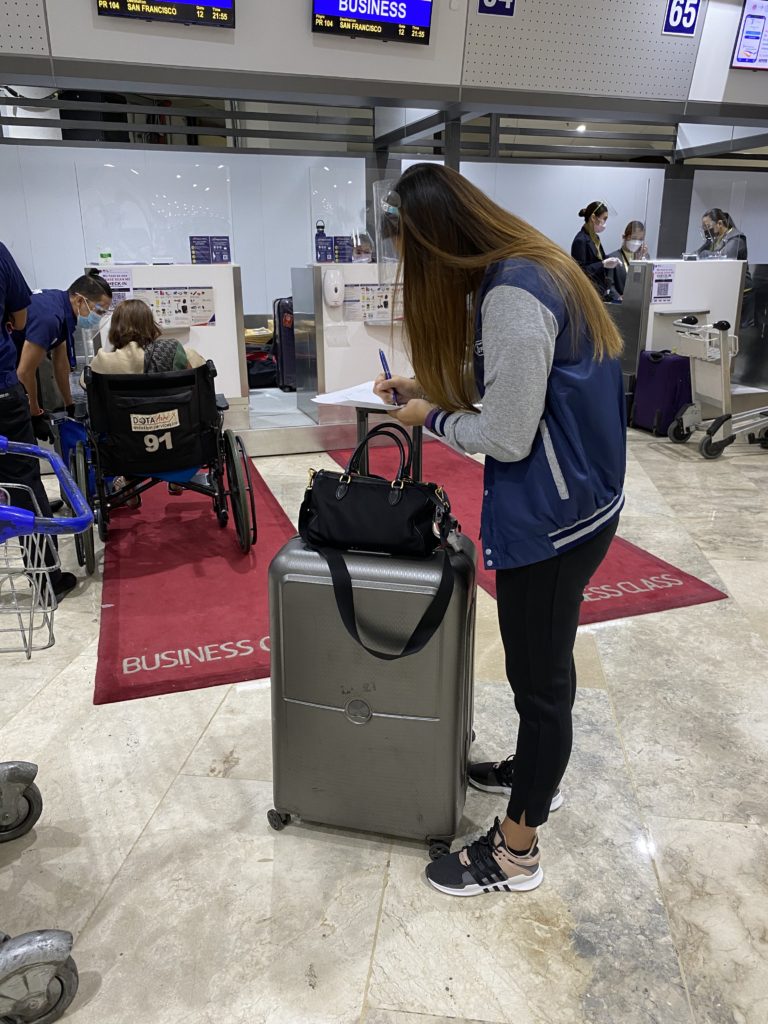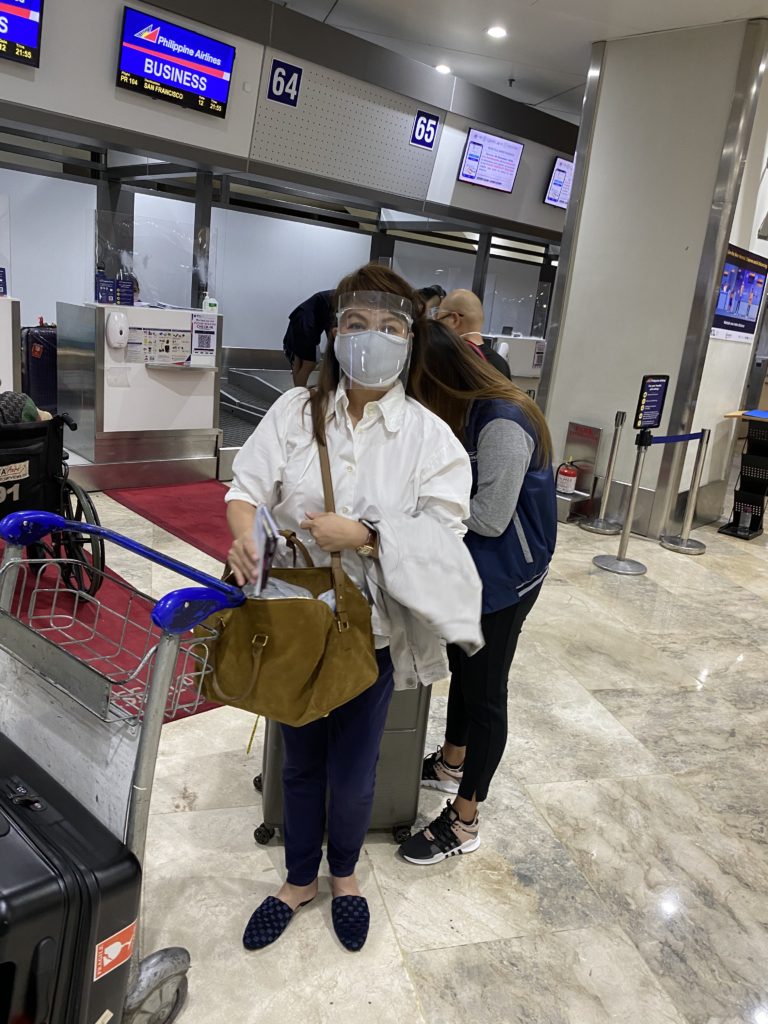 I mentioned travel light because all checked-in luggage, bags, were opened and checked for a bomb or drug residue. Ang hirap because we brought a lot of stuff. Pasalubong, our medicines, shoes, etc.
Meron pa kaming puto ube, okoy, halaya, pastillas de leche, sampaloc candies, documents, etc.
I wore the blue slip-on sandals I have recently discovered tucked away in my cabinet.  Bad decision.  Minutes pa lang, masakit na paa ko.  But na lang as a last minute plan B,  I grabbed a pair of Sketchers and dumped it in my bag.
E—–"Pa branded-branded pa, Sketchers din naman ang bagsak. Good old Sketchers.  Fifteen dollars lang."
A—–"Hindi naman fifteen,  forty five, sa outlet."  (or maybe $39.99)
6. At the check-in counter, aside from our passports, the negative covid test results, tickets, they looked for our travel insurance certificate or card. We have medical insurance cards which include travel insurance. But if you happen not to have travel insurance, they will ask you to buy from another counter. It's better that you secure this ahead of time to avoid delay or inconvenience.
7. We purchased our tickets thru PAL's USA office so we had to pay for the travel tax at the airport.
8. The immigration officer looked for our travel insurance. I heard him saying that "in case you get sick while abroad." Before the pandemic, this wasn't required. But since there's covid, mabuti na rin meron in case merong magkasakit.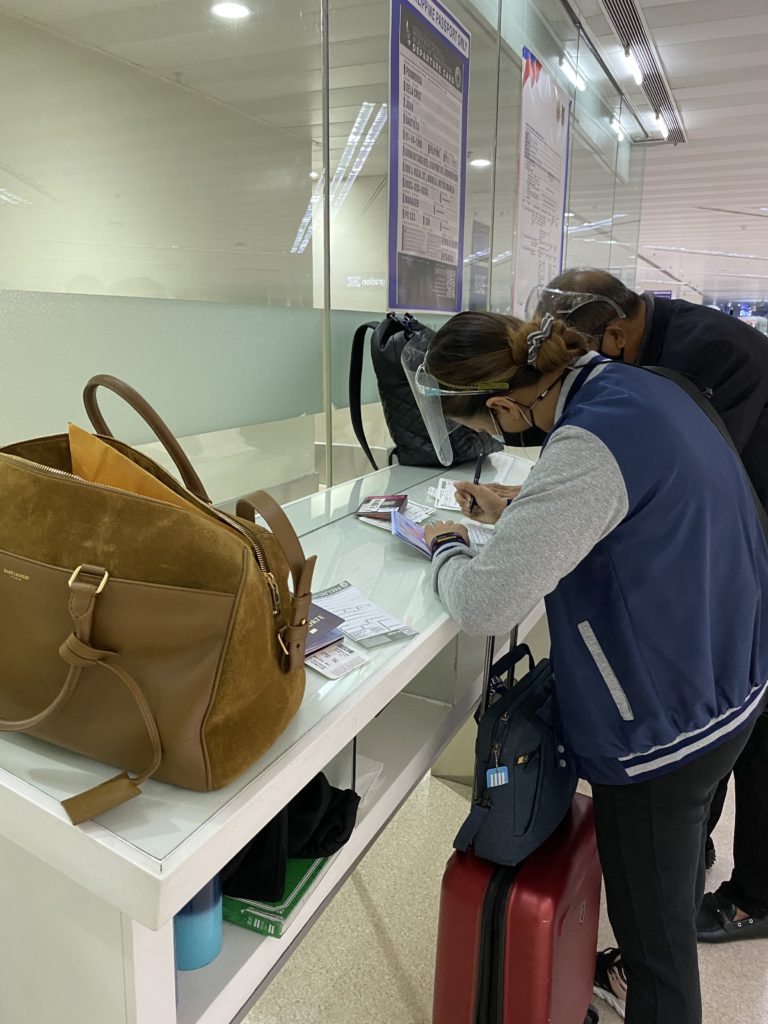 9. Mabuhay Lounge was closed, maybe to avoid many people congregating in one enclosed area, or to avoid food contamination. We made istambay at Starbucks.
10. Boarding time– notice the change in footwear.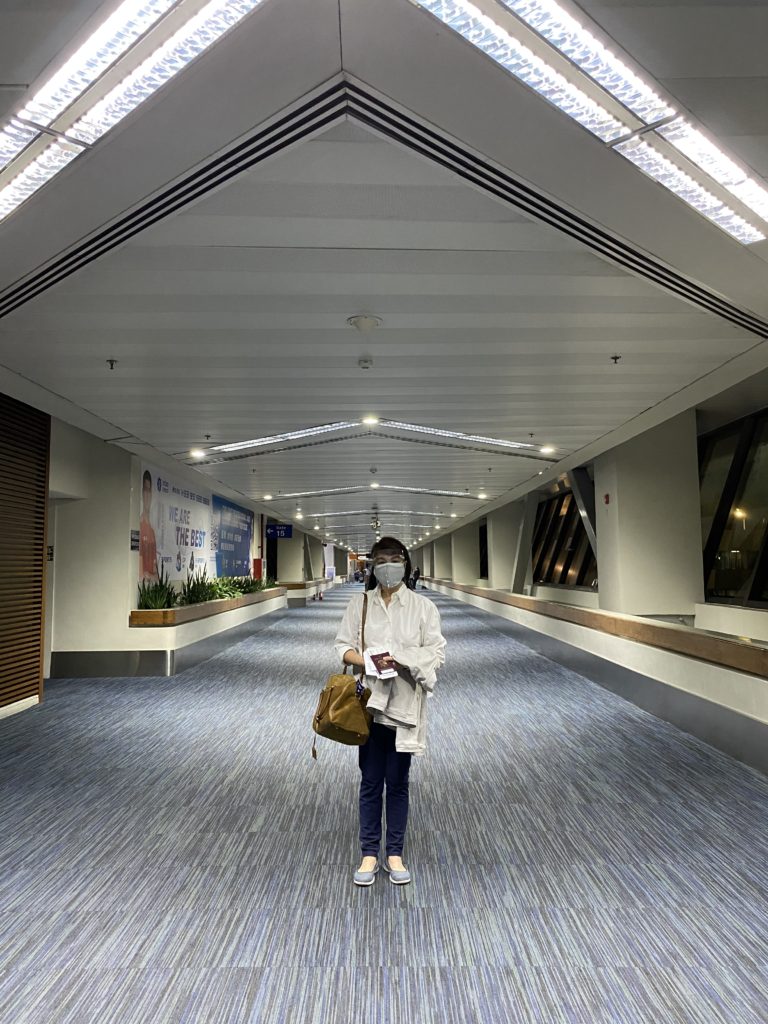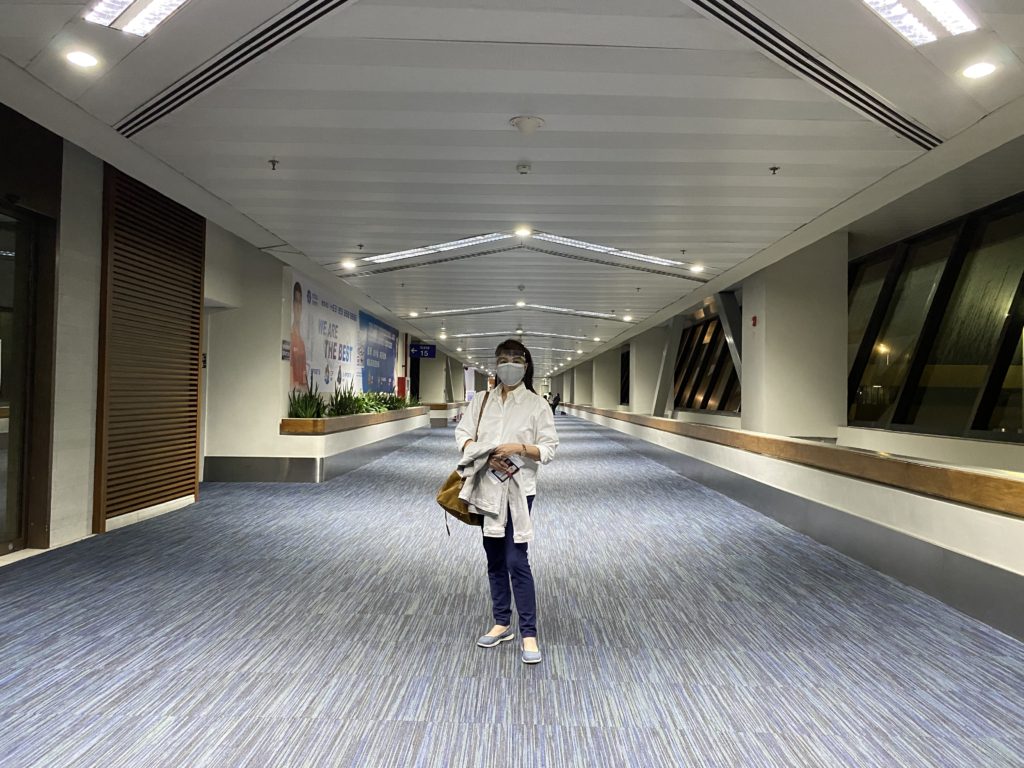 11. A male announcer—-"Those en the bessnes class, bessnes class passengers….. "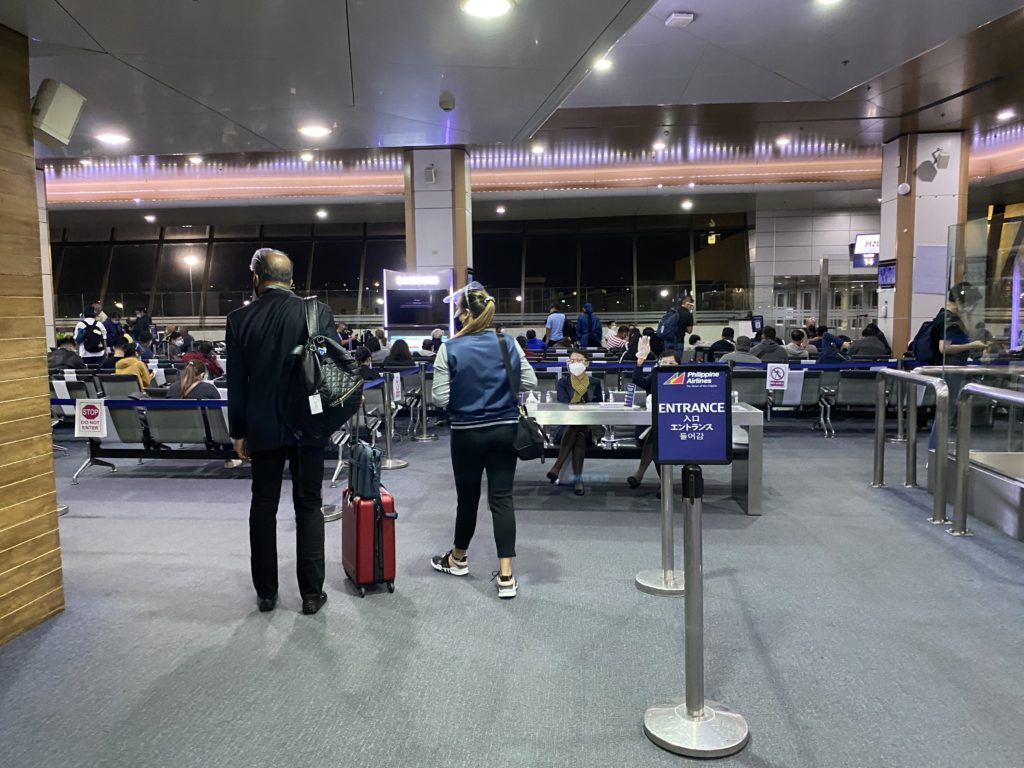 During boarding, people were not so conscious of the 6 ft. minimum distance. Mga nagmamadali, baka maiwan ng eroplano. We kept our double masks and face shields on all the time.
12. We went straight to our seats.  The travel trio.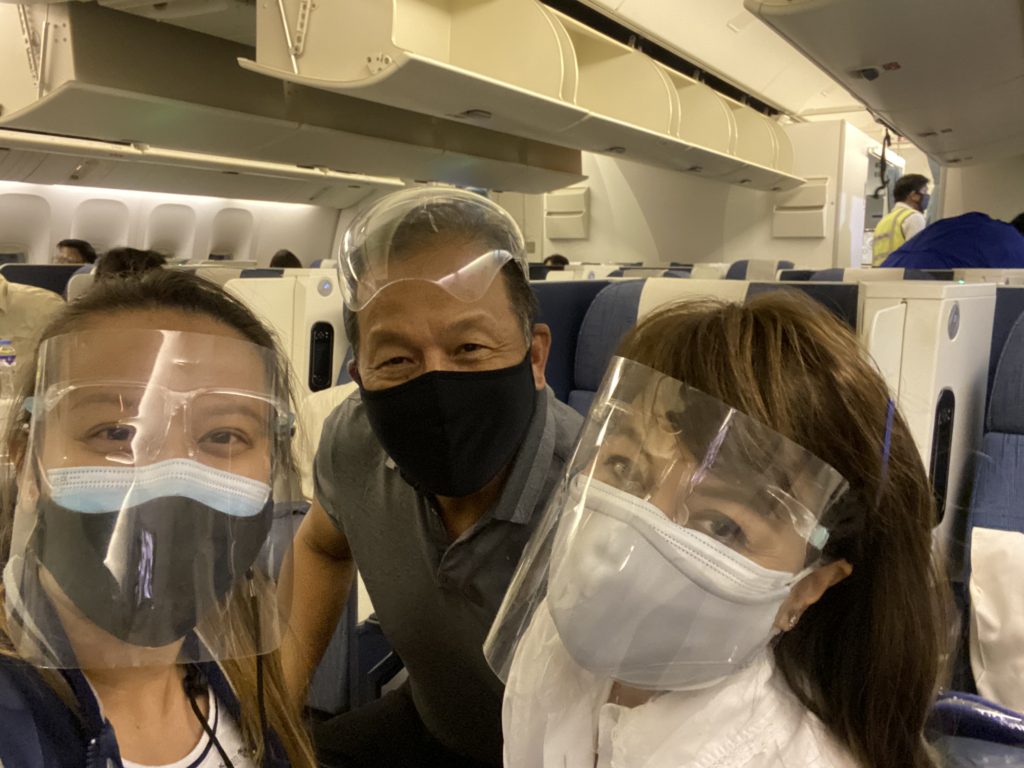 A woman has comfortably settled in on Oyen's assigned seat.
When the stewardess asked her to move, she did naman but she already touched the pillows, etc. Oyen asked to be moved to a seat with no kalapit. She transfered to seat #1. Maya-maya the male flight purser sat down beside her but he decided to move to another seat. Mainam naman.
13. Mr. Senior Sanitation Officer wiped the armrests, food tray, headrest, tv screen, etc.
14. Usually, three different flavors of freshly squeezed juices greeted business class passengers but since covid times, they offered three kinds of juices in sealed bottles.
15. I was not so worried about catching the virus during the 12-hour flight for a few reasons:
a) We all had negative covid tests 72 hours prior to this day. Although it's not 100% foolproof, if the other passengers are not yet exhibiting symptoms during this flight, they are not yet contagious.
The danger is if any of the passengers didn't have the swab test but instead faked the printed result. Yan ang problema, knowing we Filipinos, it's not farfetched that this could happen in the future.
I hope hwag nyong gawin yan.
16. I tried to keep my masks on but there's no way I could breathe freely the whole time during the long haul flight. I found myself gasping for air several times. Ganun pala feeling ng malalagutan ng hininga. Para akong naghihingalo. Once in a while I removed my masks. I saw dear husband sleeping without his masks on, nalaglag yata. Ay hinayaan ko na lang.
17. The difficult part was going to the toilet. Syempre kulong-na-kulong yung virus dun if ever.
I took comfort in the belief that the cabin air gets filtered and the HEPA system kills bacteria and virus 100%.  The piped in air is from the outside, is fresh and free of covid.  The danger really is coming from our co-passengers.
Even before the pandemic, it's been my ugali to wash my hands as soon as I enter the bathroom or toilet, even when I am in my own bathroom at home, or in my office. I like washing my hands with soap and water.
Inflight, I used my elbow to push the toilet door open. I use the tissue paper to slide the lever to lock the door. I wash my hands immediately. I never touch the flush button. I grab a tissue and use it to flash the toilet. I wash my hands again twice, and use a clean tissue to open the toilet door.
18. The flight attendants were all wearing ala-PPE, face mask and face shield. However, I noticed that they move their faces very close to the passenger's faces kasi nga it was hard to understand each other with all the taklob sa bibig.
19. The food service was slightly different. Less formal but the same good food. The trays were covered with plastic. No more lugaw for merienda. There were a few choices but I chose a sandwich.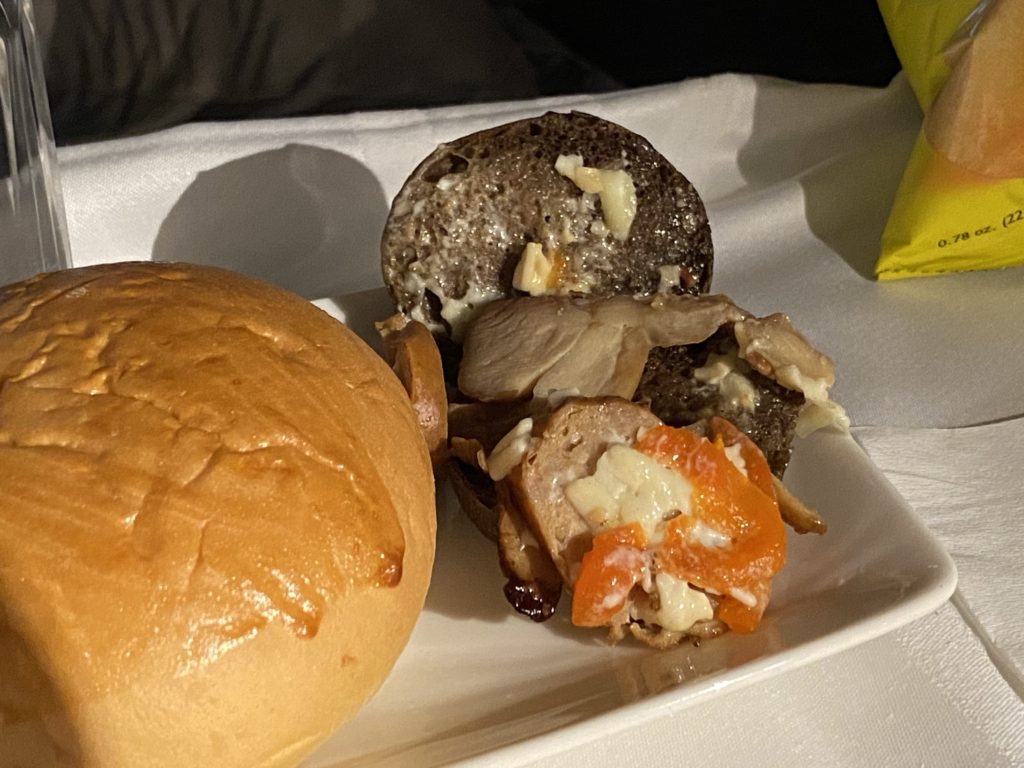 20. Water is Absolute bottled water. No more water in fluted glasses. No more buffet breakfast trays. They still served coffee or tea, softdrinks. I wasn't sure if they offered wine, I didn't pay attention.
Who is this girl on the Pepsi can?  Do you think people will buy Pepsi because of her photo?  Maybe.  I like the old Pepsi can.   This to me doesn't look like Pepsi at all.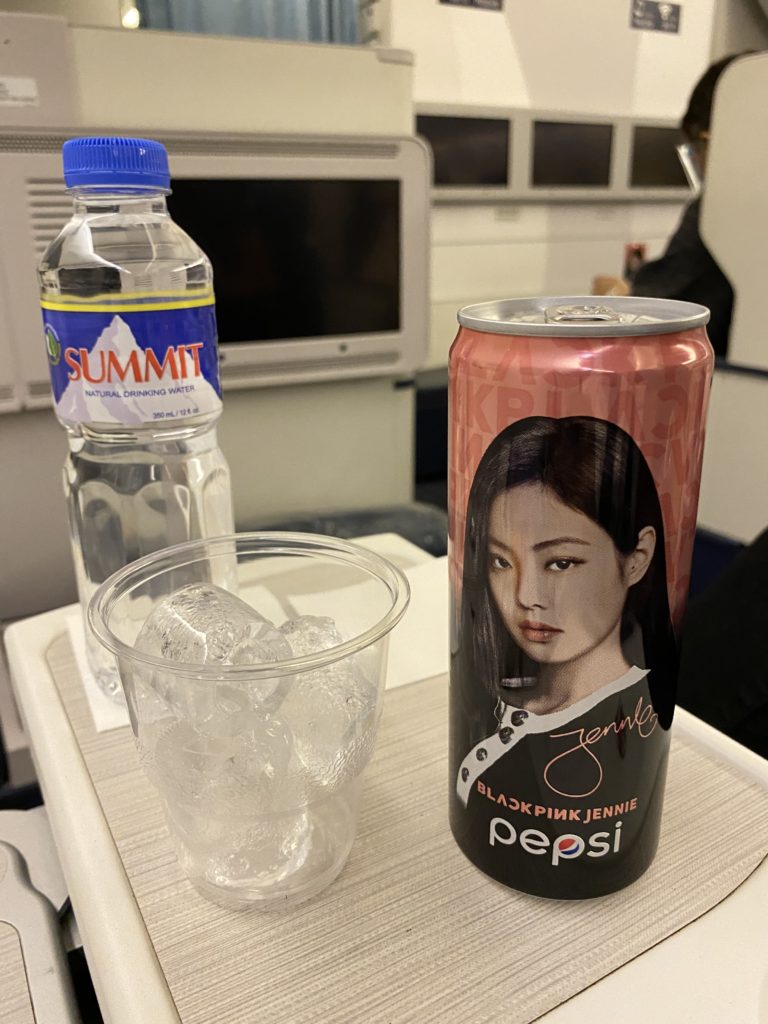 21. There were some turbulent areas like above Japan. My observation is, in some airlines, the pilots make advance announcements that there would be some turbulence. Sometimes they even give us a time frame, like 10 minutes. This makes passengers feel assured that the pilots know what's coming and can prevent them or mitigate the effects. With PAL, kakalog-kalog na yung eroplano, keep quiet lang yung pilot. He would just switch on the fasten your seatbelts sign. Minsan naman, nanginginig na yung plane, wala pa syang fasten your seat belt sign. Minsan naman, smooth na smooth, nalimutan na patayin yung fasten yung seatbelt sign.
22. I took half-a-tablet of Lexotan pero walang effect sa nerbyos ko. I was wide awake. I watched several inflight movies such as Made in Italy, and Honest Thief, both starring Liam Neeson.
23.  When the flight is smooth, it feels so serene and peaceful up here.  I wish peace to all the people on earth but it's not happening now.  War in Israel and Palestine, war against covid, hate crimes, death, gun shooting, suffering, sicknesses, hackings, political squabbles that do more harm than good, sea invasions, etc.   The out of control  space rocket that could have plunged on populated areas.  This was the second time China had a failed space craft.  According to CNN report, China are sending several more within this year so help us God. The world never runs out of chaos.  Mostly caused by humans, including this pandemic.
24. No more arrival forms to fill out. As soon as we got off the plane, there were several US Health Officers waiting outside the plane who asked for our passports and the Covid negative test results. They'll match the names in the passport and in the printed test result. Make sure you print two copies to make sure you don't lose the paper.
25. Immigration counter—– The immigration officer asked us three questions:
a) What's the purpose of our visit. I think it was Edmund who answered we're visiting relatives.
b) How long we are staying. I think it was Oyen who answered one month.
c) When was the last time we were here. —- I answered last year.
26. Edmund pushed his cart to the inner left lane because he was looking for his golf clubs.
Oyen followed him while pushing our cart. I told her to just wait for her dad outside. All the while an Asian custom's commissioner was observing us, most likely sizing us up.
He called Oyen and me. His questions were:
a) Why you're here? Oyen answered—- we're visiting. He nodded his head.
b) How long are you staying? —— Oyen said one month. I said my husband and I are staying a little over a month. (Too honest.) That triggered another question from him. "Why is she staying for one month and you more than one month? What are you going to do here? Actually, all B2 / short visit/ tourists are allowed to stay legally for 6 months. So when a person says he/she is staying for one month, I don't understand what's the point in interrogating this person and make him feel that it's bad to stay for a month or two months. If it's not allowed, then they should say so in their rules. All you tourists, just stay for 30 days. Why stamp 6 months then interrogate visitors? Oh well, we are just guests here so we should just follow. When I told him I am visiting my siblings, he nodded his head.
This is his last question and their favorite:
How much money do you have? I have $1,700. Oyen has $1,200. He pointed at Edmund who was on the other side waiting for his golf clubs.
Me—-"Tart! How much money do you have?"
Edmund—–"Three thousand."
Me to the customs officer—–"Three thousand."
Customs officer—– "Thirty thousand?"
Edmund signaled with his three fingers, meaning he only has 3k."
Oyen laughed when the guy said $30,000. The guy didn't smile. He was serious, frowning.
27. Attention travelers:
The US customs law states that it is LEGAL to bring in any amount as long as you declare it.
The $10,000 maximum allowable limit is for your whole family, and not for one person. So before you go to the airpot, count and total all your cash so you don't go over the limit. Better to be under the limit.
If you are alone and you bring in $3,000 or higher, they will ask you why you need that cash. Don't bring $8,500 thinking that it's legal. They will ask you still. So from our experience, don't bring na lang too much cash. You have credit cards, ATM. If you are making a big purchase and you would need more than the limit, just arrange for a telegraphic transfer.
Don't bring in wads of cash and hide it in your luggage. They might suspect you to be a terrorist, drug dealer, money launderer. Better safe than sorry. Just follow the rules.
28.  Yehey,  we've landed safely.  Thank you Lord.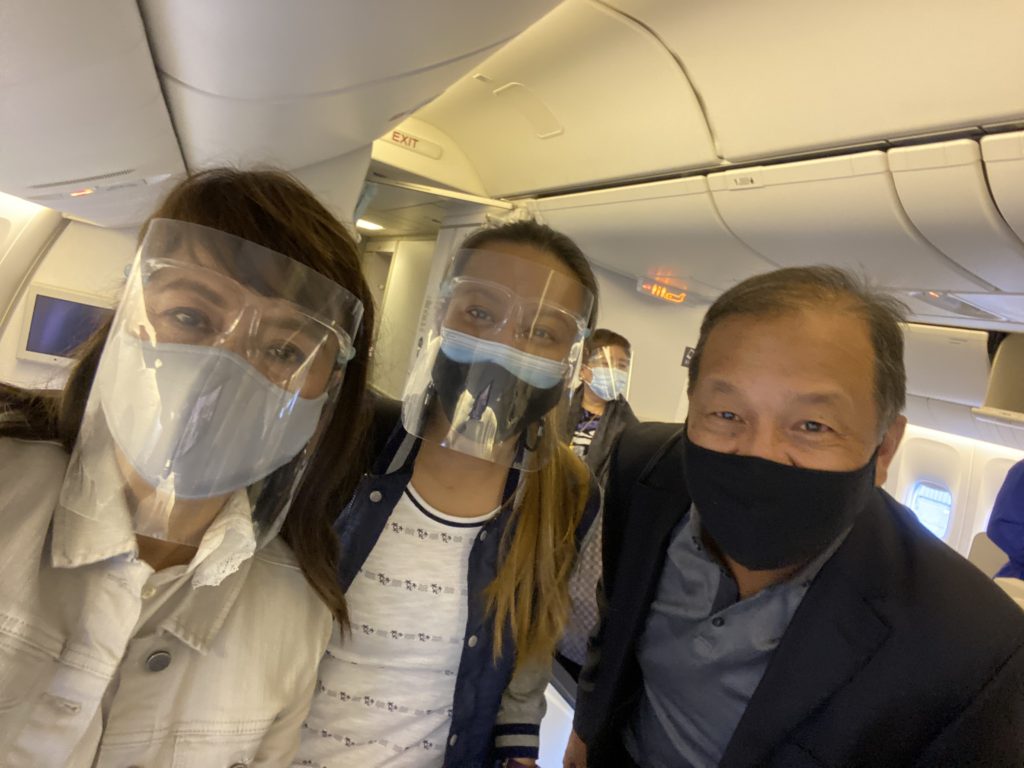 Tanggalin daw nya mask.   Ulit daw.  Smile again.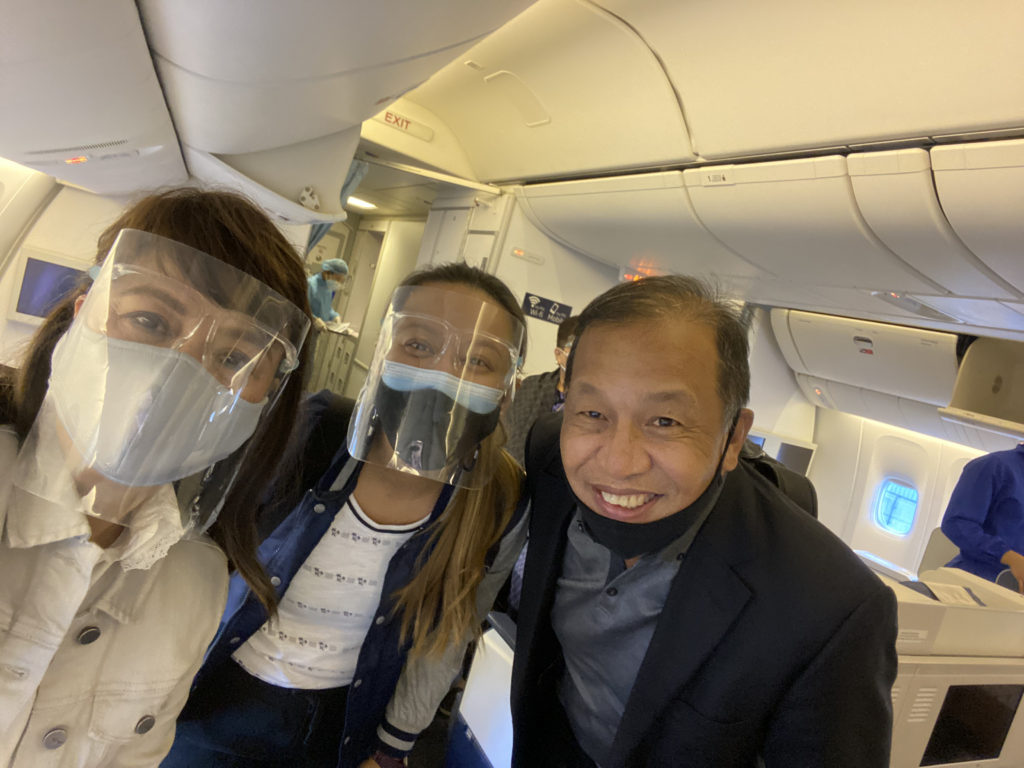 This tandem didn't want me to post their photos kasi daw their staff didn't know they were leaving. Malalaman daw wala pala sila. Ayan, they didn't submit a leave form. AWOL kayo. AWOL. No work no pay. Me? I am always absent. I am considered retired and fired kaya no one looks for me. Nagugulat nga sila pag bigla akong sumusulpot sa office.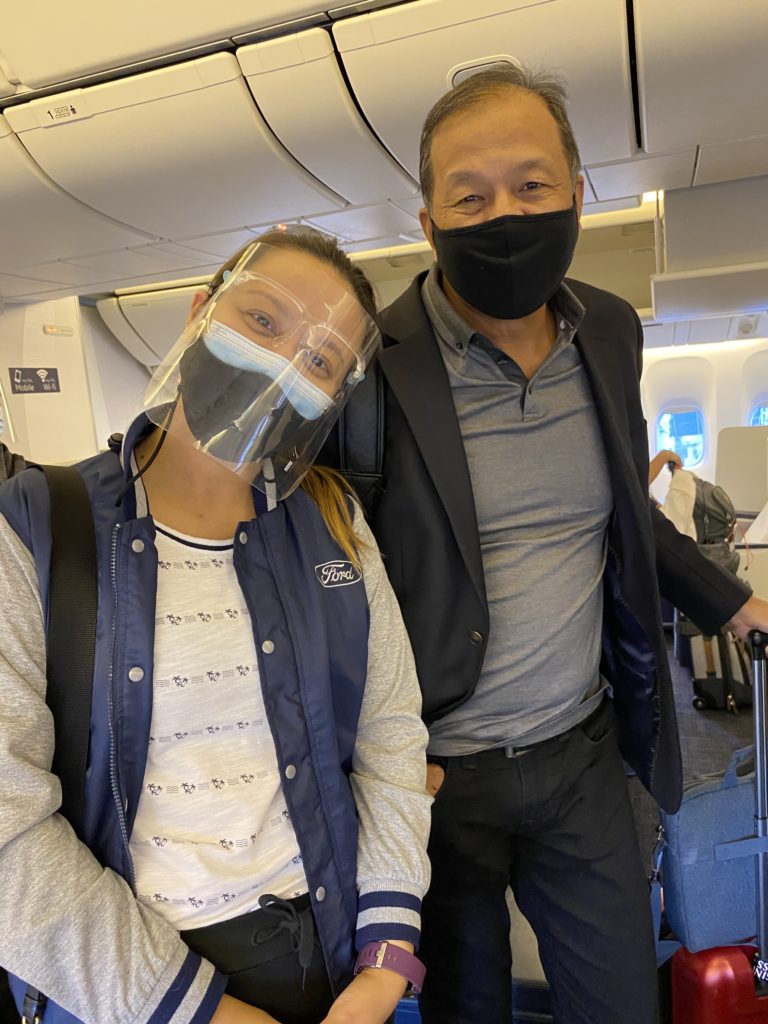 29. Got our luggage. It's so nice to travel with my dear husband and my ever gentleman porter.

30. We went out of the terminal to wait for our sundo. Hay, so nice to breathe and inhale cold beeze, walang face shield!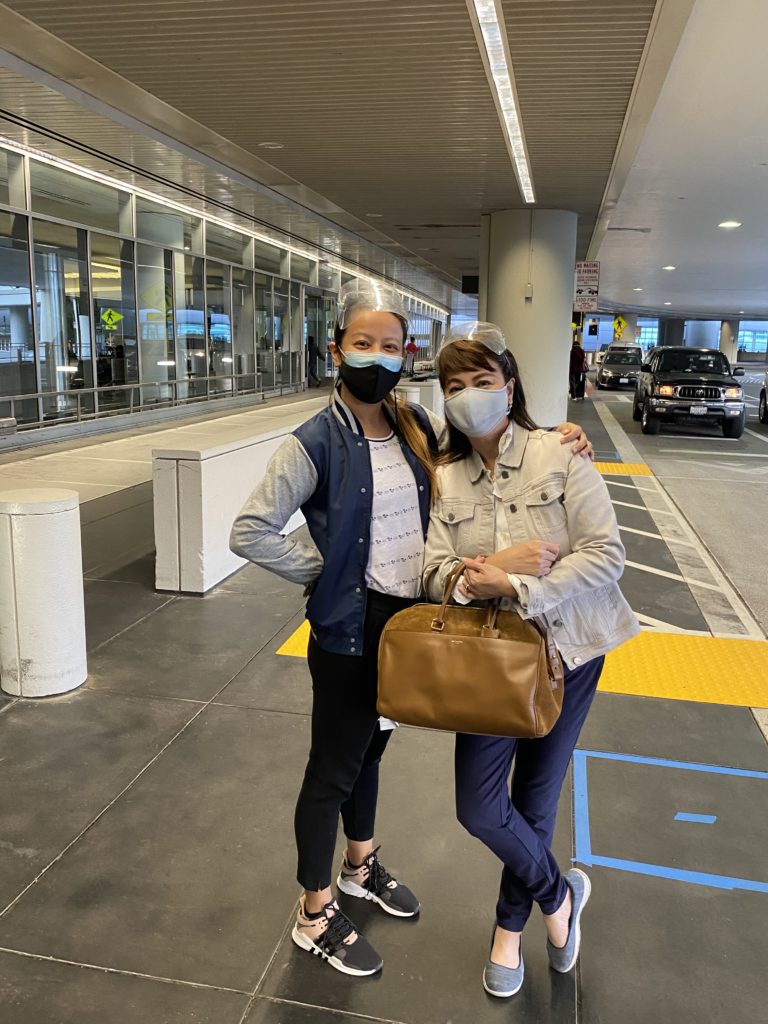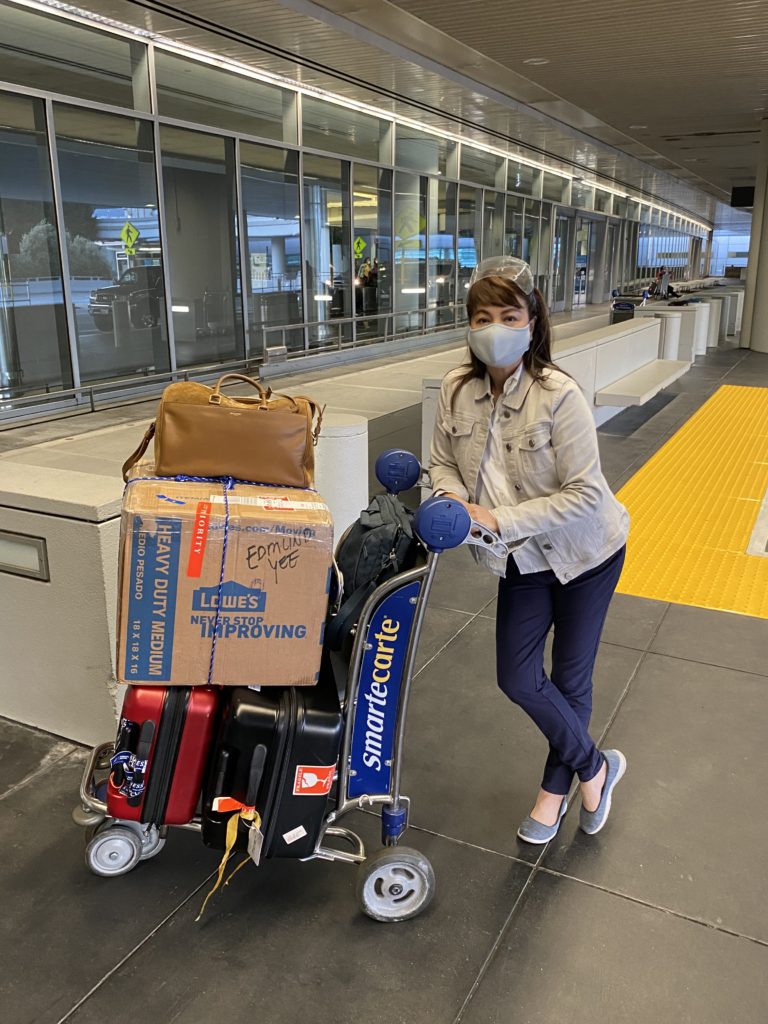 Yehey, here comes Mochi.