My viber is bombarded with posts from Philippine business groups regarding the senior citizen movement rising up in arms against being placed under house arrest in the Philippines. Medyo malabo naman talaga ito. Whoever drafted that ruling clearly is a young government employee who is not exposed to the business sector groups. Majority of business owners, in the Philippines  are in their early sixties up to 80s even. The movers and shakers of our economy, the so-called captains of industries are at least 60 years young.
My husband is also complaining he can't go out.  I told him to shave off his balbas and he would look 59. Eh they would check daw the drivers license.
This morning I received the position paper drafted by one of the business councils who are seniors, natawa ako kasi nakalagay staying home is not good for their health and wellbeing most especially to those who are married, Hayan na, araw at gabi kasama ang mga misis.
Just minutes ago Oyen heard our neighbors across the street yelling at each other. They have a house in the city and they only come here on holidays, weekends, or when they have a party. Their vehicles are all big, Ford Expedition, two Mustangs, and one GMC suv, Hummer, etc.
The husband yelled "what do you want from me? What do you want from me? "The wife yelled back "I was asking you to…" and this was followed by an exchange of Spanish sentences. They are Mexicans / Latinos. We are guessing the wife is mad at her husband because he failed to bring all the garbage bins out. Today is Wednesday and it's garbage collection day.
Edmund's several golf groups are also in unison in calling the senior citizen's house arrest as unlawful, arbitrary, a violation of their constitutional rights. Basta ako natatawa lang. I can't imagine Mister Yee locked up within the confines of our fence. Dito mas mainsm pa kasi he can go to Lowe's, Home Depot, Ace Hardware for his gardening supplies. At least nalilibang. He also has a miniature golf course in our backyard.
This is also the reason why the two of us can't live in condominium-like setting. We like flowers, trees, birds. Three nights ago Oyen couldn't sleep because she could hear loud chirping of the birds. She asked me where they were coming from and if they were taped or recorded sounds that mimic the sound of birds. Tutoong mga ibon yan. The birds' singing is music to our ears. Ang sarap pakinggan.  Depending on the season,  there's a bird that comes here and sings in the wee hours of the morning.  We call her Evita.
Edmund makes use of his quarantine time doing garden work, fixing the plant drips, watering the grass even if we have a sprinkler that works, installing a new garden faucet.
He also trimmed the bougainvillea (bogambilya in Tagalog).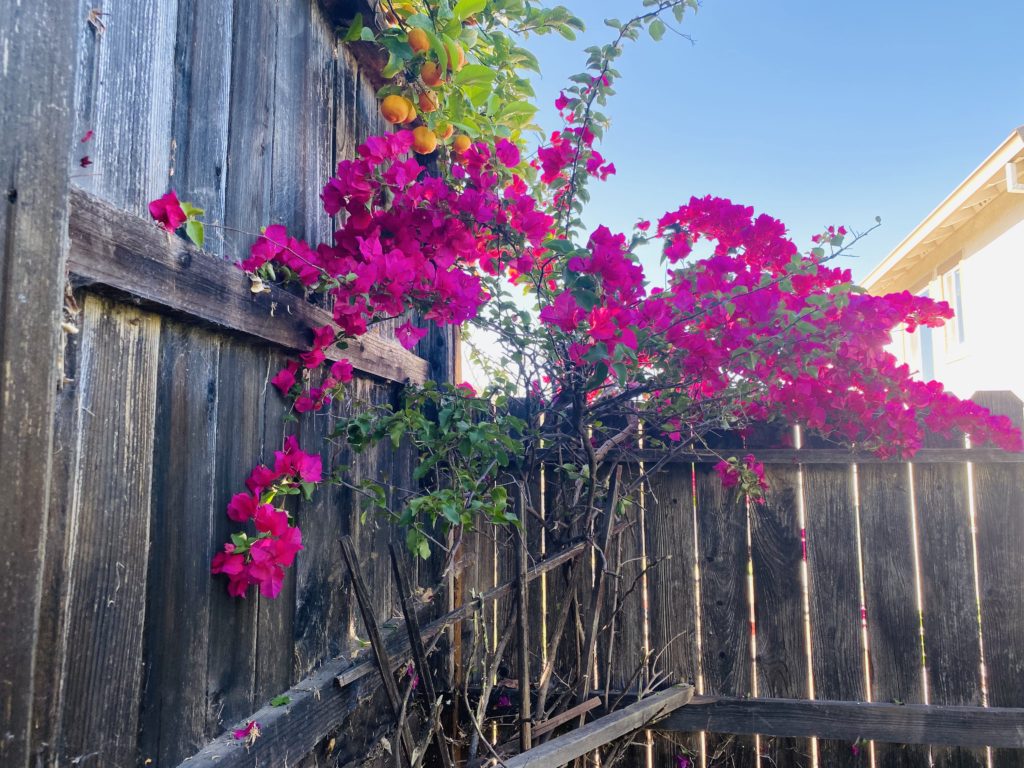 He also bought a plastic bird feeder.  He moved it three times to different locations hoping to attract the birds to feast on those seeds. Mukha kasing fake, dapat natural-looking materials like wood.
Edmund's friends in Manila are saying that their wives must be very happy because they are stuck together at home.  Edmund told them "pare are you sure they are happy that you are always home?"  Maybe some wives are not happy spending 24/7 for two months with her husband,  makukulit kasi ang mga lalaki.