Poorer countries like the Philippines are at the back of the vaccine supply cue.
I ordered Moderna vaccines hoping to get them on May 15. I was advised that I would receive 3 vaccines x 2 doses for 3 people on June 15 or July 15. The rest will follow towards the third quarter and the fourth quarter. The vaccines are for our family, relatives, employees. Some of them couldn't wait so they grabbed the Sinovac vaccines offered free by their respective municipalities. The best vaccine is what's currently available and of course, they couldn't wait. My suspicion is by the time the Moderna vaccines arrive, almost all of our employees have already been vaccinated with Sinovac.
All those who ordered Moderna vaccines will have to submit a master list of the intended receipients.
An insurance company ordered 60,000 vaccines. I wonder when they are going to finish encoding all the names of the 30,000 vaccine recipients. The owners couldn't wait for the vaccines to arrive so their whole family flew to the US in April.
There's news circulating in social media that Dennis Uy and his wife chartered a jet to fly to Las Vegas to get vaccinated. The cost of the round trip private jet fare is $250,000. If this news is true, than I am happy for them. At least there are two fewer Filipinos who could potentially catch the virus. Incidentally, I read a news article written by Eric Jurado about Phonenix Petroleum, one of the companies owned by Dennis Uy. The company apparently is looking for investors.
Last night, I saw naman on Viber a letter daw of Sen. Manny Pacquiao addressed to US President Biden asking for Moderna vaccines. I don't know if this letter actually reached Biden. I will also write a letter to Joe and I will post it on Oh My Buhay for the world to see. I will ask him if he had seen and acted on Sen. Pacquiao's request. No, why write a letter when I can just Viber him.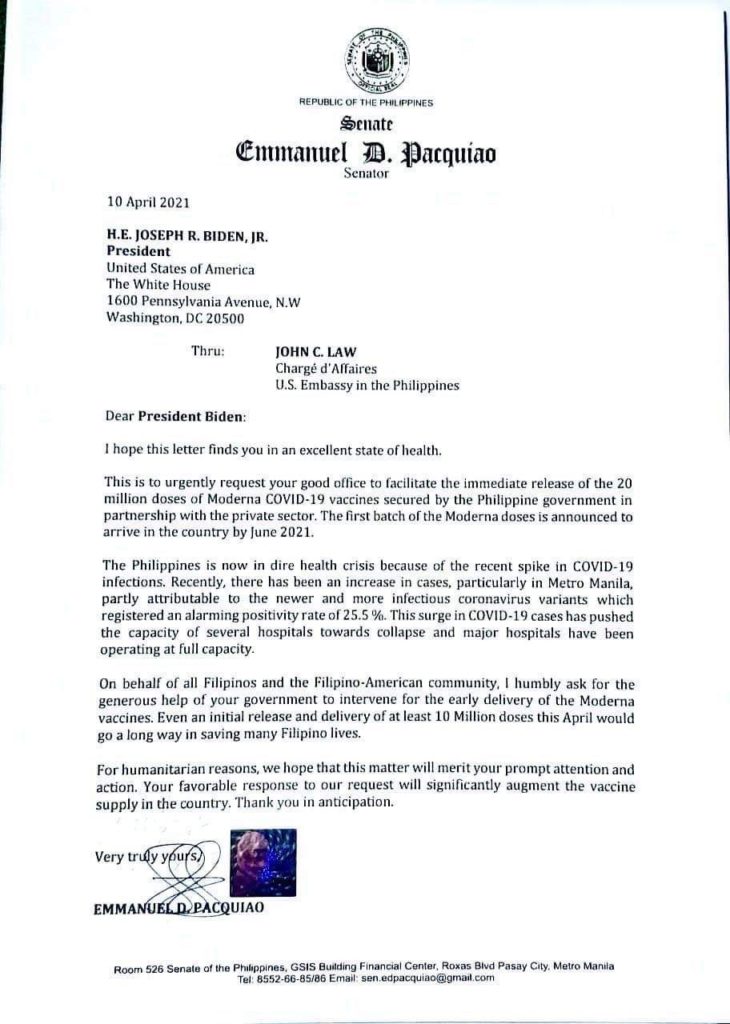 While we are concerned about our own virus control and warding off the giant sea invader, India has a bigger problem dealing with the surge of cases and lack of medical supplies, medicines, facilities, and personnel.
There's an ongoing covid explosion in India and hundreds of thousands are getting infected daily. The actual figures including those of deaths could be 20 to 30 times higher according to WHO's chief scientist. It's so heart-wrenching to watch people suffering from a lack of oxygen, ventilator, and hospital beds. People are dying in their vehicles while waiting for a hospital bed.
India manufactures the majority of Covax and Astra Zeneca vaccines supplying the world. If they'll halt their production for exports, it would impact the global vaccine rollout.
The US and France have started sending supplies and vaccines to India to help them. Help is on its way.
In Bagdad, oxygen tanks exploded in Baghdad's Infectious Diseases Hospital, 82 people died from the blaze.
We're feeling a little relieved that the number of infections in Manila is on a downtrend although still on the high side.
I rarely watch the local news, eto natyempuhan ko:
Broadcaster—–"napag-alaman na ang mga nagpositibo sa covid ay nahawa sa mga may covid kaya pinag-iingat ang mga mamamayan."
Hah? eh syempre nahawa sila, saan naman manggagaling yung virus?