Our maids didn't inform us right away that on June 19, 2020, Antonia and our lavandera, Jazmin, had a serious squabble. Although they said Antonia claimed she texted me on June 22nd, I didn't receive her message.
The story goes:
Panay daw ang lagay ni Jazmin ng Salonpas sa katawan at ulo. Napansin ni Antonia so she asked her why, what's wrong with her. Jazmin said she has a very bad headache. Antonia commented "Baka Covid. Baka may virus ka!"
That triggered a very violent reaction from Jazmin. The verbal exchanges turned physical. She slapped Antonia. Sinampal nya si Antonia, sinabunutan naman sya ni Antonia. Sabunutan silang dalawa. Inaawat ni Jebel but hindi nya kaya, she was calling Norma but hindi sya marinig kasi malayo. Jebel finally was able to remove Jazmin's hands from Antonia's hair. Jaz ran upstairs to the kitchen and came back with two knives and lunged at Antonia. Buti na lang hindi tinamaan kasi tumulong si Norma and Jebel na awatin. Galit na galit daw si Jazmin parang wala na talaga sa sarili.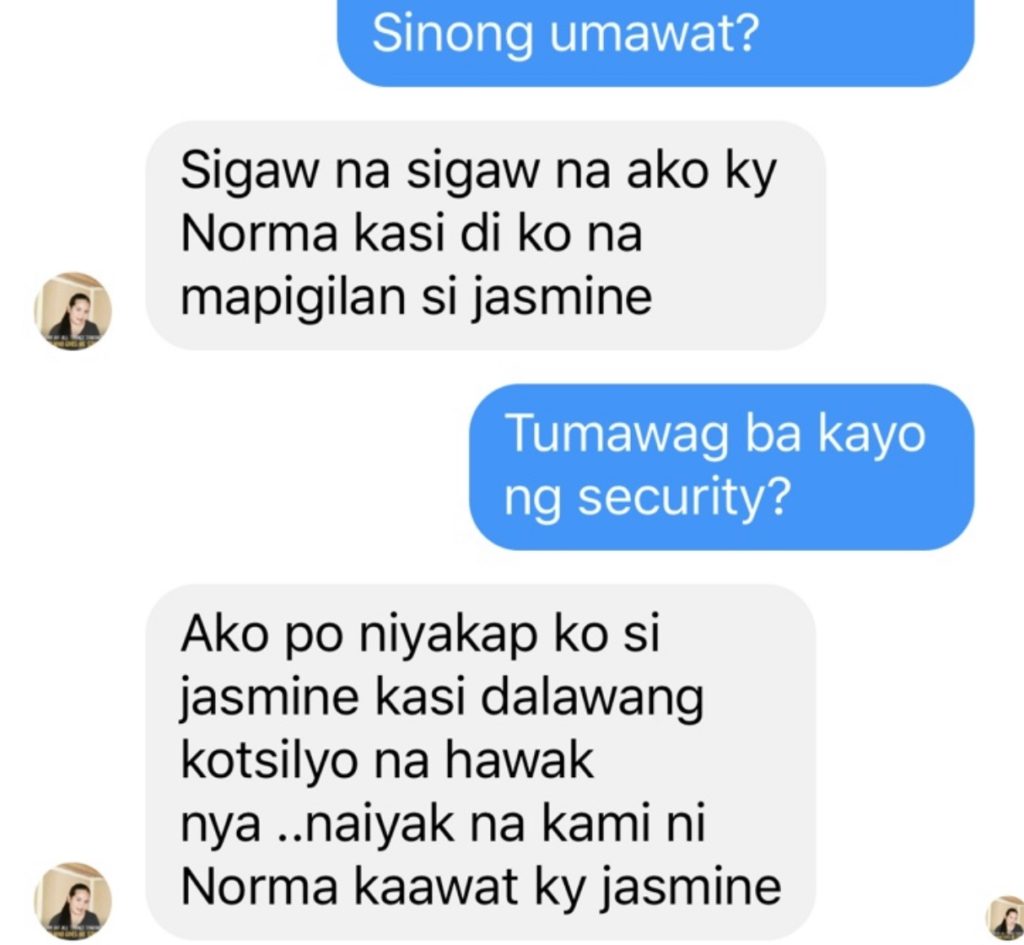 Imagine, they still shared a room for 13 days with this person who attempted to stab Antonia. Buti na lang Jebel, and Norma were there otherwise Antonia could have suffered serious injuries. Buti hindi sila pinagsasaksak while they were sleeping.
Jazmin came to our employ a few days before we left for the US. I got her from an employment agency. Nakaaway na sya ni Antonia on her second day but Antonia forgave her. The two other maids also reported that Jazmin didn't want to follow orders. Makwentahin at mareklamo daw. I wanted to fire her right away pero naawa naman ako. The maids also voted to give her a second chance. Dapat pala hindi na. Before the lockdown, I wanted to let her go pero etong asawa ko isa pang maawain. Hayaan na lang daw duon sa bahay kahit kain tulog. Parang charity na lang daw, tulong na lang namin. At least daw she has a comfortable and safe place to stay and food in her stomach. Eh ang taba-taba na nga nya. Looking back, I should've fired her in February.
Today we asked the village security guards to escort Jazmin out of the village.
I have a feeling she would try to sneak back into the village thru another employer. She enjoyed her five months grand vacation there and she for sure liked that place and would want to go back. Easy to find her way back if an unsuspecting family from the same subdivision hires her.