Never pa ako nagpa-make up sa parlor na pag-uwi ko sa bahay ay hindi ko binura o ni-retoke.  And every single time, no exception,  I would promise myself never to have my make up done by another person.  But here I was,  I booked a makeup artist to make sure of two things— my eyebrows would be pantay and I wanted to wear eyelashes extensions.   I was hoping I would look a little better on my wedding day.
I brought two sets of lash extensions I recently bought from CVS but she said they were too short and too sparse. She opened a drawer full of boxes of lashes and took out two sets of long, shaggy and deep black fake lashes. She assured me that they were right for me, perfect for my wedding. 
She said she has 15 years of experience doing make-ups. She was a MAC make-up artist for several years. Her forte is doing Halloween make-ups.
Make-up Artist—–"You can't go wrong doing Halloween make-ups. That's my favorite."
Oh oh, Hindi ako mag-ti-trick or treat. I am going to a wedding, and I must emphasize that I am the bride. I hope hindi ako magmukhang zombie. Baka tumakbo ang groom.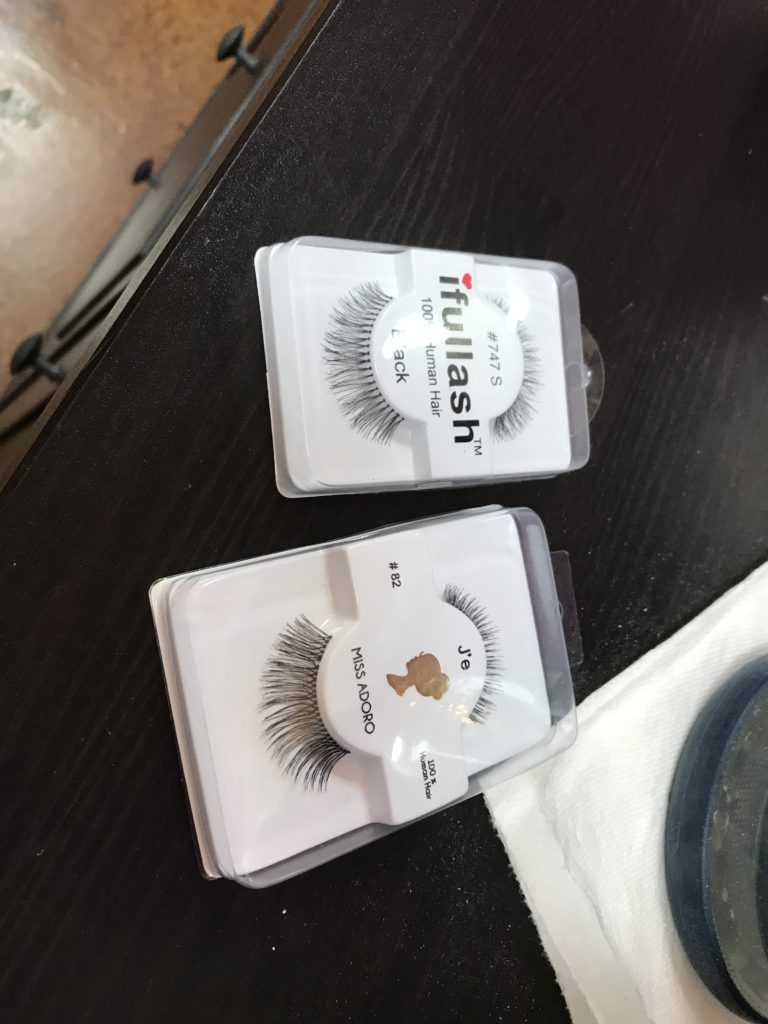 When I told her 35 years, she said she's 45 and have never been married.
We spent at least 15 minutes talking about her requirement for a guy.
First and only, he should have a house of his own and financially stable. At 45, she told me it would be weird if a guy is still sharing an apartment or staying in a dorm with a friend. At 45, the guy must already be gainfully employed and paying for his own house or condo.
I kept looking at my watch. I told her I have to get out of there in 10 minutes. I was worried, oh no, I would only have 30 minutes to change, retouch my make-up, fix-up.  I wished I came to the salon an hour earlier so I would have time to listen to the Korean hairstylist's venting out and to my makeup artist's love life story.
She was born in San Jose and grew up in Sacramento.  She moved to Vegas 16 years ago for better opportunities and lower cost of living. She said the 110 degree summers don't bother her at all.
She and her mom were watching the concert on October 1, 2017, when a gunman peppered the Route 91 Harvest Music Festival concert-goers down below across from Mandalay Bay leaving 58 people dead and almost a thousand injured.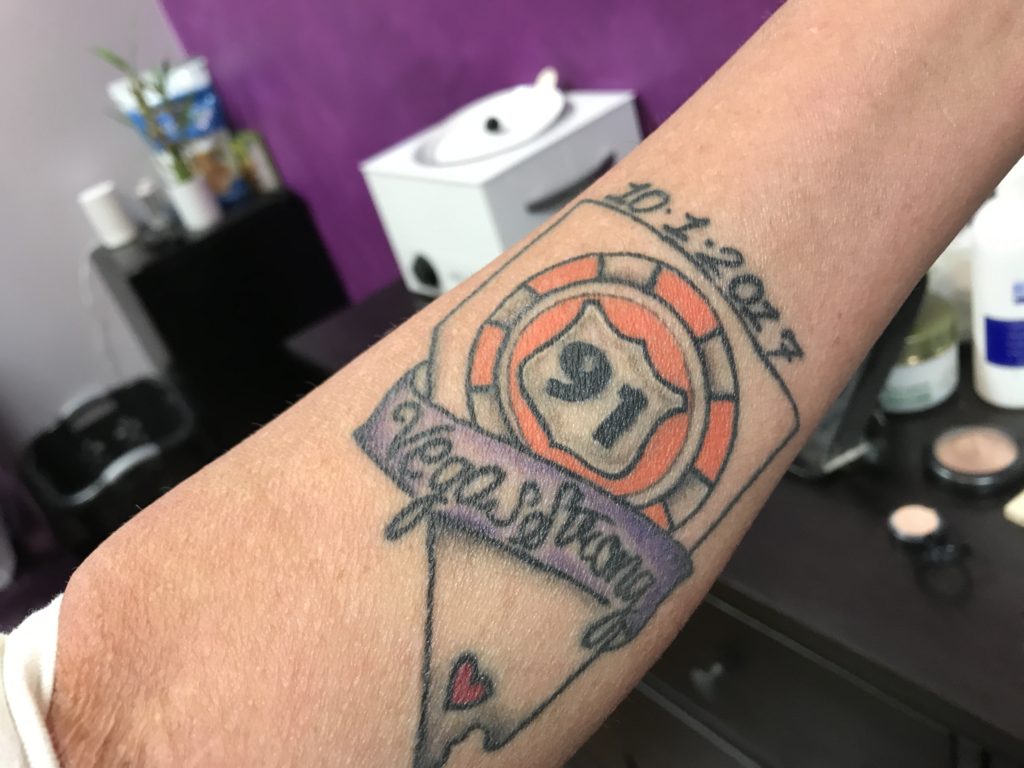 She, her mom, and a friend were in the VIP section where there was some cover that's why they were lucky not to get hurt. They were down on the floor and didn't know where the bullets were coming from. It's been a year since that tragic night and until now she still suffers from trauma.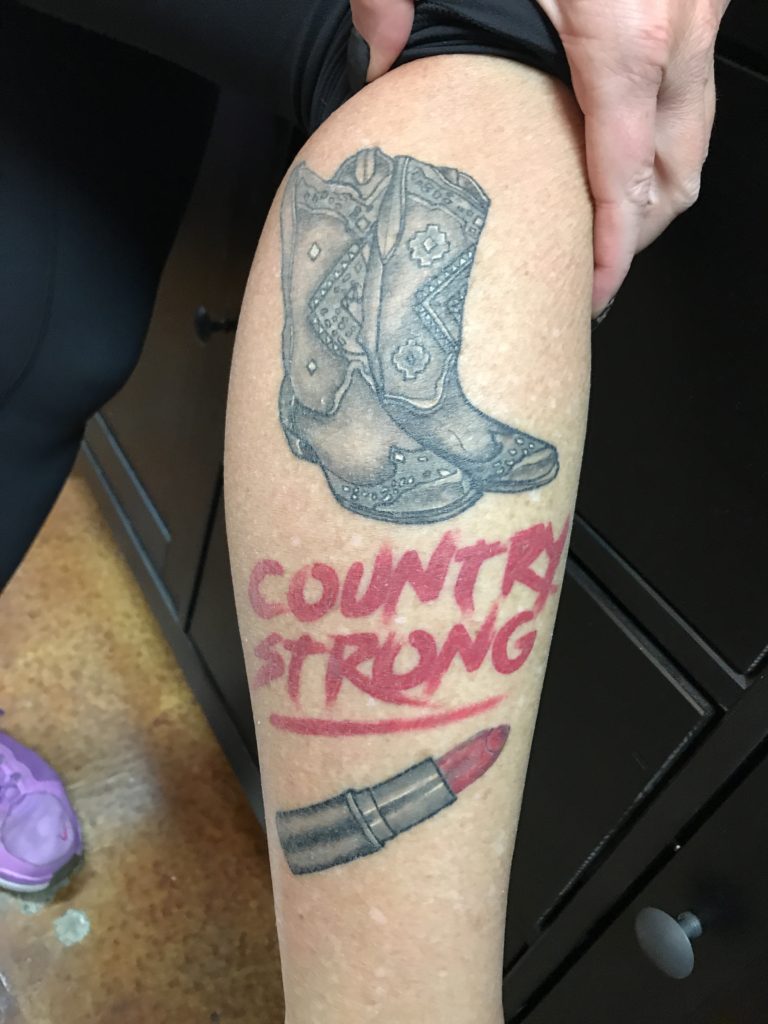 In memoriam to that fateful night, she had this tattoos done on several parts of her body.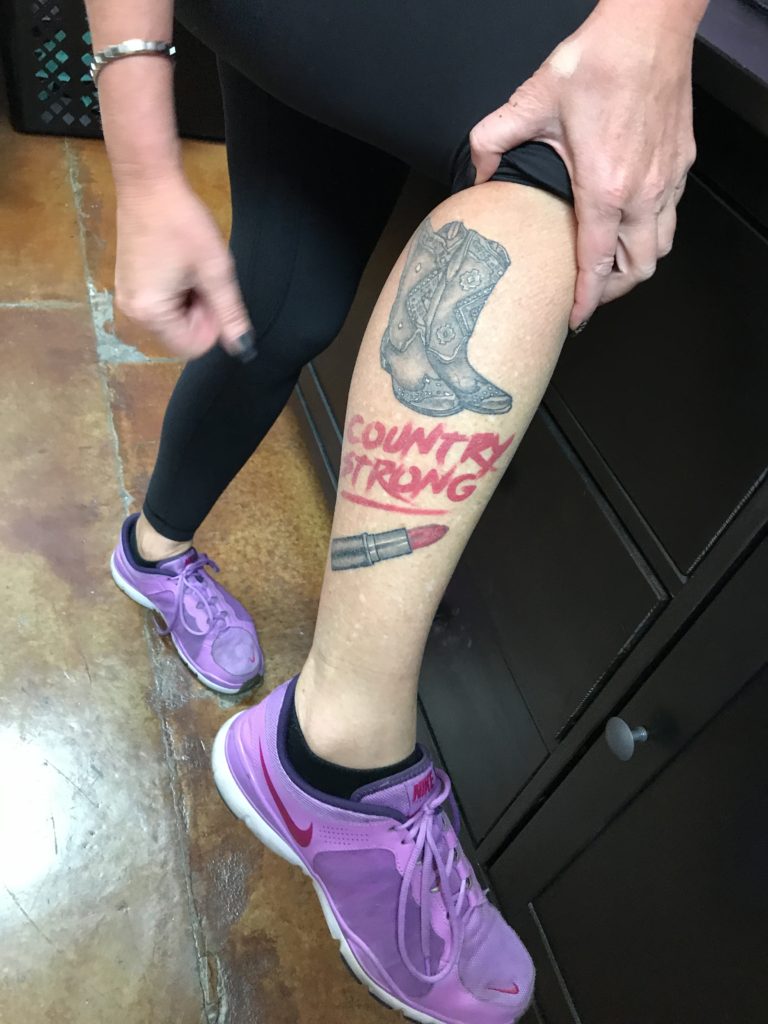 I didn't like my make-up. Instead of having beautiful eyes, my right eye looked droopy. Nagmukha akong kupas na belyas. The fake eye lashes looked exactly what they are, ja-peks. Lalong na-accentuate ang wrinkles ko. In fairness, she followed my request not to put foundation and cakey powder. I was in a hurry so she probably didn't have ample time to make me look pretty.
My husband picked me up. When I told him I didn't like the way I looked he laughed. "Tart sa halip na gumanda ako, lalo akong pumangit." Sanay na sya lagi kong binubura yung mga make-up sa akin.
A—-"This would be the last time na magpapa-make-up ako."
E—-"Hahahah, kung bakit naman kasi…."