Aug 15, 2021
We want to create a space where the younger guys (my nieces, nephews, Nyke, Oyen, their friends) can sit together during Tan family gatherings.  The oldies usually occupy the sofas and dining tables while the younger ones have no space big enough for 8 – 10 px to gather.
One would think that home decorating and shopping for furnishings must be very easy nowadays.  The convenience of clicking, pointing, looking at photos in the comforts of your home at any time of the day even at midnight. Yeah, but not for me.  I still want to go to the actual store.  I want to touch the real McCoy and not just to ogle at photos online.  I want to touch the material, construction, texture, lift it, look under it, feel it and breathe it so to speak.
Edmund and I went to the sprawling furniture showroom of Living Spaces this time looking for outdoor furniture.  This was where we had a shouting match in October 2020 while looking at area rags.  He was so masungit that time.  Parang nagme-menopause.  Pero ngayon, sobrang bait, always smiling, in a good mood, and open-minded.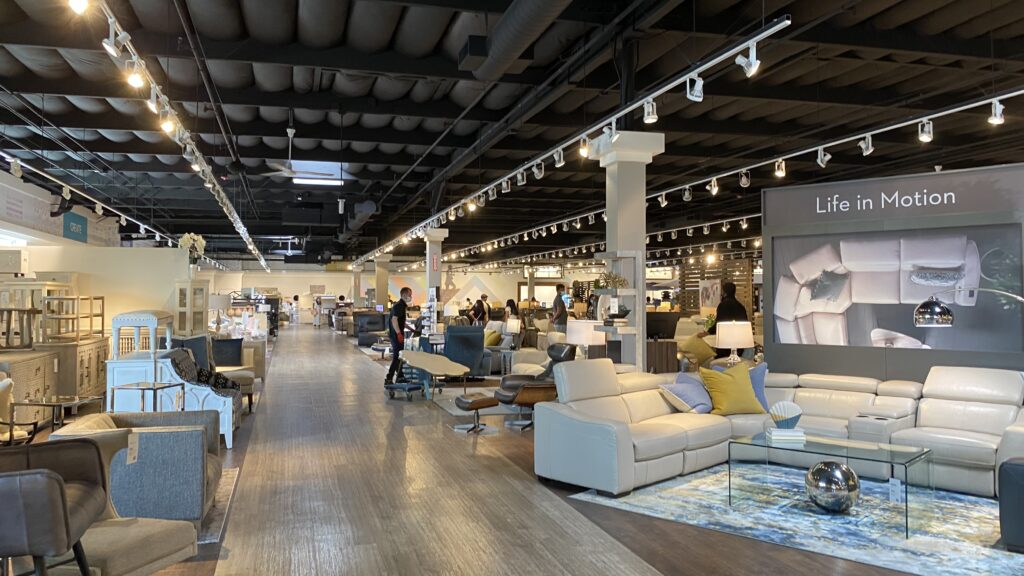 I fell in love at first glance with this unique coffee table. It would be perfect in the living room.  My nieces and nephews and my siblings' grandchildren, can put up their feet, spill food, scratch it, without me worrying that the table would break.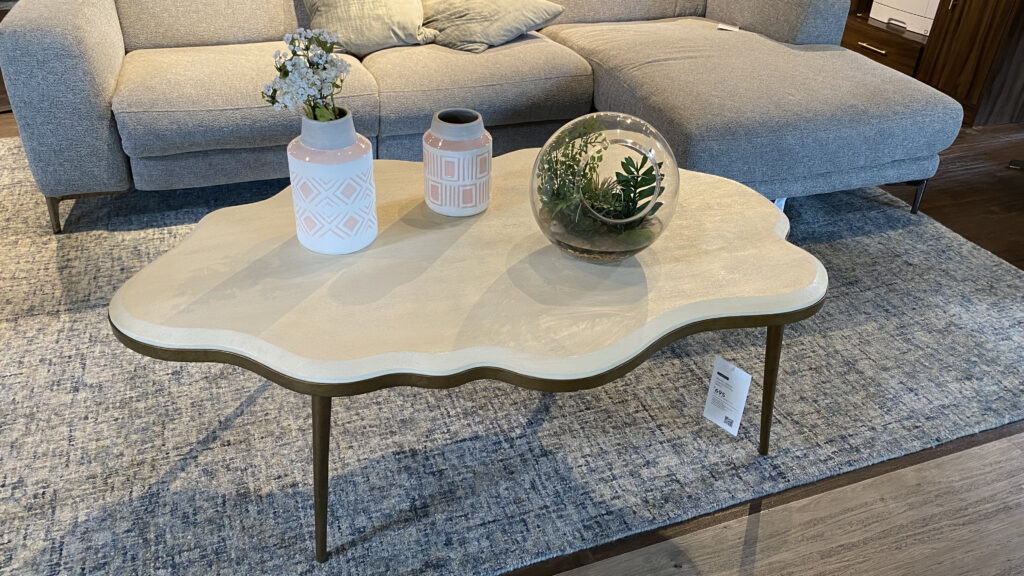 I was glad my husband liked it to. I wasn't sure if he would see why I like it very much. He said it's as if he has a choice.
E—- "Kahit naman ayaw ko, bibilihin mo rin."
A—- "Yap, you're right."
Medyo mabait na nga rin ako ngayon. Kasi dati I never asked his opinion with regards to our home, decors, and furnishings.
The few times I asked him and of course, I gave in to his wishes was when we were choosing the finishes for our kitchen cabinets in Manila. He likes varnished/brown. Hayun ang dilim. Brown na ang cabinets (oak), brown pa ang sahig (Narra planks), very dark pa yung granite, brown pa yung dining table and silya. Maganda rin naman ang kinalabasan. I also gave in to his preference for varnish wood for our bed. Kaya hayan, brown din lahat pati sa banyo namin.
I asked the sales clerks where was this from, baka sa China.  They didn't know, basta lang daw it says "imported".  Hindi pwedeng basta imported.  I am one person who likes to ask and who wants to know saan galing, saan gawa.   Basta it's not indicated daw.  This is also one reason why I don't like shopping online.  Many don't put specifically where the product was made or the origin of the shipment.   I liked this a lot so it doesn't matter kung saan sya gawa.  It looks like a work of art and it's quirky.
We encountered some problems because the store wouldn't sell it to me,  It's the last and only piece left.  I argued why they would not sell it.  That's mainly the purpose why it's here.  They said it's the last piece.  So why do they want to keep it?  They don't want to sell it so what do they need it for?  They don't even want to accept my order for one piece because it's the only one and they will have no more shipments like this.  So?  The more they should dispose of it,
After about 15 minutes of arguing, negotiating, pleading, we were able to convince the store manager to sell this table to me.  I was so glad.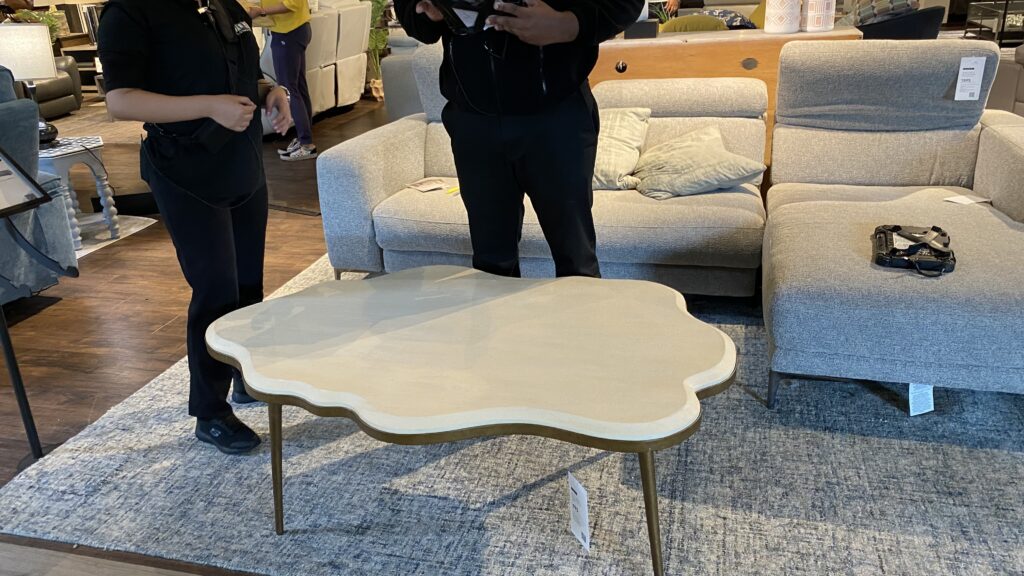 Eto naman, my husband fell in love at first sight. He must have been relieved because I liked it too. It's also artistic. The form looks like a sculpture. We ordered 2 pieces.  They didn't want to give this one piece.  Basta ang daming reason similar to the table.  They assured us that they have a new one in the warehouse.  We agreed to pick it up the next day.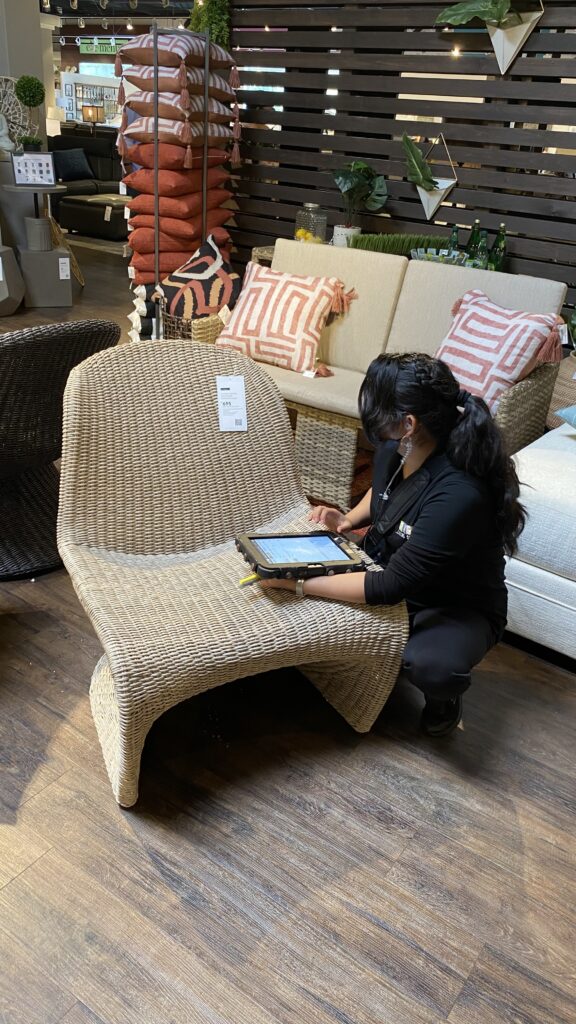 Instead of having the coffee table delivered,  Edmund carried and loaded it into our vehicle.  Mahirap na they might change their minds or someone else might snatch it.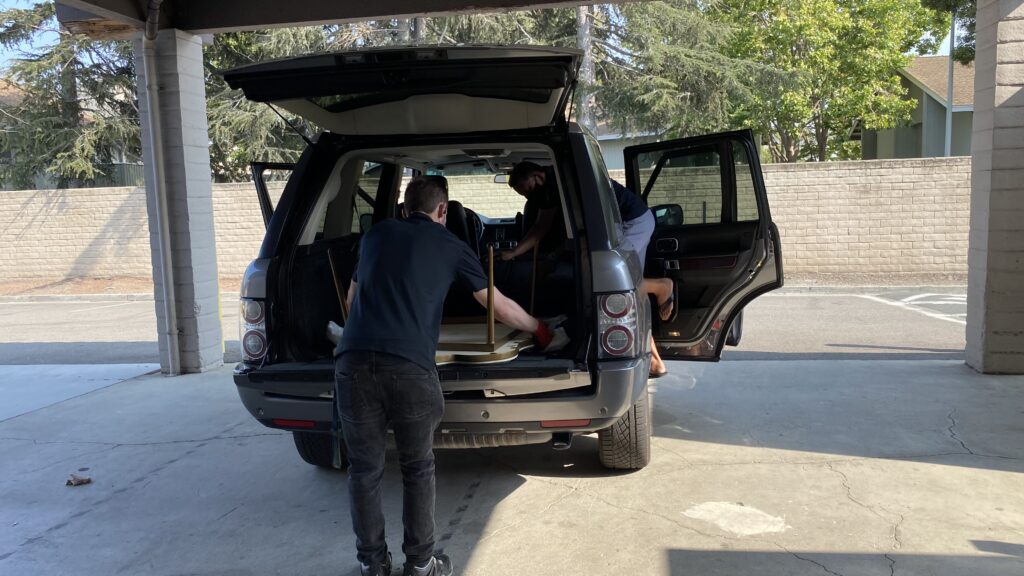 Look at this van.   Nung panahon ng mga kuya ko ang tawag sa ganyan ay psychedelic.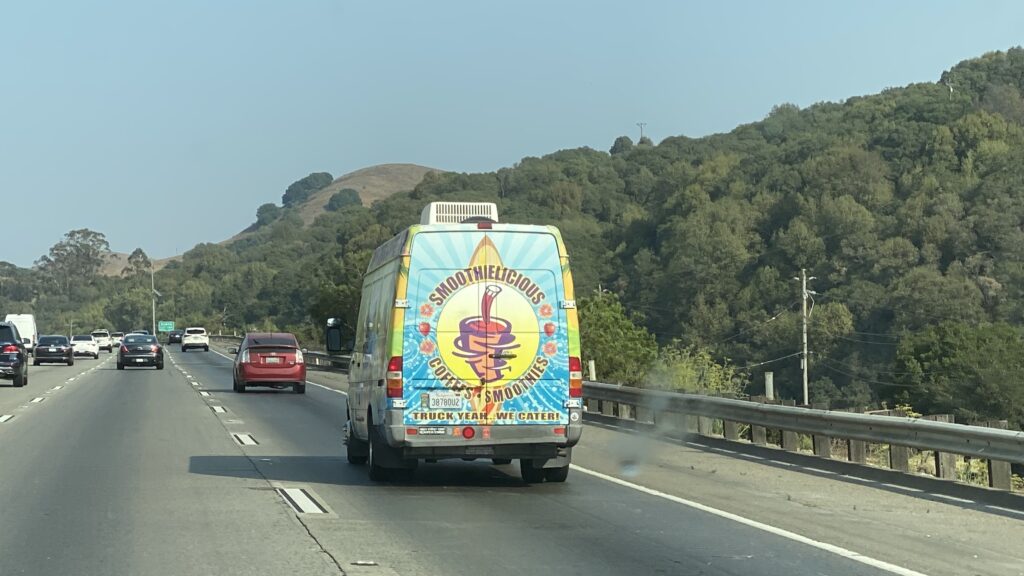 At the releasing area, I enjoyed watching people pick up big items not realizing that their vehicle compartments are too small.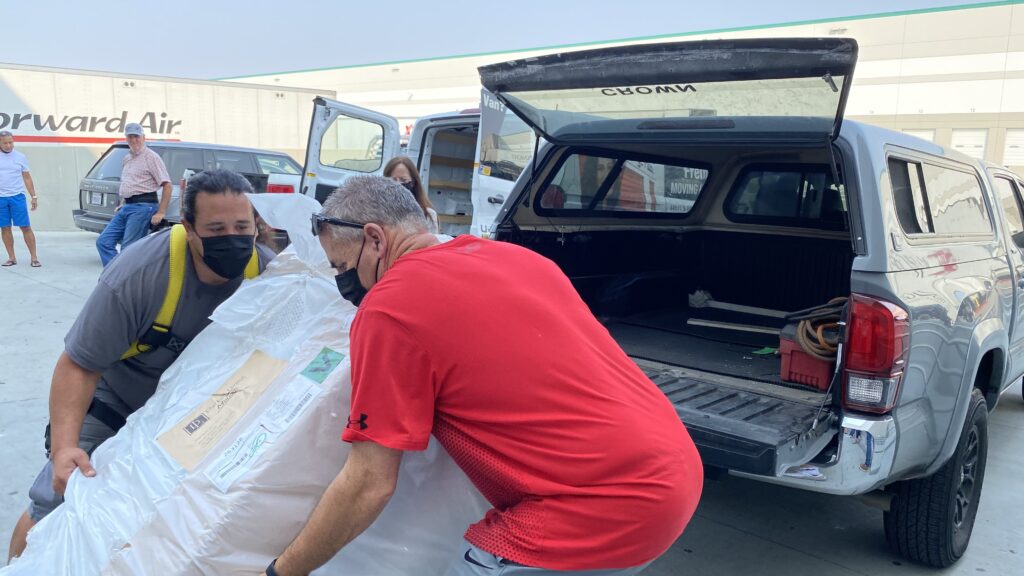 We're here to pick up the beige rattan chair.  The releasing manager is Filipina. We waited for almost an hour.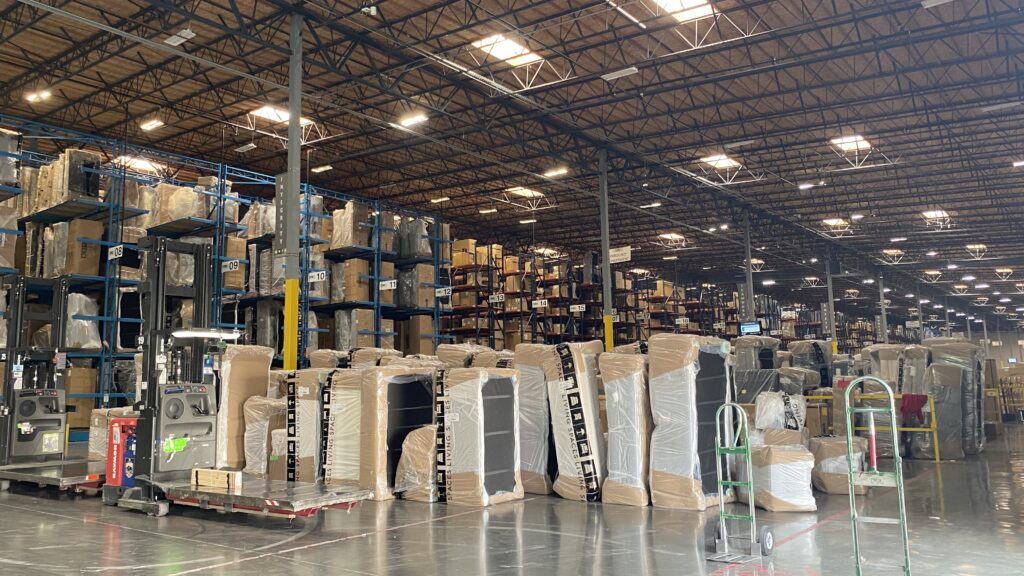 Hindi nga kasya manong!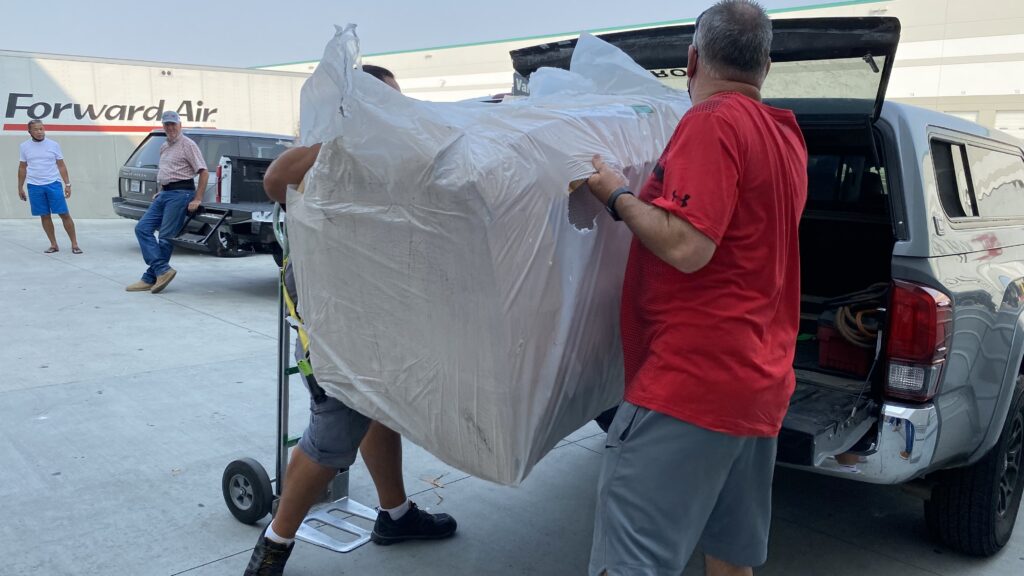 When our chair was brought out,  I told Edmund to remove the box kasi hindi kakasya.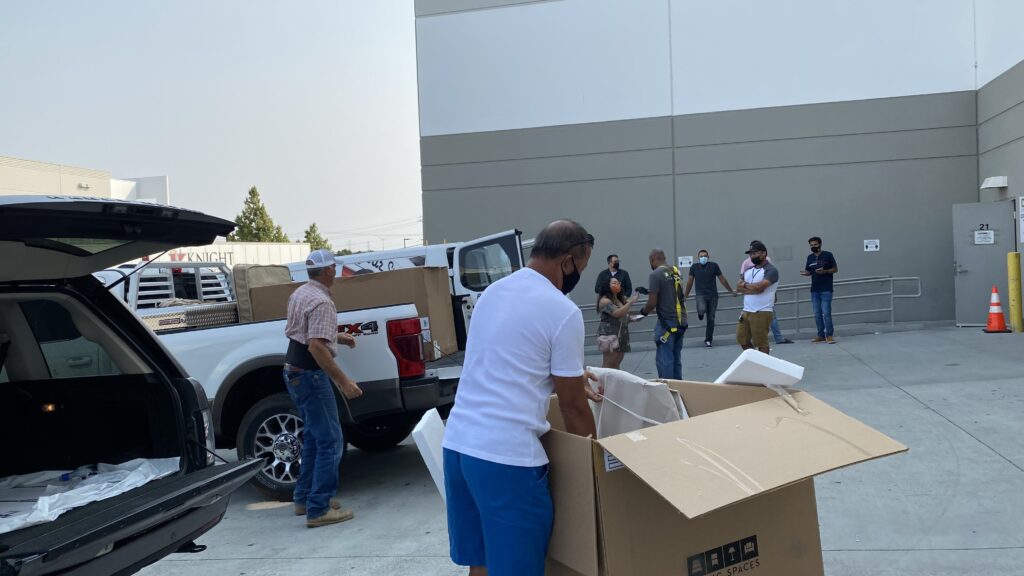 A guy helped Edmund load it and I gave him a $10 tip to show our appreciation.  

Buti na lang I decided to remove a portion of the wrapper.  This is not what we paid for.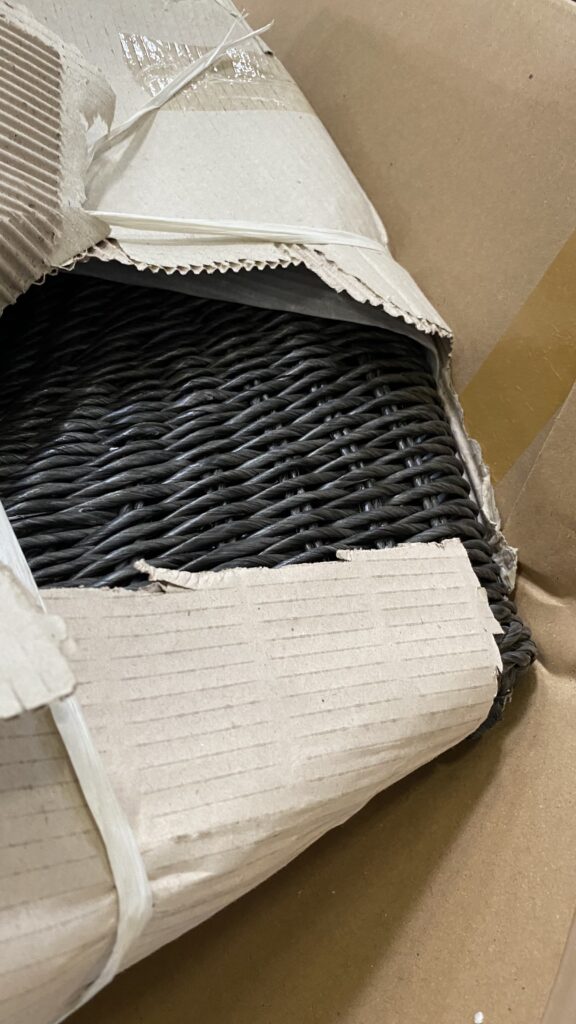 We returned it to the warehouse and sadly they no longer have any beige color.  We went back to their showroom and explained what happened.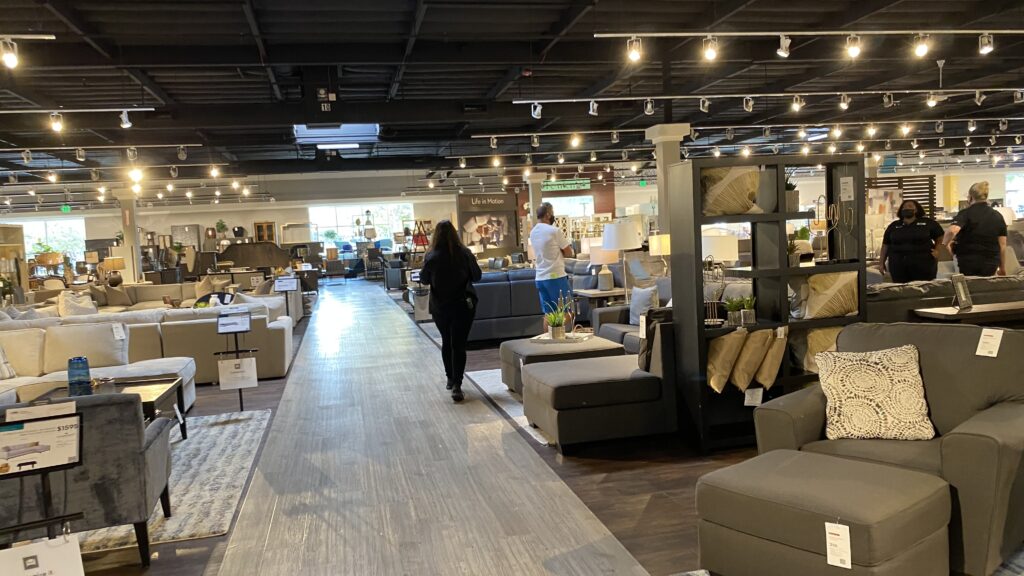 After some convincing,  they agreed to sell this in-store display.    I wanted to order and pay for one more chair but they can only accept payments for in-stock merchandise.  Last piece na daw ito. This young salesgirl is very competent.