I felt some kind of sadness a while ago thinking about our dog Tyler who recently drowned in our pool in Manila. Naaawa ako sa kanya.
After dinner, the sky was still bright so I sat outside in my little corner I call the rose garden even if it only has several rose plants. At first, I listened to Helen Reddy's I don't know how to love him then I looked up and noticed the beautiful sky. I said a little prayer, to protect us from any kind of sickness and harm. I also wished sana meron ng gamot and vaccine against covid19. My husband and Oyen are going home soon and I prayed for their health and safety. I am worried about many things.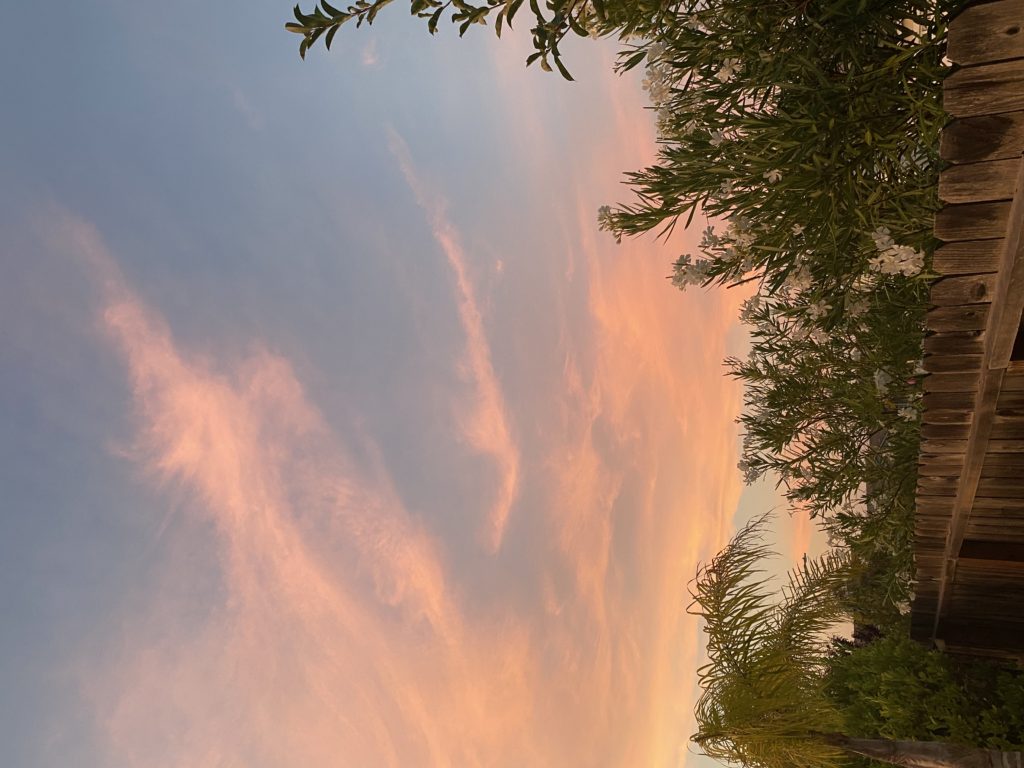 Then I remembered Tyler. Lalo akong nalungkot. I couldn't help but shed tears. We love Tyler. My kids love him very very much.
Do you think dogs go to heaven? I wonder if dogs have souls too just like humans. Our faith tells us that when a person leaves this earth, his/her soul goes to heaven, in the loving arms of the Lord, our creator. And how about the other living things like chicken, cows, horses, birds, elephants, cats, monkeys, etc. Do they leave their spirits behind or they don't have spirits or souls? And how about dogs? I would like to believe that they too go to heaven when they die. That they don't vanish just like that.
We had lost many dogs in the past and each time was heartbreaking. Last year we lost Twinkle.
I lost a charming golden poodle named Bugsy. He was killed by a neighbor's big dog which got out of their house, found himself in front of our house. Our dogs were inside our garage but unfortunately Bugsy was barking at this dog too close to the metal railings. The big dog was able to bite Bugsy's ear and pulled him out of our gate and dragged him into the street. Our neighbor offered to either give me money or buy me another poodle as replacement. I said no. I firmly asked that they remove their dog from the village or I would shoot it myself. They asked for consideration because they loved their dog. I loved mine too but mine was dead.
Jazmine died of parvo. Jacko, Fendi, Fina, all German Shepherds, died from some kind of illness.
Hershey and Simba died on the same day from dog food poisoning. Simba was Oyen's first dog. She was 9 when we bought Simba from actress Caridad Sanchez.
I bought Hershey from a pet store on the 4th floor of Robinsons Galleria as a birthday gift to my son. When I picked him up from school on that day the little puppy was in a small cage I also bought from the pet store. Nyke must have been 6 or 7 years old.
Oyen was in college in NY when Simba and Hershey died and we didn't know how to break the sad news. Of course I had to tell her, and of course she cried and cried and cried. That was when news broke out that a popular dog food was the cause of deaths of thousands of dogs in the US. That was the same brand we were feeding Simba and Hershey.
A few years ago Jazzy was run over by the white Expedition parked in our garage. Etong security, hindi naman pala marunong magmaneho eh pinakialaman, while the other drivers were cleaning the other vehicles, he got on the Expedition and stepped on the gas. Ayun, it jumped, and crushed everything in its path- a wood and glass cabinet with golf trophys and some antique decors, a brand new Ford Fiesta, and Jazzy!
Jazzy was pinned on the wheel. Her frail body was no match to the massive truck. It was so tragic. She was also blind and couldn't sense danger.
Jazzy was a survivor and a tough cookie. Many years ago she was dying but my daughter did everything she could to prolong Jazzy's life. Pinaopera yan ilang beses, laging nasa doctor, merong gamot, vitamins, special food, lahat na, to keep Jazzy alive. She recovered and lived many more years tapos eto ang ending. So very sad.
When I go home, I am going to devote a small plot of land in memory of our pets. Maybe 100 square meters, like a cute dog park with sculptures of our lost dogs, with their names memorialized.
In loving memory of Jacko, Fina, Fendi, Jazmine, Bugsy, Simba, Hershey, Cooper, Lincoln, Jazzy, Twinkle, Tyler.