August 6, 2020, Thursday
My daughter's eyes are puffy from crying. We were at the Petaluma Premium Outlet this afternoon when she received a message from our maid Jebel saying "Mam wala na ho si Tyler". She asked me what exactly did Jebel mean na wala na si Tyler.
Tyler is actually my son's dog but Tyler is very close to Oyen too. Ever since Nyke left, Tyler sleeps in Oyen's room. He is blind but responds to our voices, most especially to Oyen's. He knows how to go up to Oyen's bedroom. Sometimes she brings him to the office.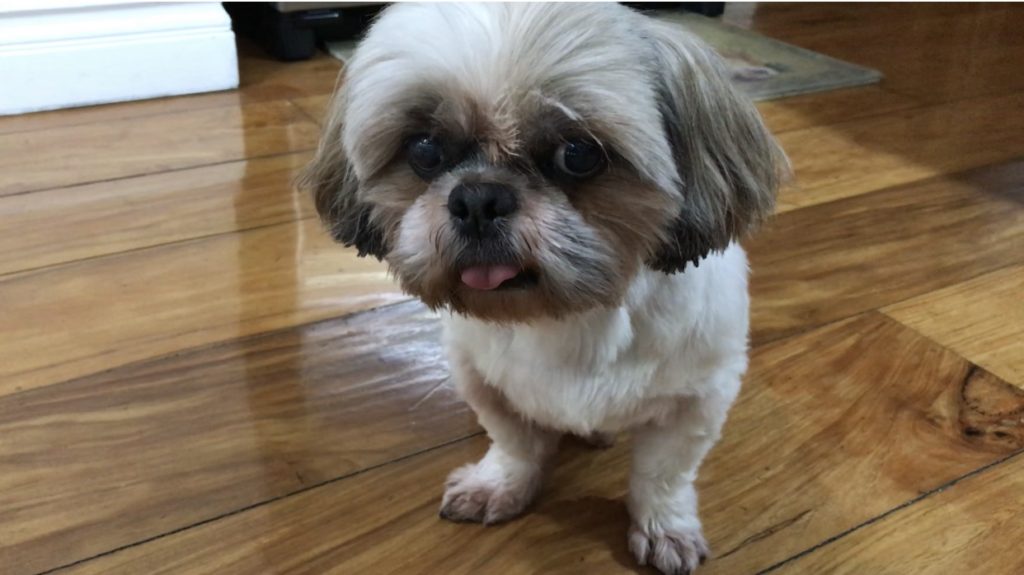 (taken on Feb 14, 2018)
My daughter spends a lot of her time caring for our dogs. Kahit pagod na sya from the office, pag-uwi she would bring the dogs out, one by one, ipinapasyal. When they're sick, she makes sure they are given proper attention, calling the doctor, dala-dala sa vet, they have vitamins, medicines. She spares no expense making sure our dogs get the proper care. She buys them treats, toys, etc. She simply loves our dogs dearly. She spoils them too.
Tyler lost his eyesight when he accidentally scratched his eyes. One got infected, then the other eye. I saw Oyen personally putting eye drops and antibiotic ointment on Tyler's eyes, also giving him medicines, lovingly feeding him.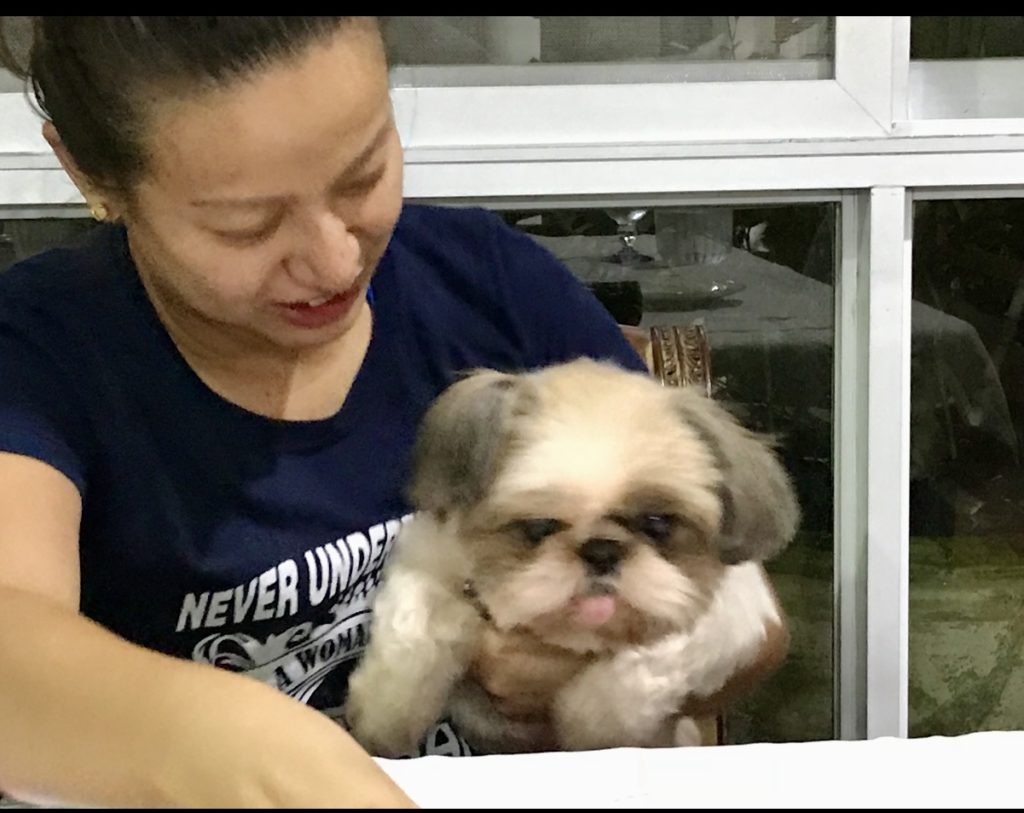 I called Jebel to ask what happened. Nalunod daw sa swimming pool!!!!! Nakita na lang daw habang nagwawalis si Antonia sa may pool.
Last time they saw him alive was at 6:30 pm when they cleaned his eyes. There are two steel gates Tyler had to pass through before reaching the pool area. The maids must have left those two gates open. Our smaller dogs never wandered into the pool area because we keep the gates closed. It's difficult to believe that Tyler slipped in between the steel railings and plastic matting to walk towards the pool. He is too fat to be able to squeeze through. The maids must have left the two gates open.
Jebel claims the gate from the lanai was left open so that the two bigger dogs could take shelter when it rains.
Although dogs could instinctively paddle in the water, not all breeds could actually swim. And if ever they are in the water, they cannot paddle for longer than 10 – 30 minutes maximum. Since Tyler is blind, he would not know where to paddle to. He could have moved in circles till he got tired and drowned. And we don't know if the level of the water is high enough for him to reach the pool's ledge, baka hindi nya makaya umakyat and madulas pati.
When I think of what he must have gone thru trying to save himself, panicking, frantically trying to get out of the water, parang nalulunod ako. Sorry Tyler we were not around to save you.
This is so sad, nakakaiyak.
I instructed Jebel to wrap Tyler in a clean white towel and bury him in the backyard beside Twinkle. Place fresh flowers on his tomb and light a candle. Tyler's 10 years old.
Gusto naming magalit pero pinigilan na lang namin. Yun na nga lang gagawin nila, to take care of our dogs, hindi pa nagawa. "Mam, hindi naman namin pinabayaan si Tyler" our maid reasoned out. Oyen didn't want to speak to them kasi naiinis.
I instructed our assistant from Makati Ford to call our house. She was able to speak to Antonia. Pinasabi ko na bago sila matulog to make sure all the dogs are fully accounted for, they are safe, and the gates are all locked, at huwag pabayaan.
Oyen messaged Nyke that Tyler is gone. No response yet from Nyke.
A few months ago when I asked my son what he missed from home, he answered, the food and his dog Tyler.