It's been raining almost every day but luckily only intermittently. Metro Manila is prone to flooding and horrendous traffic jams so I'd like it to rain only at night when we are ready to lay down in bed. When it pours midday I worry about the inconvenience it would bring to our customers, our employees, and commuters.
To me, rain represents a shower of blessings from above, and sometimes when I am feeling so low and it begins to rain, I feel like the heavens are consoling me or commiserating with me.
Today, I am doing a rain dance. I am not asking for more rain to come but I am doing a rain dance as a form of thanks to the heavens. I set a goal in September 2020 hoping to accomplish it by 2023 but it looks like it will be done before the end of this year. I broke down my goal into 8 levels to track down my progress.
The simple indicators are written on a page in my 2021 appointment book.  Disregard the numbers, I just used this as scratch paper.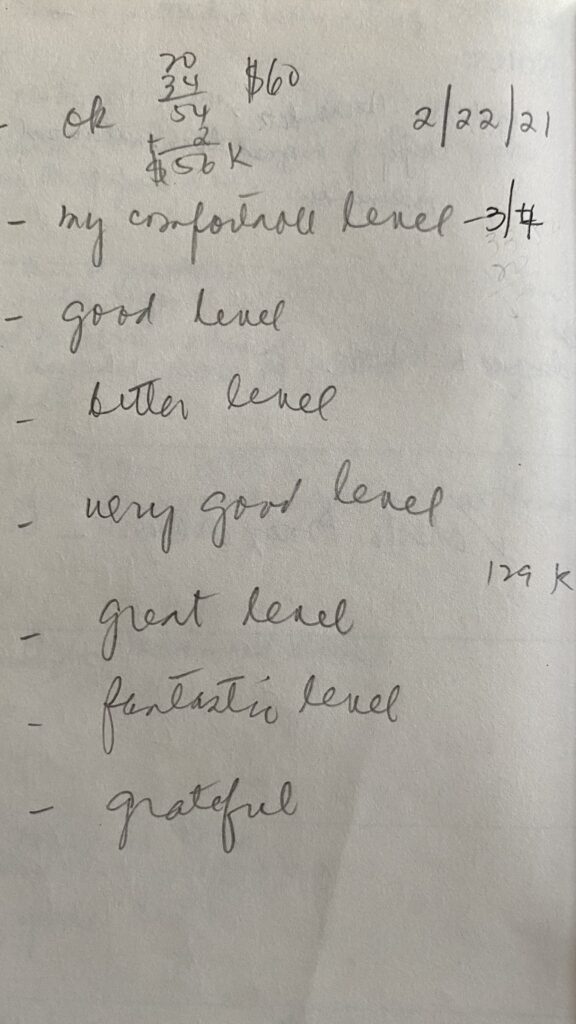 Konti na lang and I will be at a fantastic level. And hopefully, sooner than later, I will reach the grateful level.
I sometimes marvel at how things are turning out. When I was a little girl I would climb up to our rooftop to look at the sky and daydream that one day I would achieve something. I would disappear from my parents' sight for many minutes because I would hide in between the bay windows leading to the roof. This got me in trouble many times. "Aneeeeeee. saan ka na naman bata ka nagpunta?" Pak pak pak, that's the sound of the palo. My mom's right palm hitting my but. Pak pak pak. Minsan kurot, kuti.
I am amazed and eternally grateful that one particular dream of mine came into reality not only once, twice, thrice, seven times at least. Thank you po. As a little girl, I must have been so convincing that God granted me that same wish over and over again. Siguro sabi Nya, "Naku ang kulit nitong batang ito, sige na nga eto na, oh hayan pa, oh eto pa, iyo na, oh ilan pa gusto mo?"
I am deeply thankful for all the help and extra blessings the heavens have been generously giving me. Salamat ho. Maraming, maraming, maraming salamat ho.
#choosetobegood
#keepyourfaith
#thankyouLord
#bepatientandkind
#begrateful