I was on the phone with an old schoolmate of mine. She built daw a small clothing store. I asked how big or how small. She couldn't give me the actual size. She was mumbling— "100 meters, 50 feet."
That's not the size, that's either the length or the width. And that is not small, 100 meters is long or super wide.
When pressed, she answered "4 ft x 5 ft."
A—- "Hah? Mali yata yan, napakaliit naman ng 4 x 5 ft."
In resignation, she just said "basta maliit lang. Bahala na yung contractor.
She clearly didn't know how to measure. It is a mortal sin if you are constructing something– like a house, a room, a patio, a toilet, and you have no clear idea how big the area is. "Bahala na yung contractor" is another mortal sin. You cannot embark on a project by totally letting the contractor determine the size. Even if the contractor is reliable, competent, trustworthy, you should know what you are building. Baka pagkatapos, magulat ka "ay bakit ang liit?" or "Ay, bakit ang laki naman."
Please get a medida (tape measure), better yet, a long retractable measuring tape used by professionals and DIY hobbyists.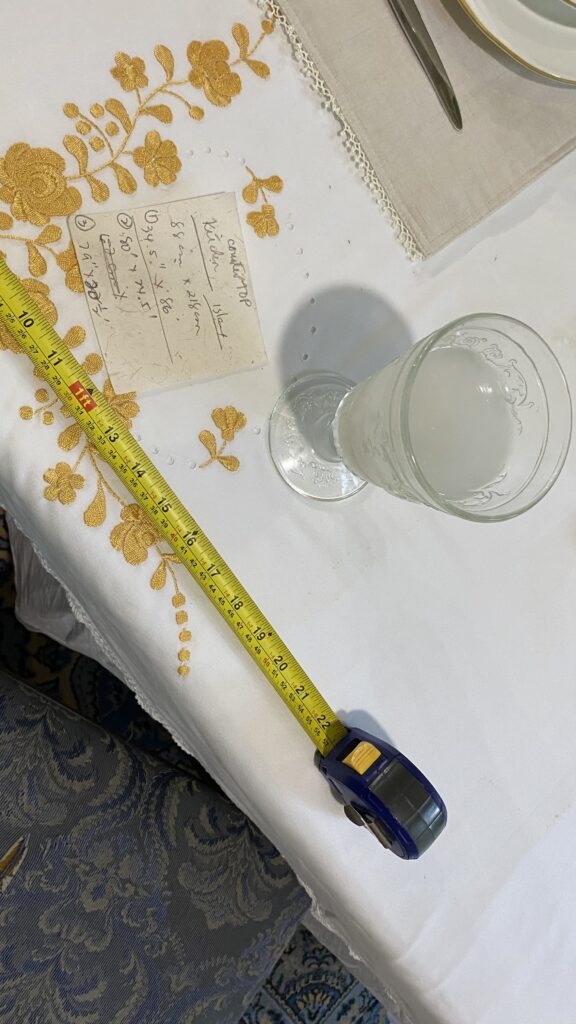 You can overpay for curtains, floor carpeting, window blinds, etc. if you don't know how to compute, how to measure.
Example, I asked a curtain maker to come over to our house to measure the windows and to give me a quote. She probably thought I was so dumb that she told me that our toilet window measuring 2 ft x 2 ft needed 25 yards of fabric. A contractor / architect quoted painting job for our cottage house in Tagaytay. When I looked at his quotation, he based it on 500+ square meters of wall / ceiling. There's no way our house could puke 500 square meters of interior and exterior walls plus ceilings. Grabe naman sa over-measurement. Marami sila sigurong clients na oo lang ng oo.  Bayad lang ng bayad.
Several years ago, we asked for a quotation from a company claiming to coat glass curtain walls with colorless heat repellant chemical. Their people came to measure. After they sent me the quotation, I went down to the showroom and measured the glass panels myself.   I told the company that mali ang sukat nila.  I gave them my own measurement and recalculated the price.  Their quote dropped by at least 100,000 pesos.
Same with floor carpets. The vendors tend to give allowance. Okay lang naman to give allowance of a few square feet or meters, but not to deliberately exaggerate it for the purpose of collecting more money. That is cheating.
Memorize too the standard sizes of some items that are popular or used often.
For example:
1. Short bond paper — 8 1/2″ x 11″
2. Long or legal size bond paper —- 8 1/2″ x 13″
3. Standard Twin Bed —– 36″ x 75″
4. Double bed ———— 54″ x 75″
5. Queen size bed ——– 60″ x 80″
6. King size bed ——— 80″ x 80″
Please know also how to calculate with precision, lengths and widths, without the aid of a measuring device.