Aug 7 1:56 pm
Our Saturdate continues with a walk from Cheesecake Factory to the nearby department store Nordstrom.
There are yellow happy face stickers and balloons in strategic areas which makes the place festive.  According to one of the sales clerks they are having a sale.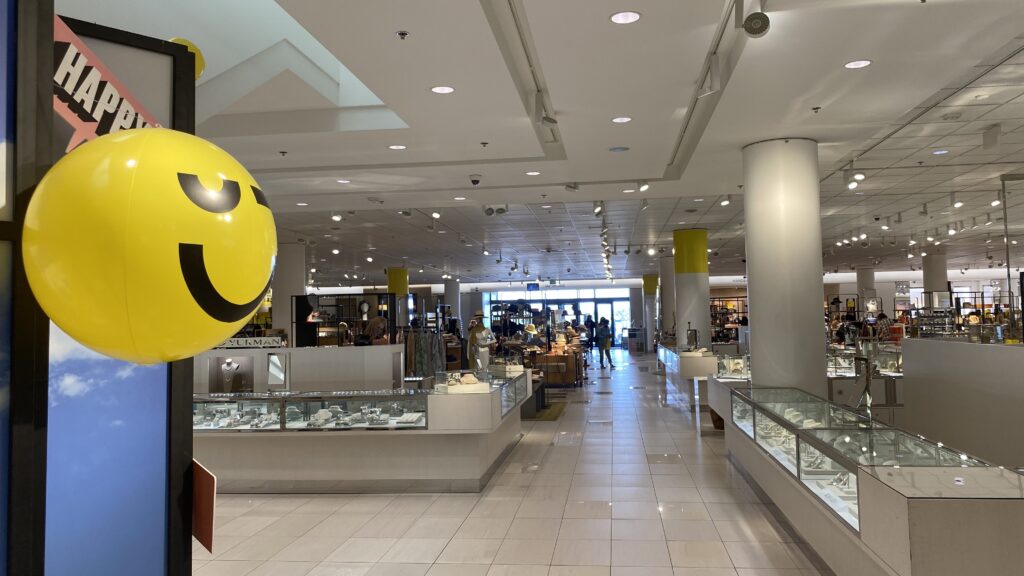 We split up, he, to the men's section while I look at the straw hats on a long table in the middle of the main floor.  The prices range from the upper $200 to $400 + sales tax.   Nakakahinayang pag nilipad ng hangin.   It happened to me several times before, papasok pa lang ng first year college si Oyen, pagdating namin sa New York, ang lakas ng hangin, hindi ko namalayan nilipad na pala sombrero ko.  Kaya pala merong lalaki na nasa kotse.  He rolled down his window,  senyas ng senyas sa akin, may sinasabi pero hindi ko maintindihan, maingay sa kalye.  Yun pala he was pointing at my hat.  Hayun nawala na.   Second time was in Kruger National Park.  We were riding on an open roof jeep.  Nilipad yung sumbrero ko, tinigil yung jeep,  I ran to get it but kala ko makakain  na ako ng leon dahil lang sa pagkuha ko ng mumurahin na hat.
Meron ako 2 hats iniwan ko on top of the dining table at the farm, hayun, nginata ni Cali and Jersey. Sira-sira na pagbalik ko dun.
These are not included in the sale,  regular price daw.  Saka na lang.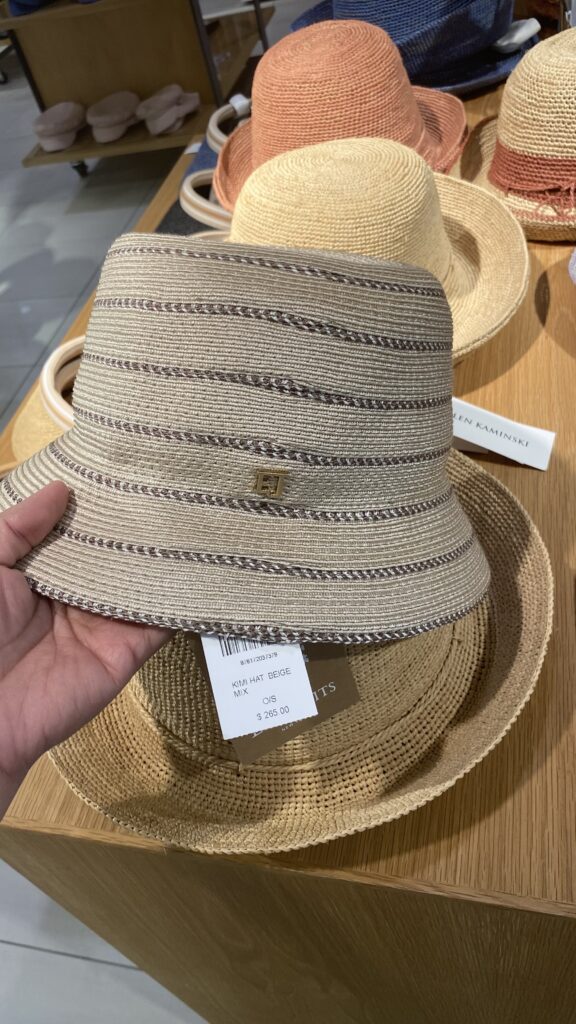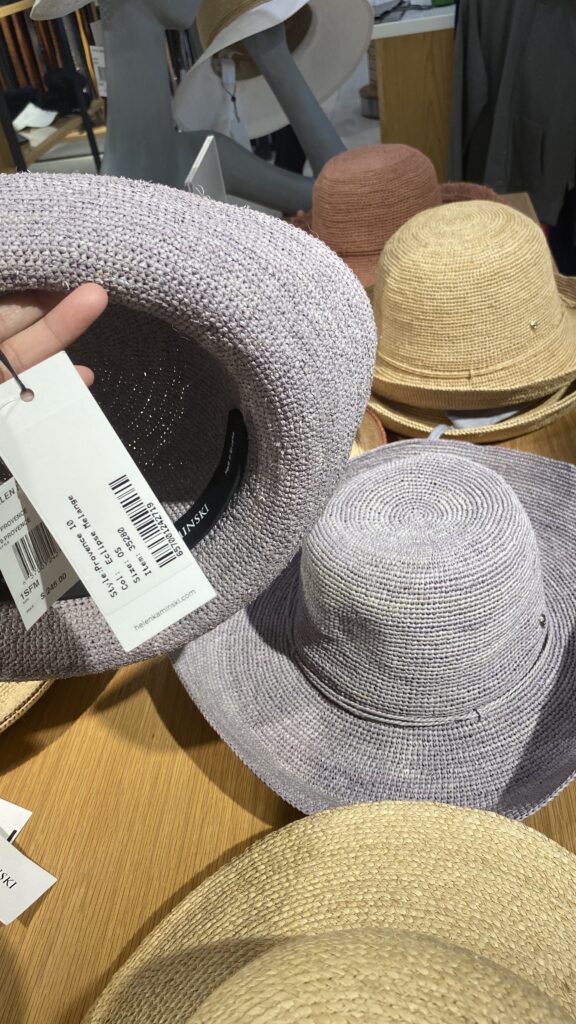 Eto hindi rin daw kasama sa sale pero at least merong libreng salawal.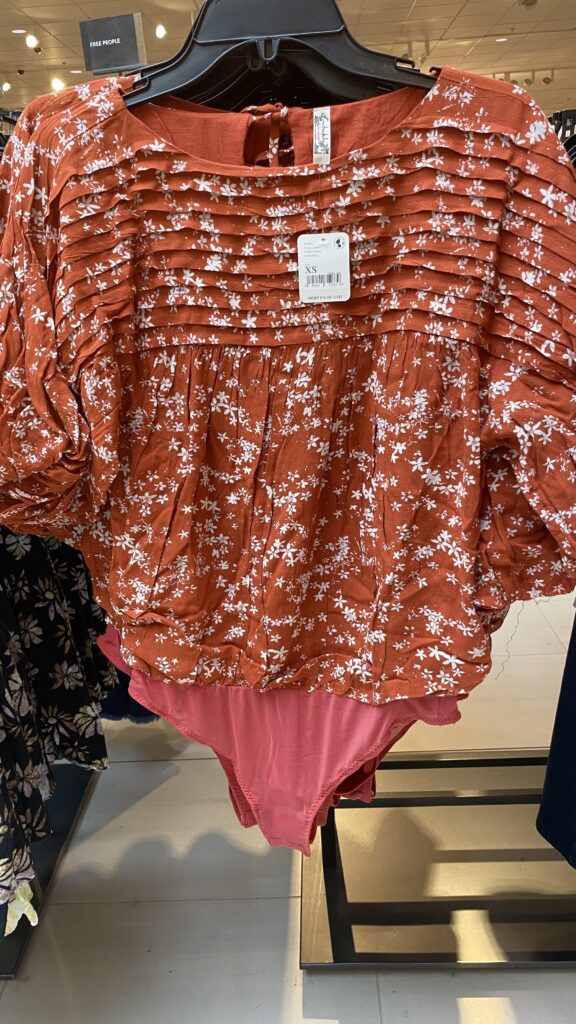 Lahat na lang ng hawakan ko hindi kasama sa sale.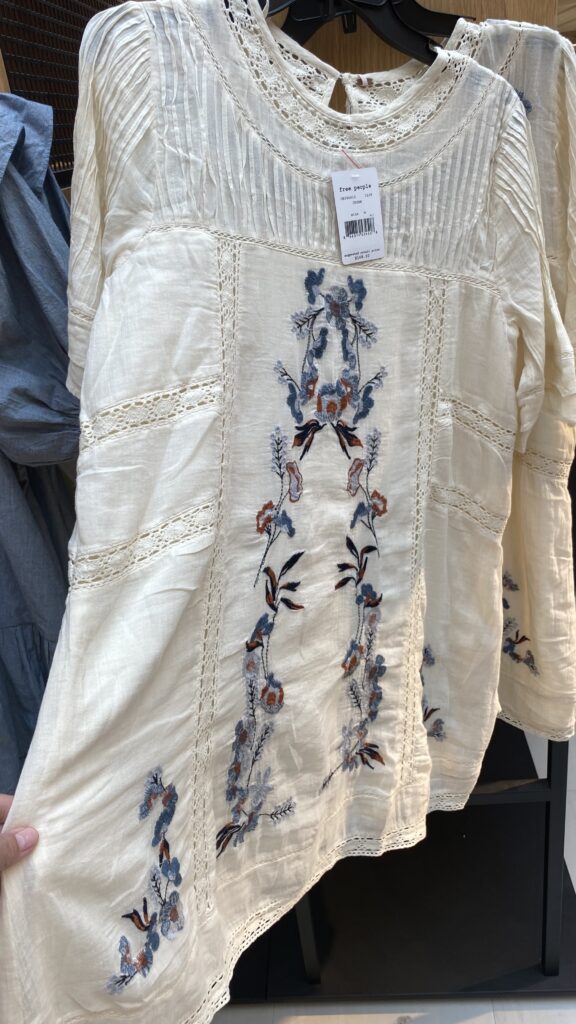 Saan ba ang sale?  I will go to the second floor, maybe they have 50% off.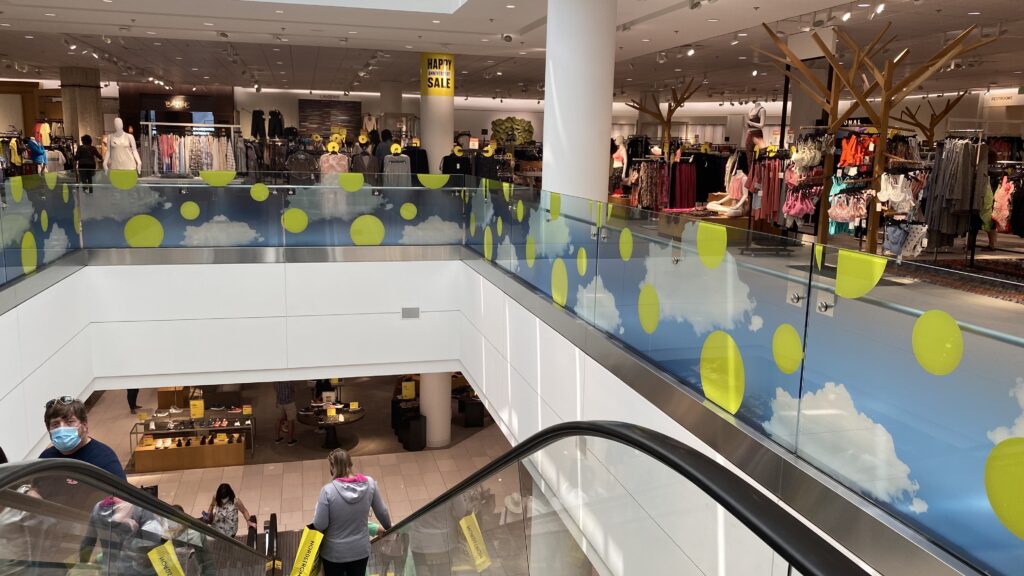 This is love at first sight.  It's a simple blue polo that looks a little bit like a blazer.  I think this will be good for traveling, o sa eroplano.  Casual, comfy, and a little bit formal.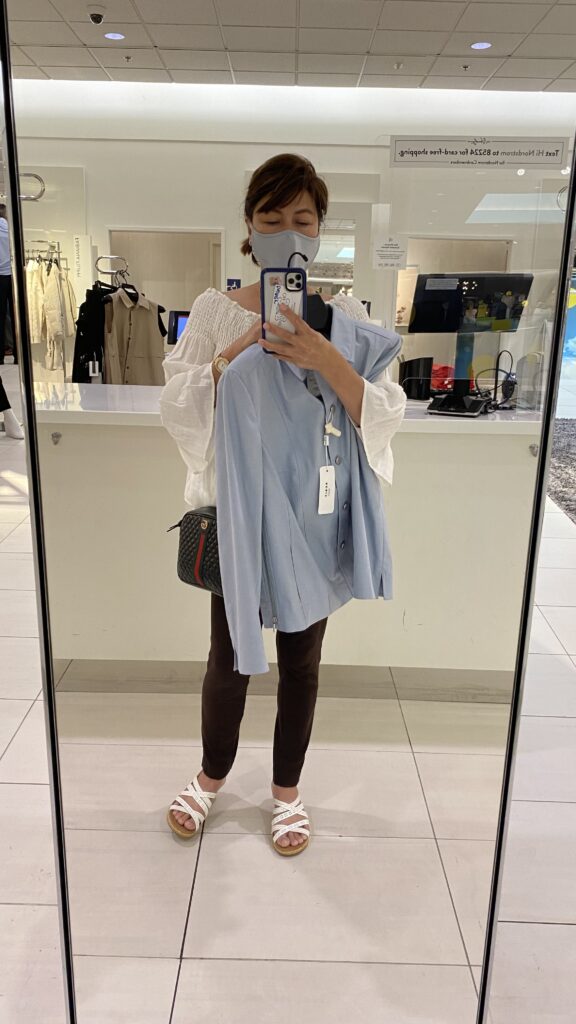 Malabo na mata ko,  Hindi ko makita or mabasa yung presyo.  Punta ako sa cashier.
A—-"Hi, I have trouble reading the numbers.  How much is this? Cashier—–"I'll go find out for you."
A—–"Thank you."
Cashier—-"Oh, certainly."
The cashier is pretty, white, with very long blonde hair.   She looks like a college student.  There are many young students working during summer / school break.
Cashier—– "It's eight sixty three ninety."
I figured the price will dramatically drop after removing the 70% off.
A—–"So what  is the price after the discount?"
Cashier —–"That's already net of the discount.  Price is $1,290.   $863 is marked down and is a very good deal."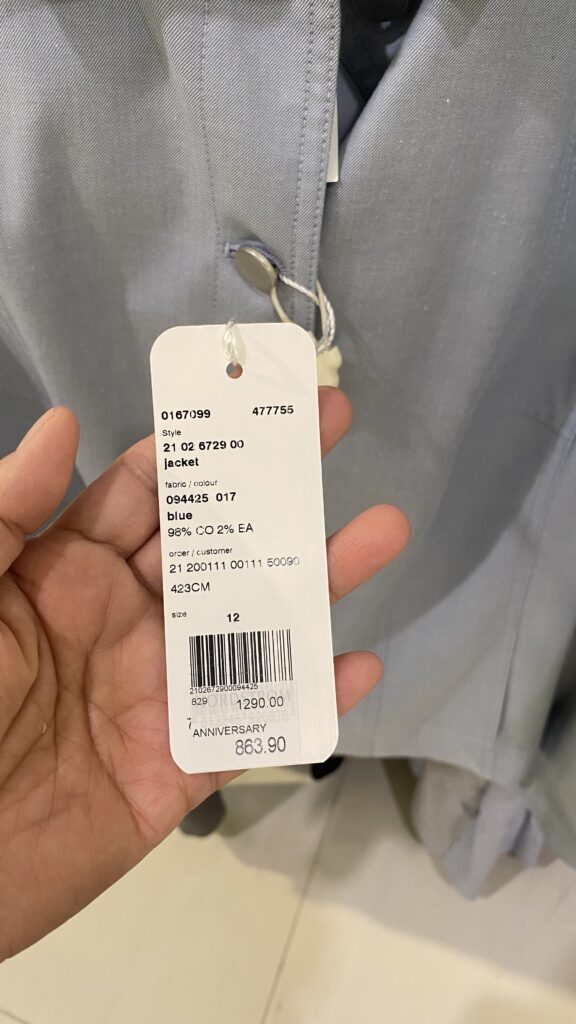 I don't know if I like this only because of the color blue or I really like the whole thing.   To convince myself to believe what the pretty cashier has said that this is a good deal, let me see where it's from.  Yung tela came from Italy, yung tumahi nasa Romania, yung company from Switzerland.   How about the sinulid and buttons,  baka made in China,  I hope not.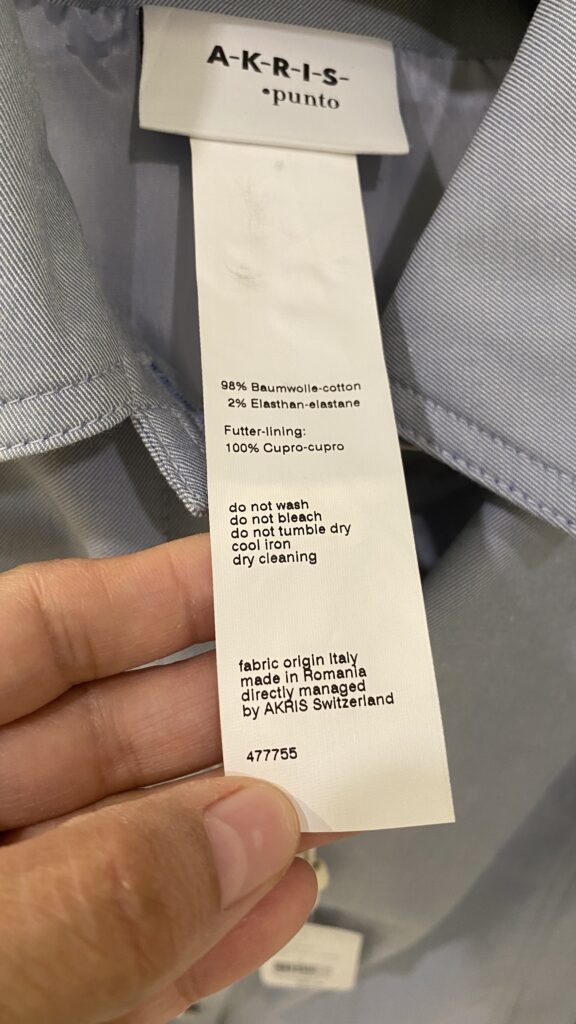 Nice, para akong ikakasal ulit.  I am so fond of lace fabrics. I like this one but I am not sure if it'll hide my preggy-looks.  How much kaya?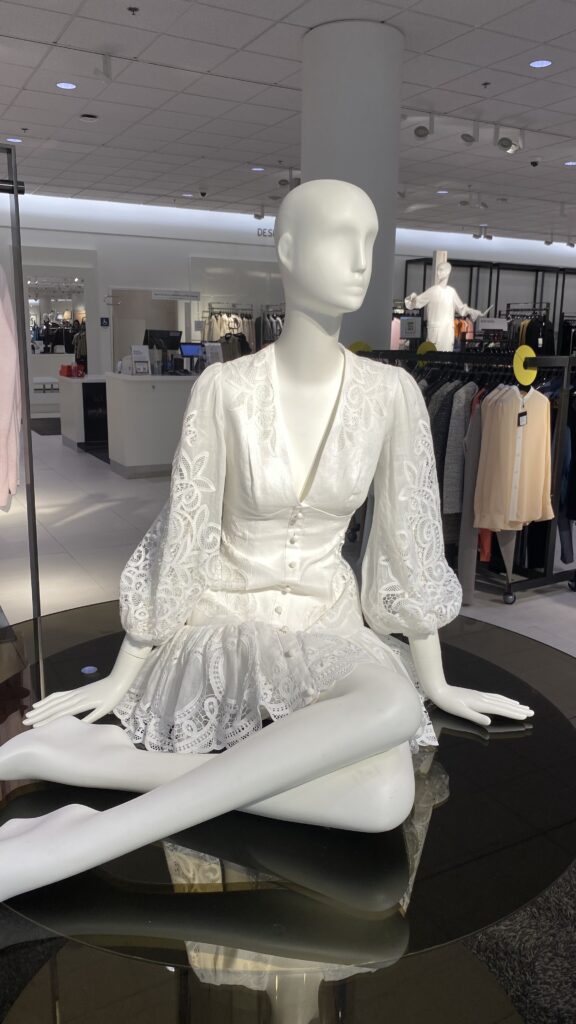 I doubt if this will fit my pear shaped figure. It's nice, it's so white and virginal.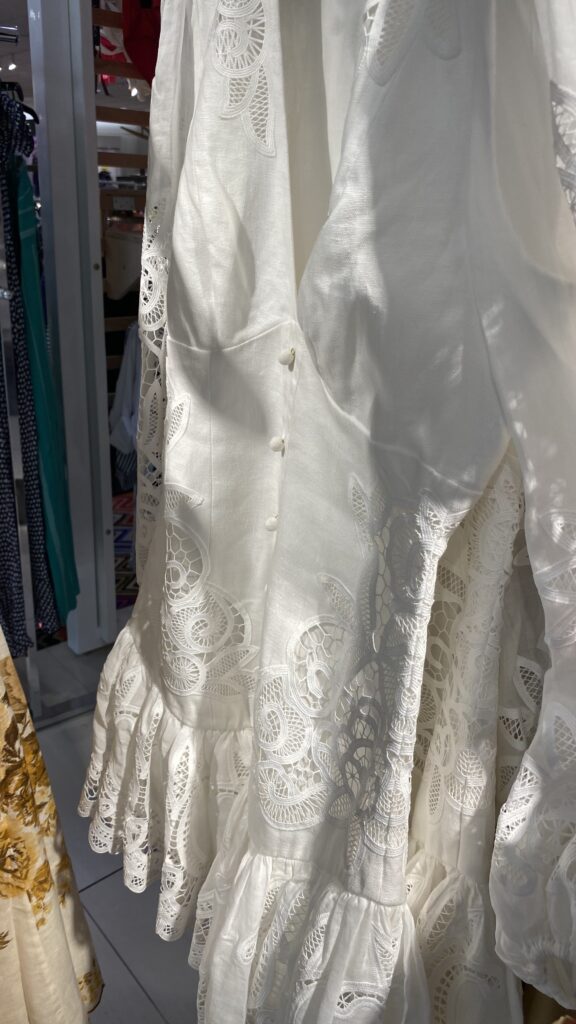 It's not on sale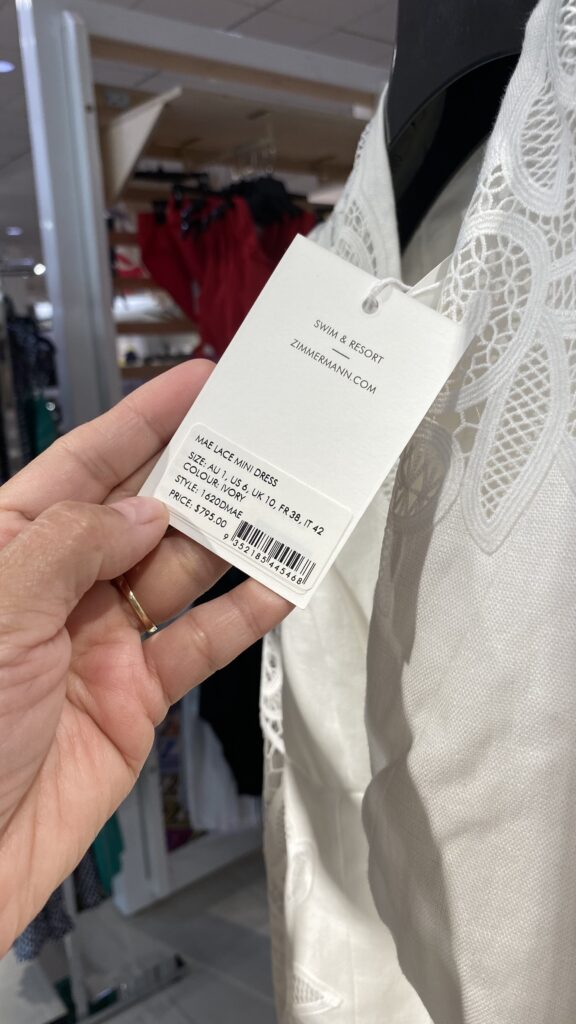 I see Edmund in the men's section trying on shoes so ako rin gaya-gaya.  I have many shoes I don't get to wear.  I wear tsinelas or the same loafers or snickers.  Tamad-na-tamad ako to wear some sexy sandals.  And I have no where to go naman.  Parang sayang lang.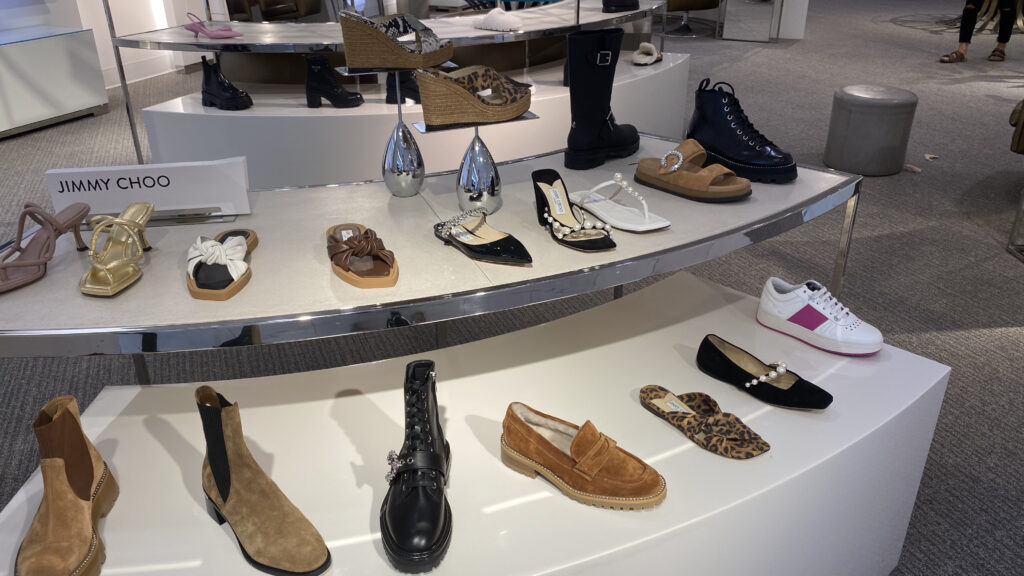 I am seeing Anthropologie from the side glass door of Nordstrom.  Edmund is still busy looking at shoes so I'll go  and come back in a few minutes. It is only some 20 steps away.
I tried on this two lace blouses and they seemed okay.