In the past Edmund complains that it's not fun playing golf in the US because he has no regular golfmates and there are no caddies to carry and clean his golf set. Still, during his short visits he tries to sneak out to play at least once and explores other golf courses within driving distance. He has played with random people too– an Indian doctor, American executives, British, Canadian. It's exciting whenever he gets to play with a Filipino, who's either on holiday too or is actually based in the US.
He loves golfing in Las Vegas because the 40+ courses are close together. He has so many to choose from.   He has also met, Frank and his brother, two white guys  Edmund finds fun to play golf with.
Our visits in Las Vegas usually lasts for one week to 10 days max, and it's not always he gets to play especially with Las Vegas' extreme temperature. We only go to Vegas for a few days after Christmas and another week in June, both times not ideal to be outdoors. It's either he'll freeze or he'll toast.
While on lockdown in California last year, he spends many hours on his phone. He is able to discover and reach out to old friends who are golfers too and are living in the area.
Once the spread of the virus subsided sometime in June or July last year, he was able to go out and happily had met more Filipino golfers. And he discovered friends of friends, relatives of classmates, kumpares of old basketball teammates.
At last he now has a regular golf group playing once a week.
Then it expanded. Some who hears that he is in town invites him to join them. He now has 3 groups. He can play 3 times a week with 3 different golf buddies just like when he is in Manila.
I am glad he is finding more people to play golf with and his circle of friends is growing in number. Many more are inviting him but he is busy too, gardening, or hanging out with me.  He also doesn't want to play when his back or shoulder, or knees, are aching because he'll just lose the game for sure.
He likes to compliment himself by saying magaling daw syang mag-golf. Kapit mga kapatid may malakas na bagyo!! Baka liparin tayo sa lakas ng hangin. Oh well, how can I argue?
May karapatan namang magyabang judging by the number of trophies he has. He has several golf club championships and four holes in one, two in 2020 alone. He also shot two under, one under lang daw he argued with the golf tournament official,  at the Golf Week in St. Andrews' OLD COURSE, going home with a Championship Trophy plus a teddy bear for me whom I named Andrew. So, hayaan na nating magyabang.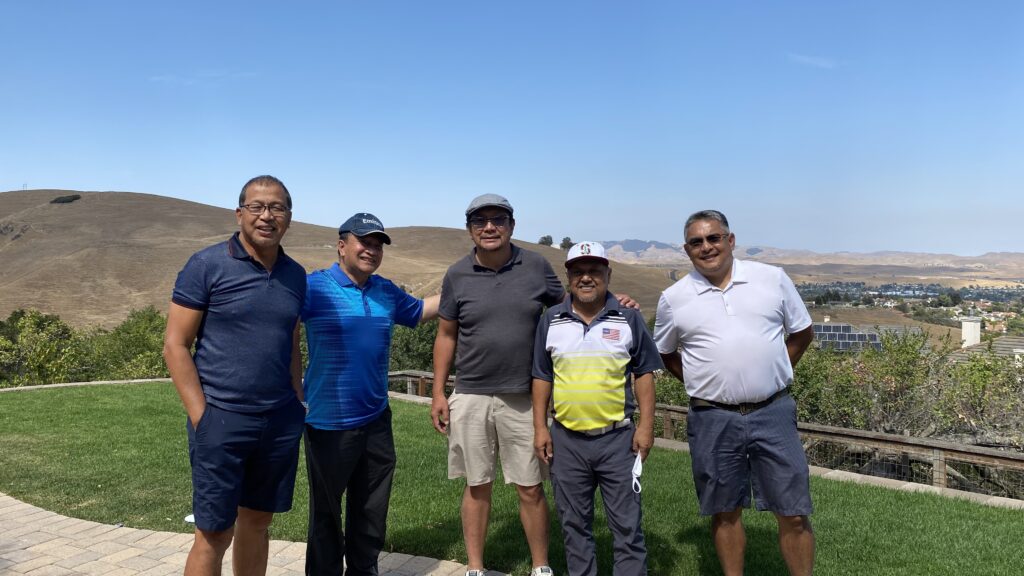 With my friend Joseph na friend na rin nya ngayon.   Magkasundo sila dahil si Joseph eh addict sa golf.  Joseph introduces Edmund to many golfers that's why his golf community is expanding.  Men are lucky they don't need to wear a bra.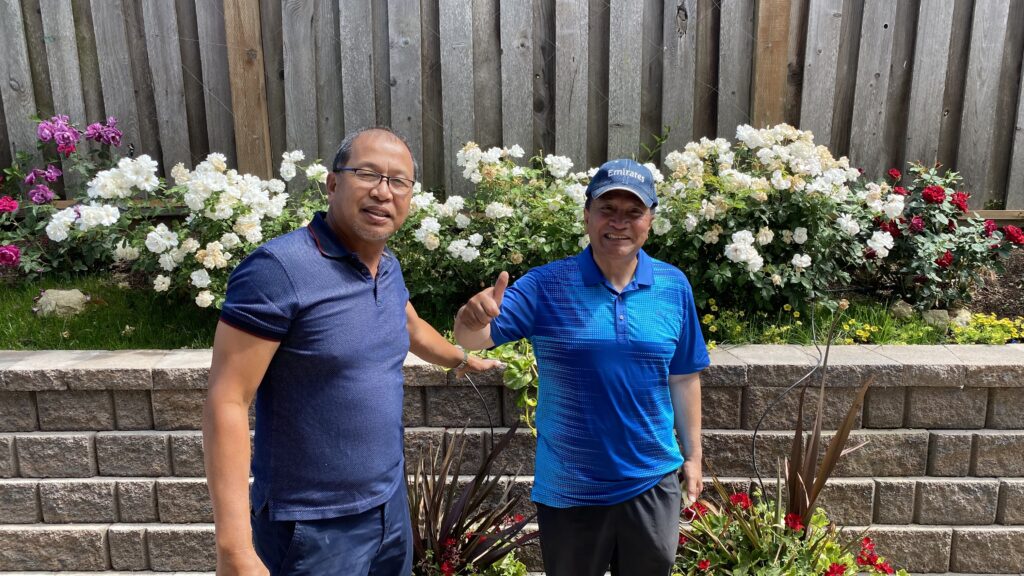 Joseph and friends came from a golf game that morning. Mga mahiyain naman kasi first time they have met us.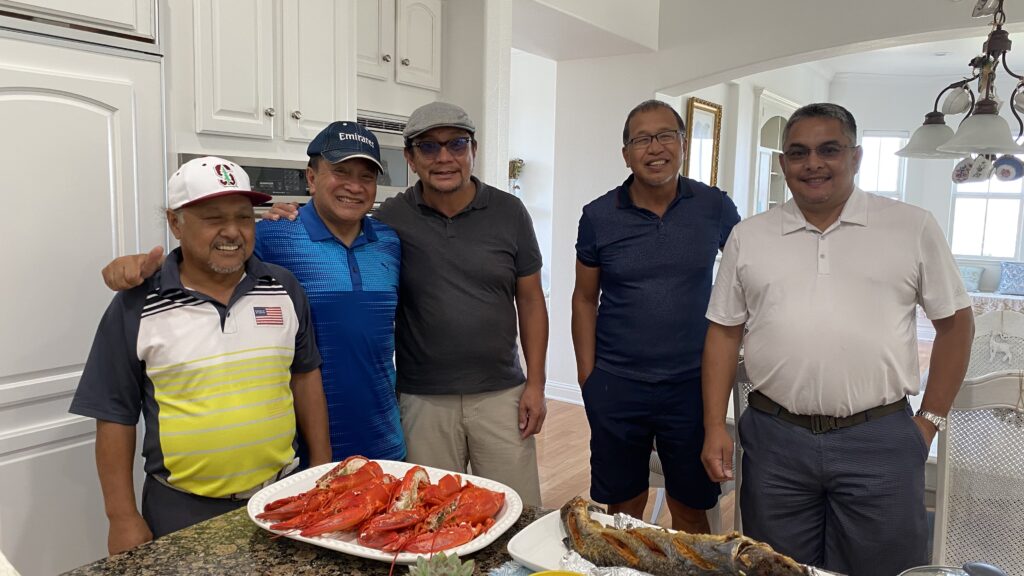 I've known Joseph for maybe 12 years.  I am not sure, I will ask him.  He has an officemate named Edwin, asan na kaya yun?  I met both of them almost at the same time.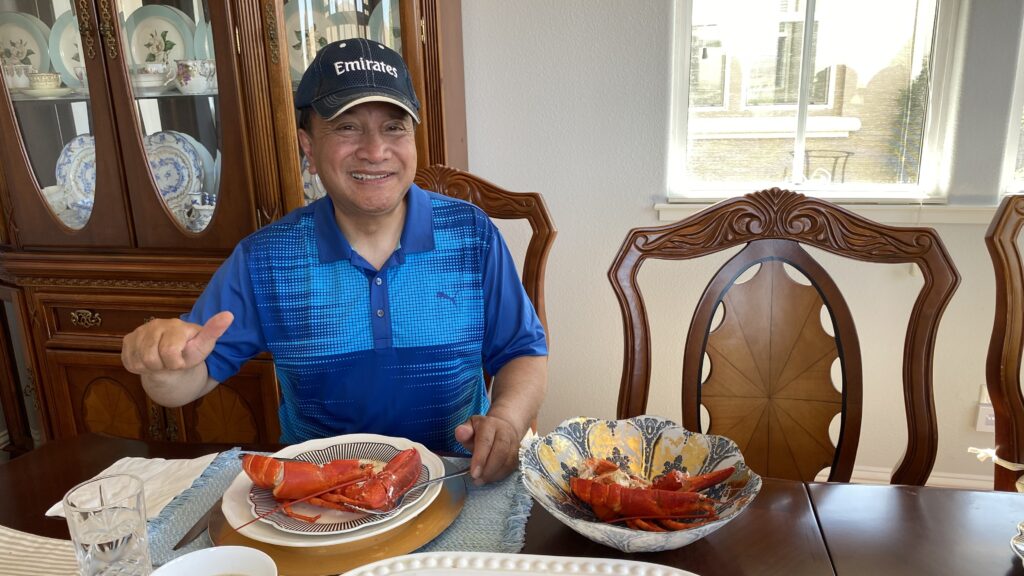 I prepared my version of golfer's lunch special— Fresh clam chowder.  I bought the fresh clams that morning together with the live lobsters.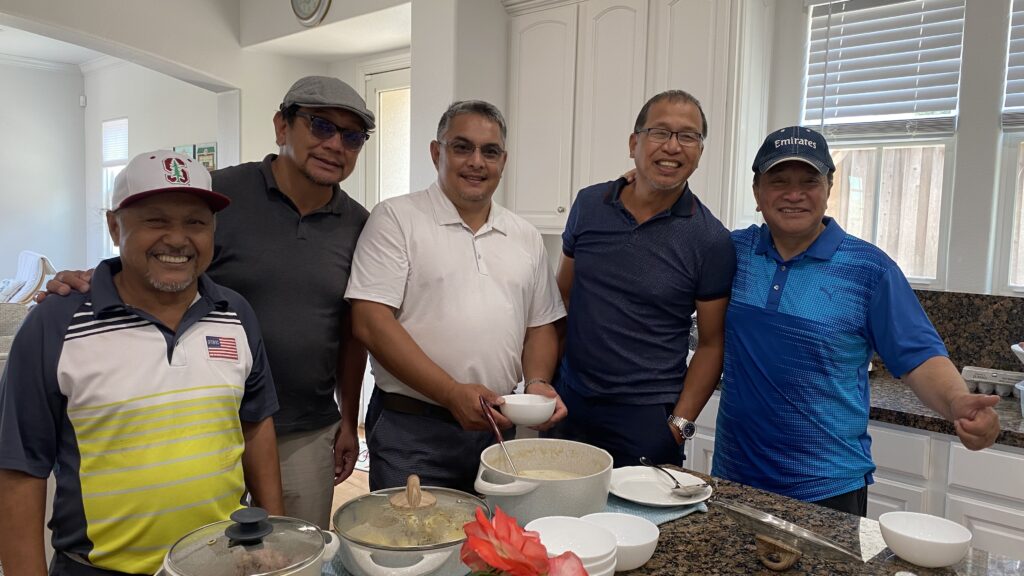 One of them wanted to bring home clam chowder to his wife kasi daw mas masarap pa kesa sa restaurant kaya lang naubos na.  I only cooked half-a-pot.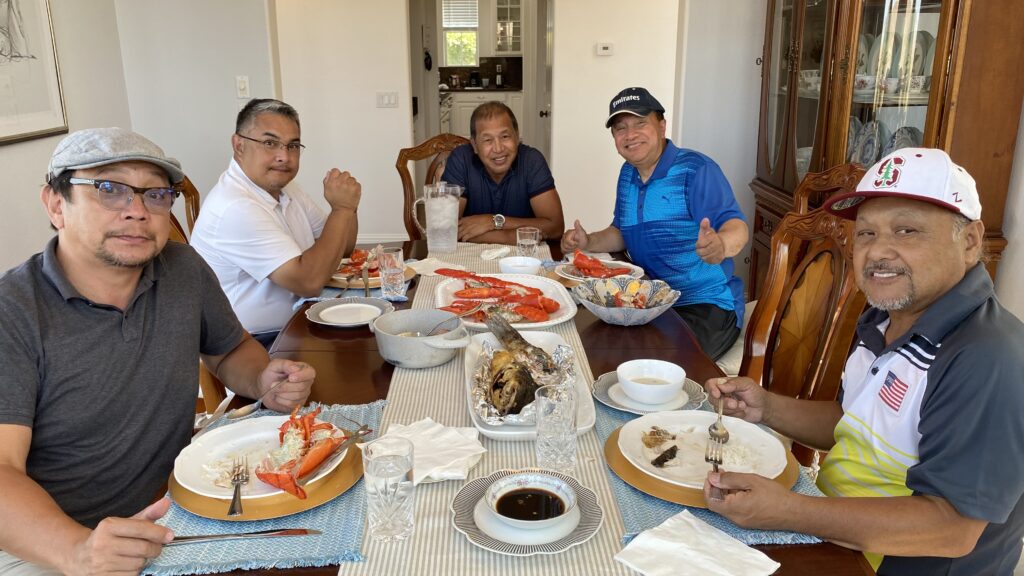 Lobster is made expensive by its weight.  The head and claws are big and heavy but the tail has only a thin strip of meat.