My maximum desired weight for the longest time was 125 lbs. Then came the pandemic which I admit is not an excuse. My weight went up to 128 and over the course of one month, mid-December to mid-January, my weight breached the 130 lbs. mark.
Three weeks ago, my husband was referred to by one of his golf friends, a retired general, to a daughter of Mr. Herminio T. Disini. She sells home-cooked meals. Mr. Disini was a cousin of then First Lady, Imelda Marcos. He was a known businessman during the Marcos time.
Edmund feels a certain affinity to Mr. Disini because when he was still playing basketball, Mr. Disini sponsored their team's basketball games in Guam and Singapore. Edmund has fond memories of Mr. Disini as being kind and generous. A few years ago, he met him at Bruno's Barbershop. A few times, he spotted him attending mass at the same church. He was walking wobbly and he refused to be assisted by his bodyguards.
Edmund wanted to patronize the home business of Mr. Disini's daughter so he ordered food.
According to Edmund's friend, masarap daw yung lumpia fresca, Ilonggo style. It's comparable daw to Kap Ising's in Iloilo. Edmund ordered a dozen for us plus 6 pieces more for his mom.
The lumpiang ubod's main ingredient is shredded young heart of palm, with a choice of meat, wrapped in very thin egg crepe or lumpia wrapper. It comes with crushed peanut sauce mixed with minced fresh garlic.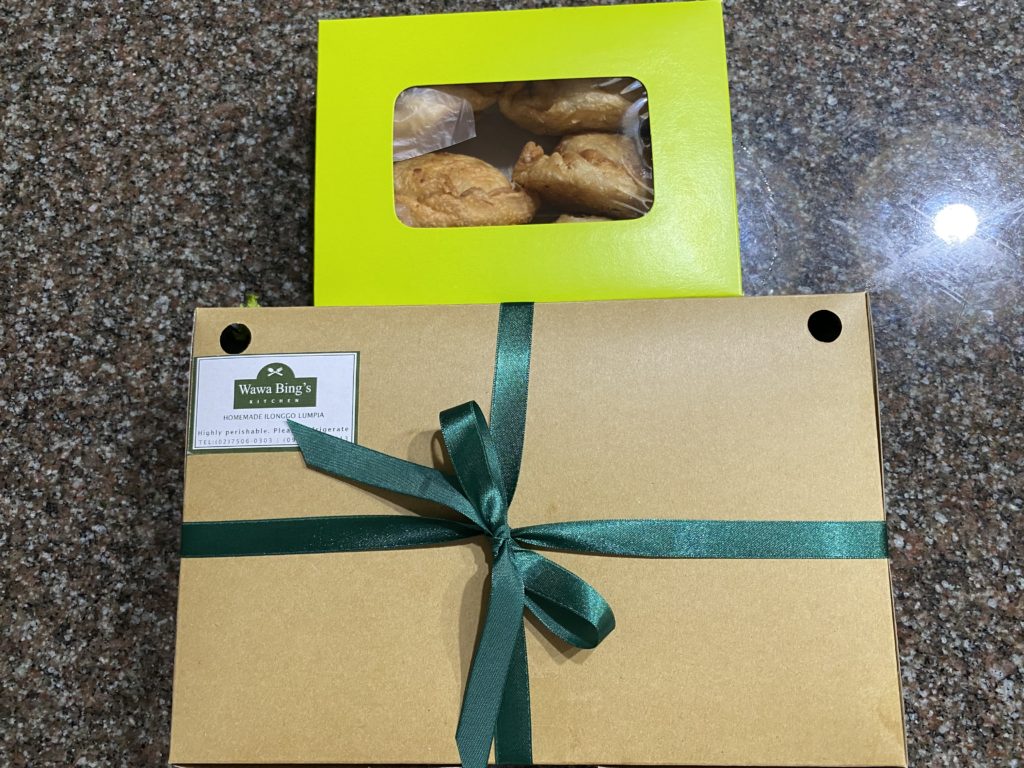 Kap Ising's lumpiang ubod is half the size of this. Ang laki pala.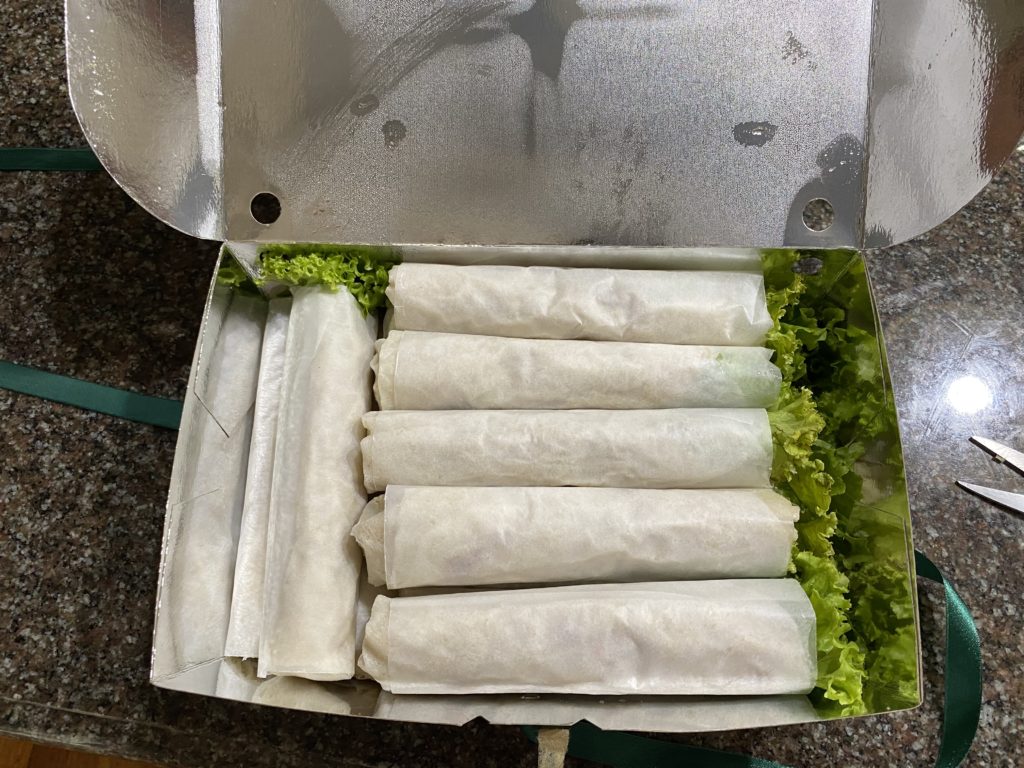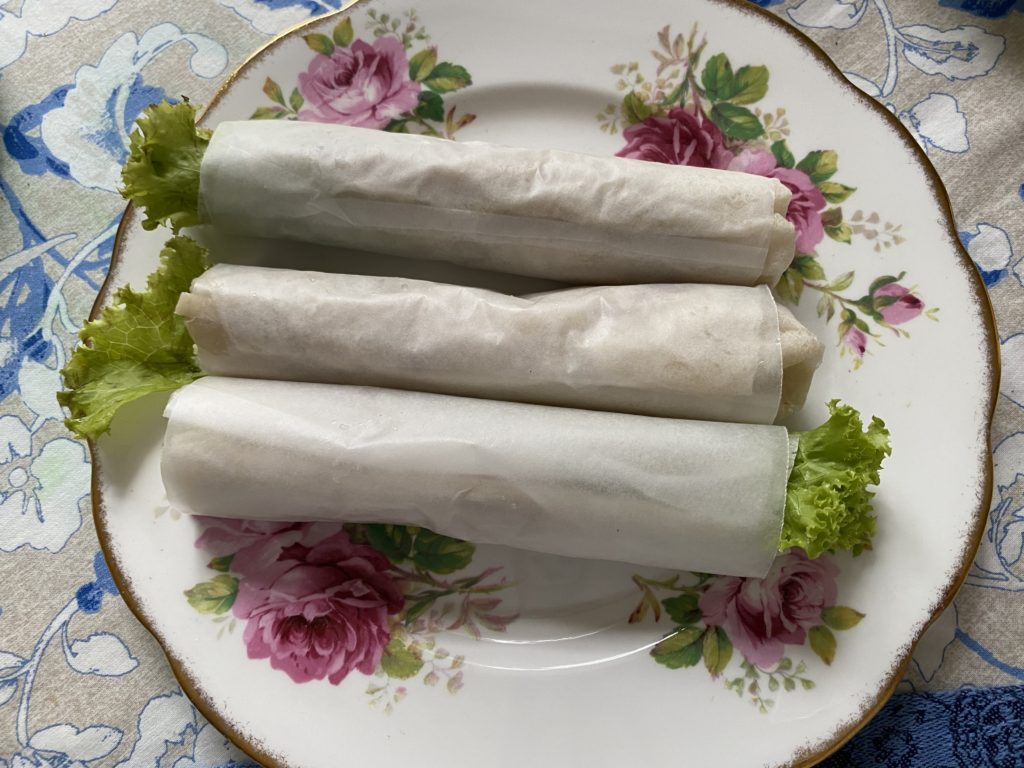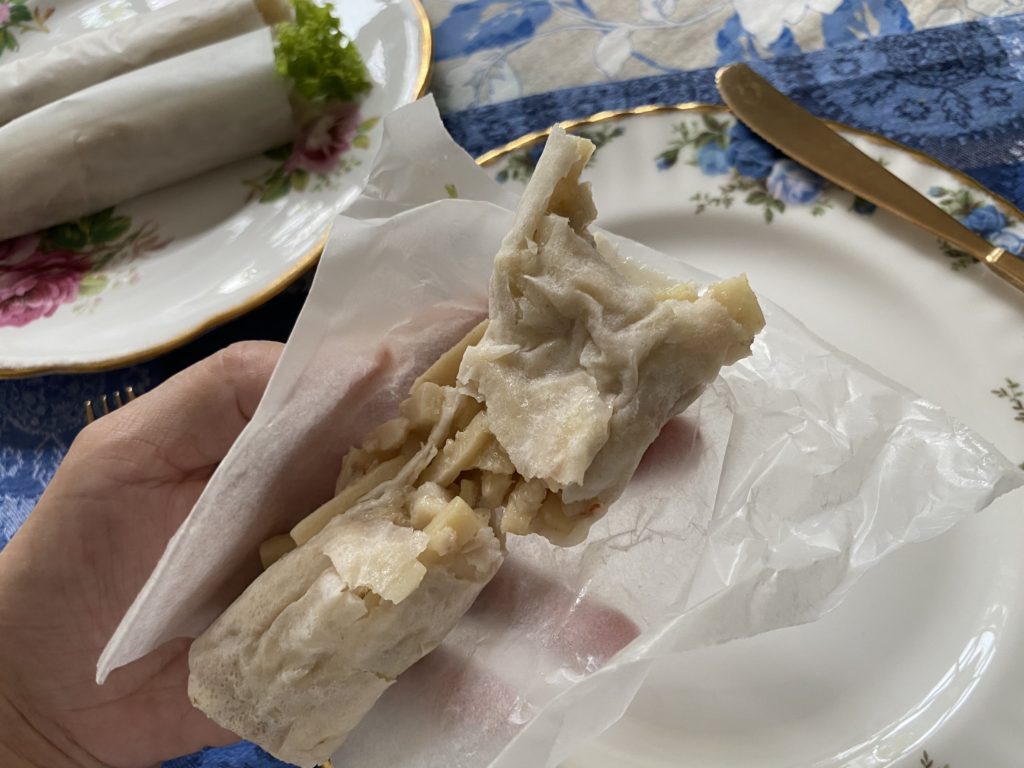 Edmund was given a small plastic tray of buco pandan as a complimentary patikim. The lumpia was good but the buko pandan was a true winner.
We ordered one whole gallon for P1,100 which turned out to be humongous, like good for 20 people.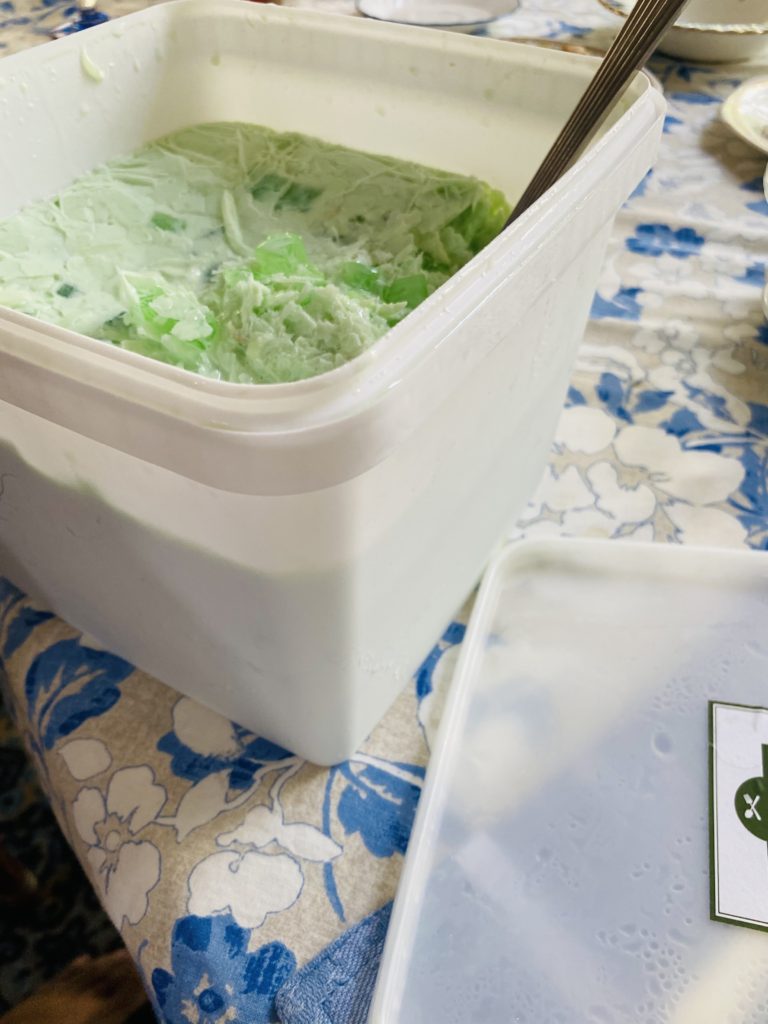 I must have finished 80%. It came with rice pinipig which added texture and crispness to the pandan. I ate the pandan after every meal and sometimes in between.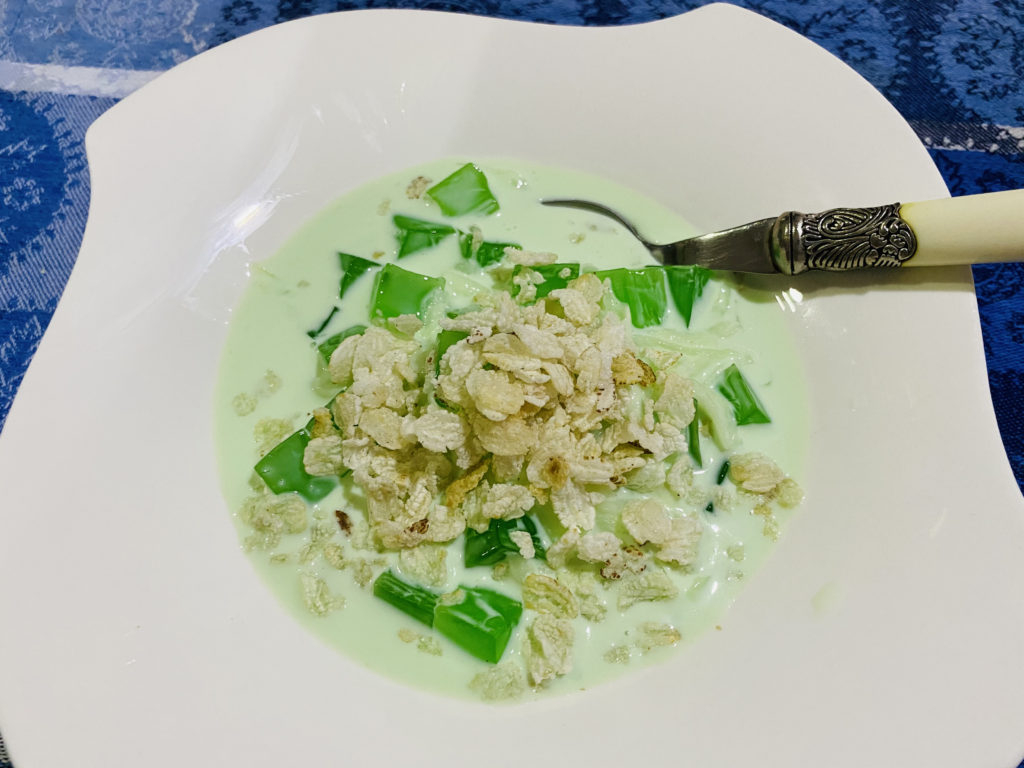 It's not too sweet. The pinipig absorbs the milk, sugar, and liquid, and camouflages the sweetness.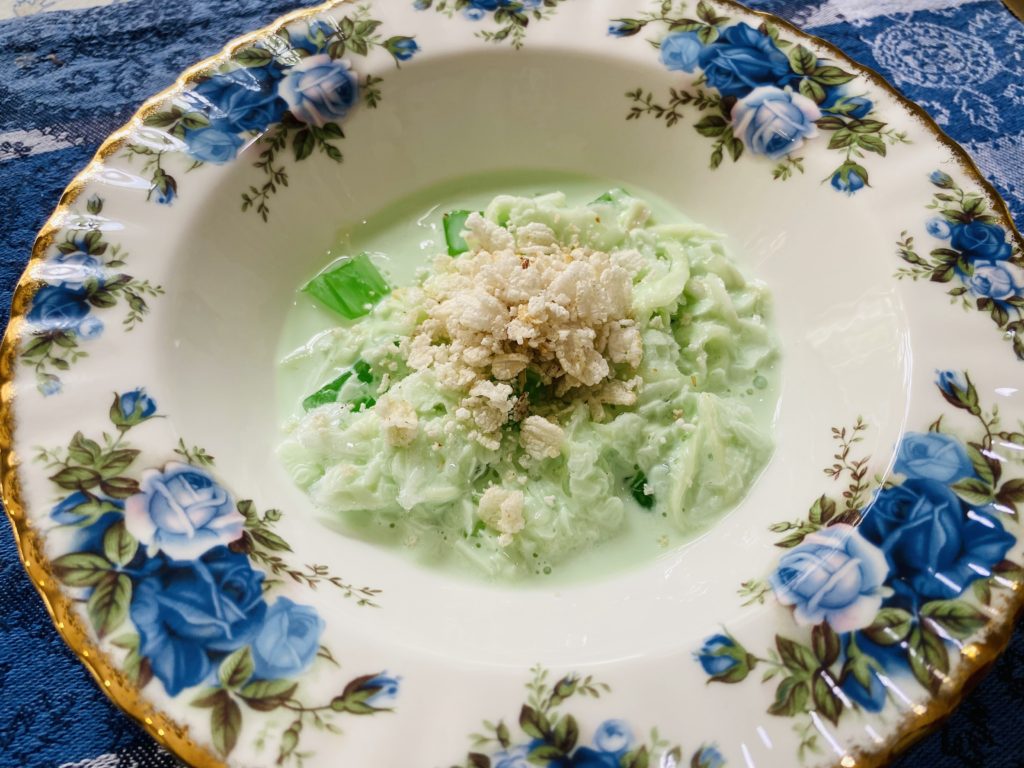 I ate every single time. It was addictive. This is one of the best buko pandan around. The result?
In two weeks my weight shot up to 134.8 lbs. just a tad shy of 135 lbs. I was thinking, if I allow my weight to continue this way, in no time at all I would be 140 lbs, and who knows for sure, I would be breaching the 150 lbs and there won't be any turning back.
As soon as I saw the 134.8 on the weighing scale, I told myself that as difficult as it is, I must lower my weight to 129 lbs, then hopefully closer to 125 lbs.
I have no self-discipline, unlike Edmund and Oyen. They exercise and watch what they eat, while I eat, sleep, watch tv, then eat again. But breaching the 135 lbs level is something I consider serious.
My sugar level would definitely reach a critical level plus my high cholesterol would be higher and higher.
I've started a personal goal to reduce my weight from 135 lbs to below 130 and the only way is for me to
1. Stop eating buko pandan and ice cream.
2. Cut down on rice 90%.
3. Considerably reduce the volume of my food intake.
I've only begun this promise to myself last Holy Saturday. I skip one meal a day. DAti kasi I will have breakfast with Edmund. Even if we ate at 10 am, when it's 12 noon, he would call for lunch.
Eh busog pa ako. Sya he follows the clock. And sya, he exercises several times a week, ako, never.
So beginning last Holy Saturday, Hwebes pa lang ngayon, my weight has dropped to 131 lbs, that's my bagong gising weight. After breakfast, it goes up depending on the amount of food I ate.
I noticed that it's clearly the amount of food I ate.
131 is my naked weight as of today. It goes up to 132 lbs after eating. To 133 if I eat a full meal. To 134 if busog na busog. My simple conclusion is the food that we take could add anywhere between a minimum of 1 lb up to 3 lbs depending on how takaw we are.
Since my current weight of 131 is still far from 125 lbs, I am continuing with my no rice, no buko pandan thing.
I am also conscious to stop eating when I have already taken a decent amount. And not to keep on stuffing my belly till I am super busog.
I have also observed that the longer I linger in the dining room, the more I crave for food. I keep on opening the ref, the freezer, looking for something to eat even if I had already eaten.
So until such time that I have reached my goal of 125 lbs, I will shy away from eating isang bandehadong kanin, isang gallon na buko pandan and ice cream. Oh my, I really do miss eating halo-halo.
Yesterday, Edmund was complaining our food at home doesn't taste good, laman tyan lang daw. Aba mabuti yun para hndi kami makakain, hindi kami tataba. He misses restaurant food daw. Naku, did you hear the story? Someone famous was craving for food so she went out for several hours to eat in a restaurant and she unknowingly picked up the virus and scattered it around their huge house and infected every single person.
Stay home, enjoy tinola, stay safe.