April 1, 2021
Edmund has a regular fitness regimen. He walks regularly around the village with Jack and Choco, or Hugo. He does light weights, stretching, sit-ups after. These are on top of his 2 to 3 x a week golfing (pre-lockdown) and walking without a golf cart when the weather is not too hot.
Oyen is very much like him. She follows online yoga and exercise classes. I see her jumping, stretching, bending sideways, forward, and back. Come night time she still has a lot of energy left so she goes walking with Lucy or Hugo, and she drags her husband to walk with them. Sometimes I see Derrick looking tired after a whole day of working but he is willing naman to accompany Oyen to go walking even for just around the block. He is a good golfer too but doesn't play regularly. I encourage him to play on Saturdays but his friends play on Sundays. I don't like men playing on Sundays because traditionally, Sunday should be spent with his wife.
I and my son are the same. We like to sit down, think of what to eat next, nap. The effect shows on our bodies. We both are packing up fats and pounds. I do remind him every now and then to reduce salt, Coca-cola, and carbo. He says yes but he still puts on weight kasi no physical exercise. I wish he'll take interest in some sports this year. Golf is a good candidate because it's outdoors and one doesn't need a team to belong. He regularly played basketball before with his Xavier friends when he was still living in Manila.  The university he went to for his master's degree was near a sports center and it was free for students so he was able to play.
With the pandemic, he couldn't go out to play. He's holed up indoors attending online classes so there's no chance to play basketball. He tried before. Pre-covid, he found a fitness center nearby and paid membership. The guys playing were so physical and with every dribble and shoot they yelled out their favorite expletives like fuck and mother fucker. He found some Fil-Ams at the park and they were too rough, lacking manners, and trash-talkers too. He is waiting to be vaccinated this week and we hope with more and more Americans getting the vaccine,  it would soon be safer to go out and engage in some physical activities.
Today I woke up at 5:55 am and decided to go walking with Edmund. I wasn't sure if he would like that because in the past, the very few times I asked if I could go walking with him, he snarled back. According to him, exercise must be planned and not a spur of the moment thing. So huwag na lang.
There was a time (20 years ago!!) I took on walking as my regular exercise. I walked alone, no husband, no kids, no dogs. Then I got sick, nainis ako. In my mind, nag-wo-walking na nga ako to be healthy tapos I got sick pa. Wala naman palang epek. So I stopped.
Today when I told Edmund I'd like to go walking with him he said yes. I immediately got ready. I have no more t-shirt pala that can fit me because of my 9-month pregnant look. I went to the guest room where we temporarily placed my son's clothes. I borrowed a plain gray Ralph Lauren t-shirt. Hndi bagay sa akin kasi halatang-halata ang tyan ko. The material is so light it hugs on my belly.
We brought Jack and Choco. Jack was making a weird sound and we couldn't figure out what was wrong with him. We guessed he could be too excited or was having difficulty breathing. Parang hinihika.
His leash could be too tight and was choking him so we stopped to adjust it. Ganun pa rin, Jack was still letting out that choking sound so we stopped at the park. I was worried baka the leash was too tight around his neck.
Jack was walking ahead of me and Edmund suggested that every time Jack tries to pull away, I should pull back the leash towards me. I was concerned that if I did that, lalong ma-cho-choke si Jack. Edmund said that's really the point, so Jack doesn't pull away from me. I said "baka hindi nya alam yun." My husband got offended because he thought I said "hindi mo alam yun." Nag-away na kami.
After I turned 50 years old, I changed my name to Annie Ignacia. Ignacia stands for ignite. I have no more fuse, it ran out. My temper is like a Lambhorgini. It zooms from zero to 100 mph in one second.
I got so discouraged and wanted to just go back home. Matutulog na lang ako, tahimik pa buhay ko. Mag-wo-walking lang, mag-aaway pa kami. For every little word or thing, we irritate each other. I should stay away from him and he should stay from me so that our lives will be more relaxed.
I handed over Jack's leash so I could go back home and the three of them could continue walking. Edmund realized that what I said was pertaining to Jack "baka hindi NYA alam yun" and not "hindi MO alam yun". He said sorry.
Too late, naiyak na ako. I was wearing dark sunglasses and a face mask so my tears were blurring my vision and dripping on my mask. Nakaka discourage naman. Ngayon lang ako mag-wo-walking after a year tapos dito pa kami mag-aaway.
We continued walking but I was already in a bad mood. I wanted to go back home. I told him it's not good that we are always fighting so we should just stay away from each other. We no longer like each other and are only tolerating one another. Not true daw.
People get married believing that they will have a forever companion and will have a good life together. A good life doesn't mean yung sobrang daming pera. A good life means a relaxed and happy life, enjoying each other's company. But if we're always annoyed, then this is the opposite of having a good life together. This is not the definition of growing old together. This is getting old and looking old because your spouse makes you look old. Also, we should not travel together, we should go to the USA at different times. When we were there last year, we were always arguing about petty things. It's tiring and not good for our well-being. I told him we both no longer have patience so we should just stay away. I don't want to be the cause of his bad mood. Wala na rin akong pasensya sa kanya. Bill Gates is the only guy who doesn't complain about his wife. Edmund is not Bill Gates.
Masama na talaga mood ko. My tears kept falling. Excited pa naman akong mag-walking, biglang na bad trip.
My husband is such a good person and I know he is trying. But just like me, pareho kaming stressed sa buhay and we irritate each other. Wala na kaming pasensya kahit sa anong bagay.
Maintaining peace in marriage is no easy feat. After decades of seeing the same face, breathing the same air, sharing the same bed, what more is there to share? Stress, problems. Kaya medyo madalas bad mood.
He didn't want to let me go back to the house. He told me not to make things worst. Continue walking daw kami.
I got distracted when I saw this majestic tree in front of us. Last time I noticed this tree was 20 years ago and it wasn't this gigantic yet.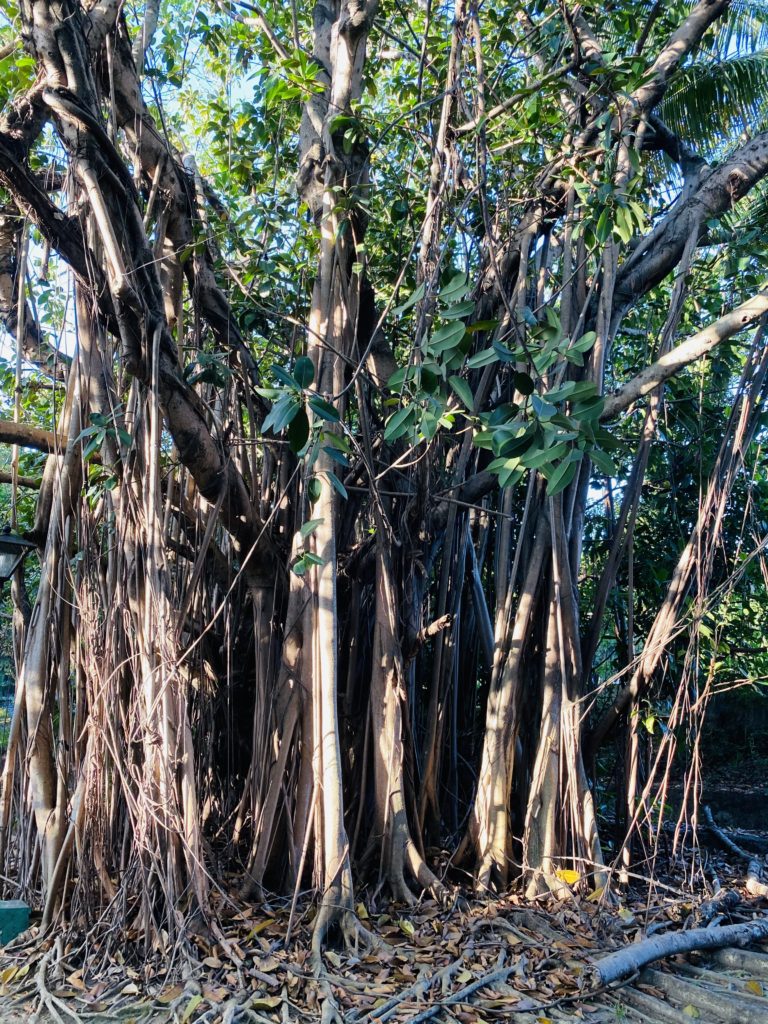 My husband volunteered to take my picture with Choco, friends na uli kami.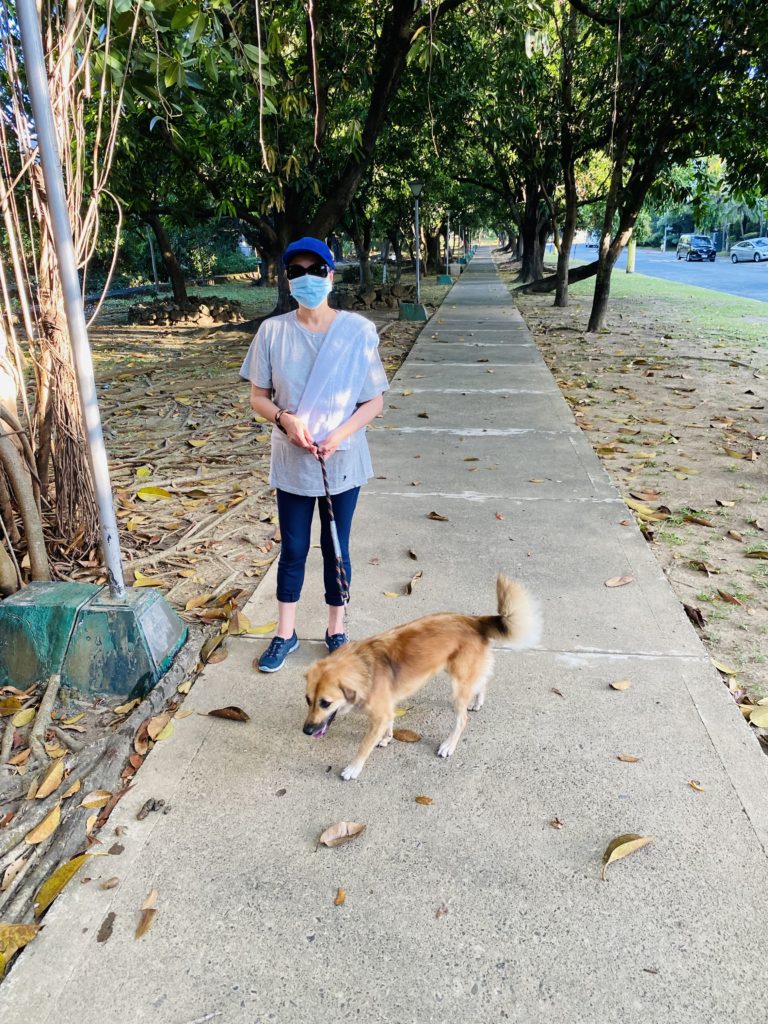 Edmund and Jack, the son of Twinkle (+)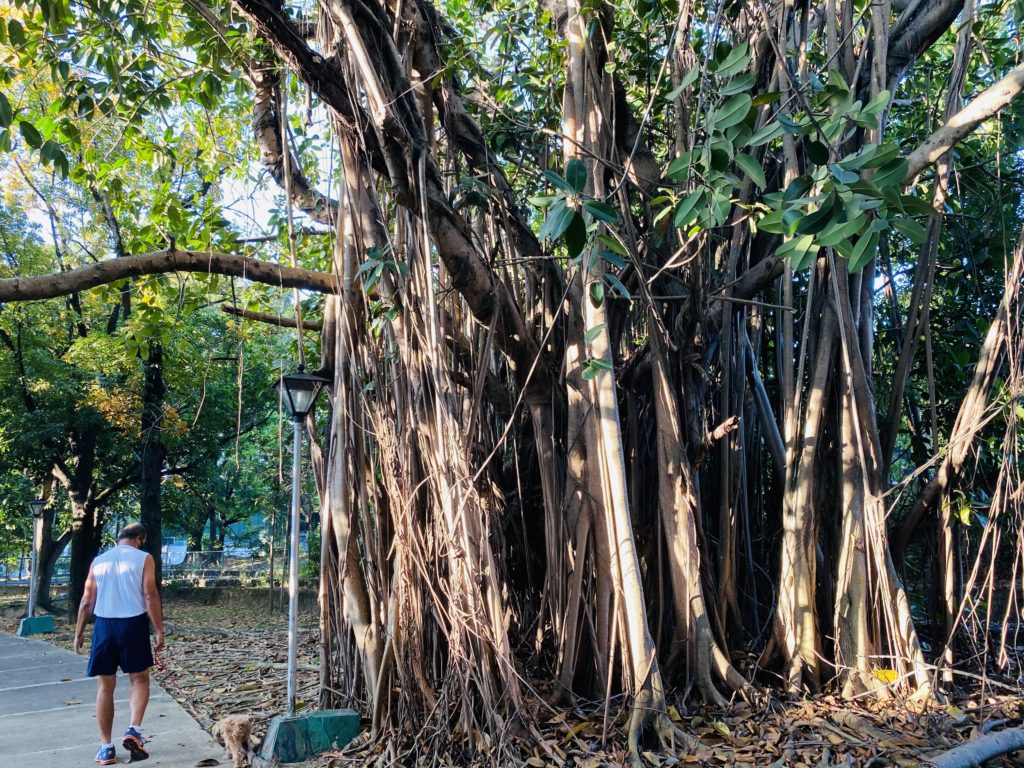 At 6:30 am it was already hot so we walked where it's shady.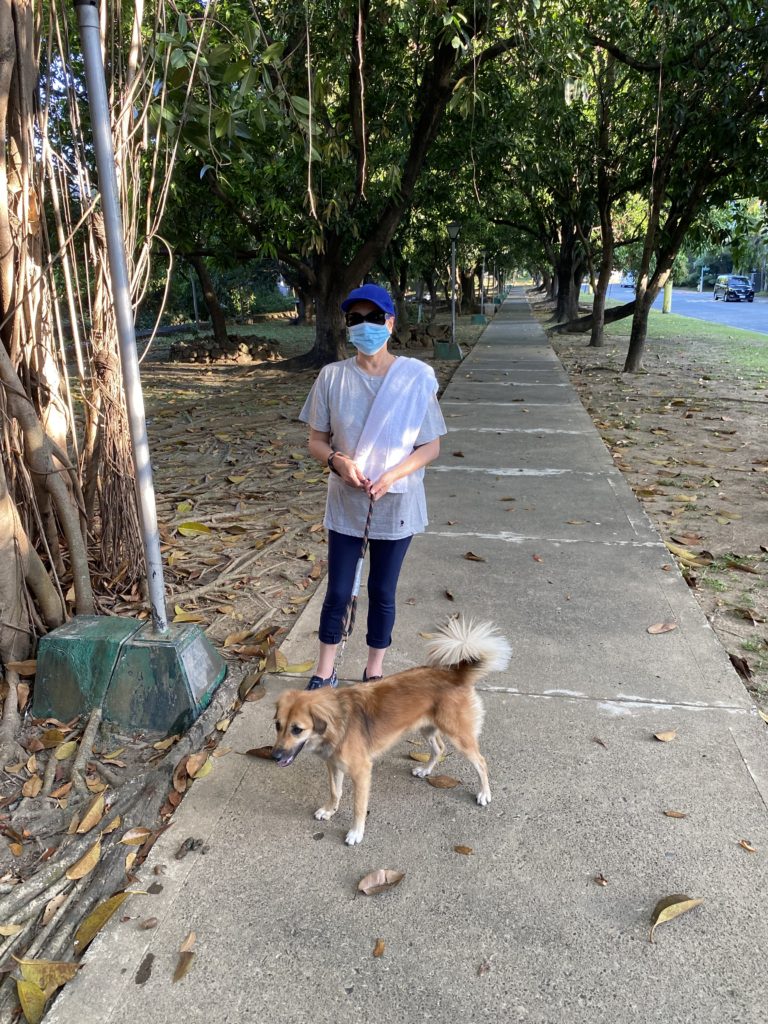 There's a man-made creek that cuts through the subdivision. Even with round-the-clock patrols, some brave thieves still manage to get inside hence these massive iron grills. But any person can still climb and conveniently walk on the side ledges.
Last week the roving guards caught a man here at 3 in the morning.  He went over the perimeter fence, from a nearby bank, hid behind the trees, and crossed over, which surprised me because he was able to go past the guards without being noticed.  Or maybe they did but they probably thought he was some stay-in driver. He broke into two houses located on the same street and was able to steal two laptops. He went free shopping for gadgets!
The thief got trapped in the creek, unable to get out with his loots. When interrogated, he admitted this was his third time to enter the village.  He said the first time, he hid on the house's roof and waited till the roving guard had left.   A homeowner reported losing jewelry and cash which I later learned was only 3 houses away from us.
We've so far added perimeter lights and my son-in-law installed two interior cameras, one in the kitchen and breakfast area and one facing the main stairs going up to the bedrooms.
Most houses have cameras but have no one to stay up the whole night to watch.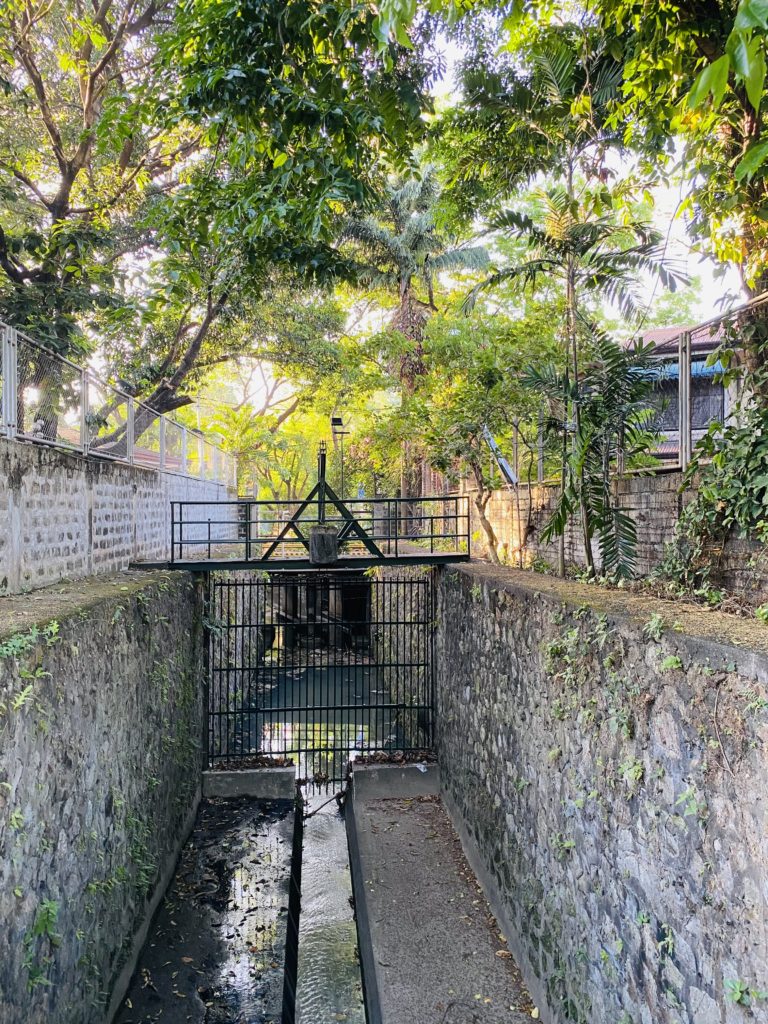 Edmund greeted some acquaintances who were also walking. They wore masks and face shields.
There are currently 13 households with covid positive residents. When you go around the subdivision, it's easy to spot which street has covid positive. There are security guards posted across the house. The number of cases is increasing and we're running out of guards. One guard is standing at a corner and watching two separate houses. Once someone tested positive in a household, security will be stationed outside of the house for 14 days of quarantine and monitoring. No one can get out even to buy food. You can order and the guards will deliver at your gate. This is to make sure none gets out and spread the virus.
It's both saddening and frightening when reports reach us that someone has died.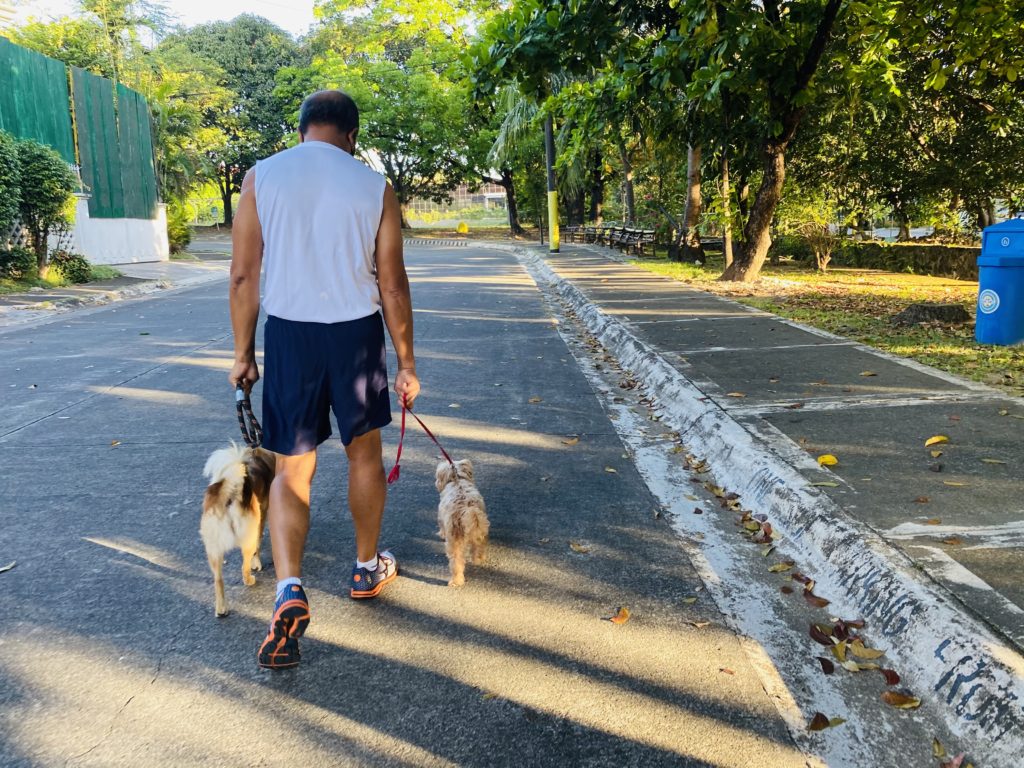 I haven't seen these benches before. Edmund said the senior citizens placed them here.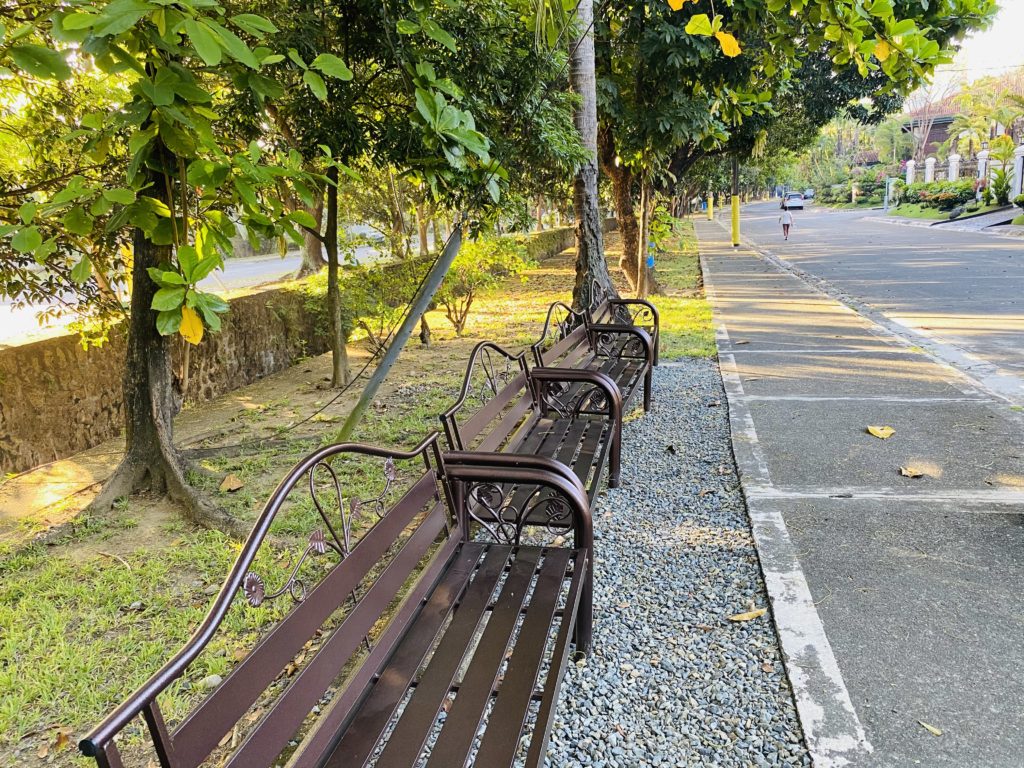 I am glad there are several big parks / open spaces spread out around the village. We also have big mature trees that help provide shade, screen the pollution, and produce oxygen. Even with thousands of trees, I could still feel the heavy carbon monoxide entering my body. Parang mabigat ang hangin.