The French Style Antique Market in San Rafael, Marin is held every second Sunday of the month. This flea market is outdoors that's why sometimes they are closed during the bitter cold winter months.
Since I had been here once maybe 9 years ago, my name is in their mailing list, thus I get monthly email reminders.
Mahirap naman matyempo because most of the time I am in the Philippines or in another country. And when I am in the US, finding someone to drive for me is not easy. The first time I came here, I was with my sister Len and my sister in law Dimple who did the one hour driving.
Today, February 13, 2022, my husband's golf didn't push thru so he gladly drove for me. He just stayed in the car the whole time. He is neither into antiques nor into flea markets. I told him I would only need one hour but I extended to 1.5 hours which he didn't mind.
I brought $300 cash and didn't expect to spend more than that but I exceeded my budget by $200. I ended up borrowing from him. Oh wait, have I paid him back?…. Hmmm, I think I did.
This particular flea market carries the French style theme.  It tries to make buyers feel they are shopping in France. There's live French music playing while you stroll along the aisles of vintage furniture, clothes, books, retro home decor, and other collectibles.   Careful though.  Hunting for antiques is tricky.  If you are not savvy,  instead of finding  treasures, you might bring home garbage or dagdag kalat sa bahay.
I bought this succulents planted on a vintage Tiffany ceramic vase.   I found the vase elegant although luma na talaga, eh syempre antique show nga ano. I paid $50.  I think it's worth it,  do you think so too?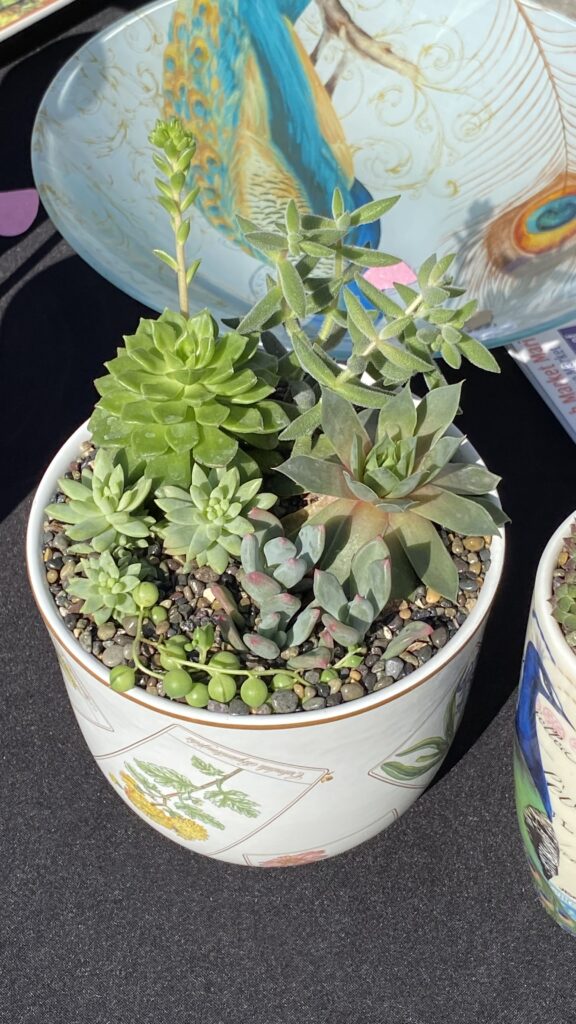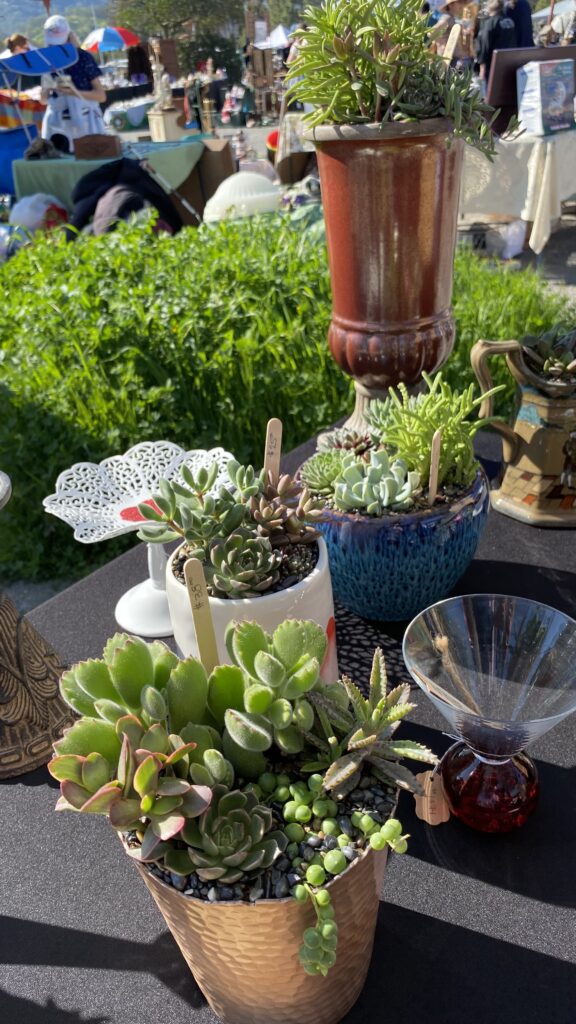 Edmund stayed in the car while I shopped, occasionally coming over to pick up the items so I could shop some more.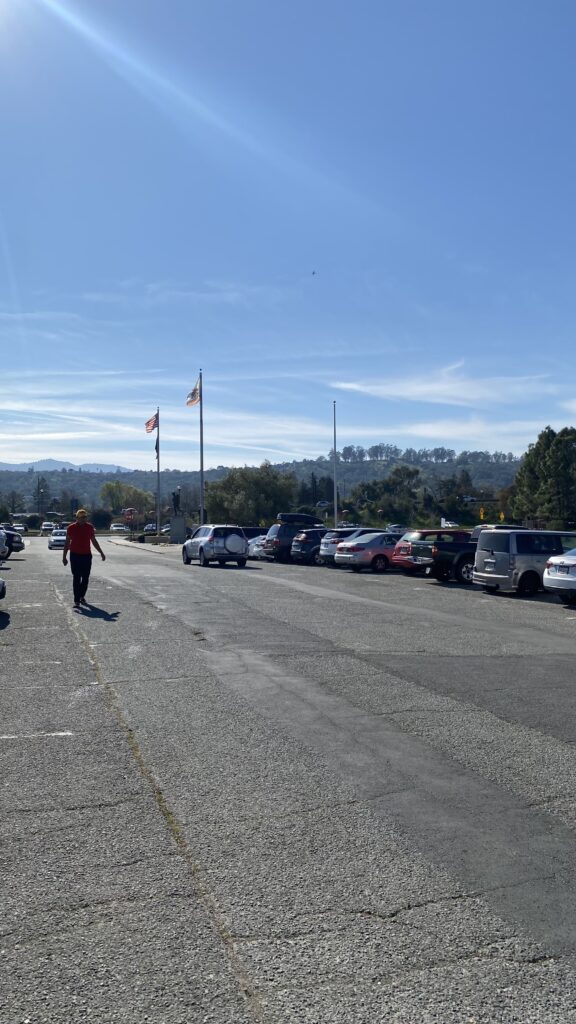 There were a hundred stalls but I only looked at several of them otherwise I would spend hours here.
Medyo mainit na yung araw. Nakaka sunburn.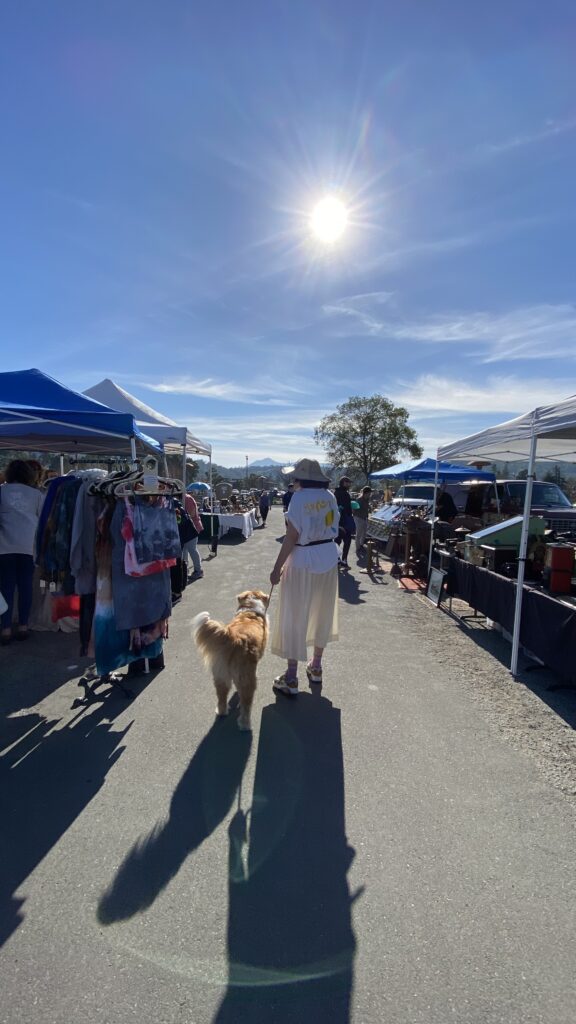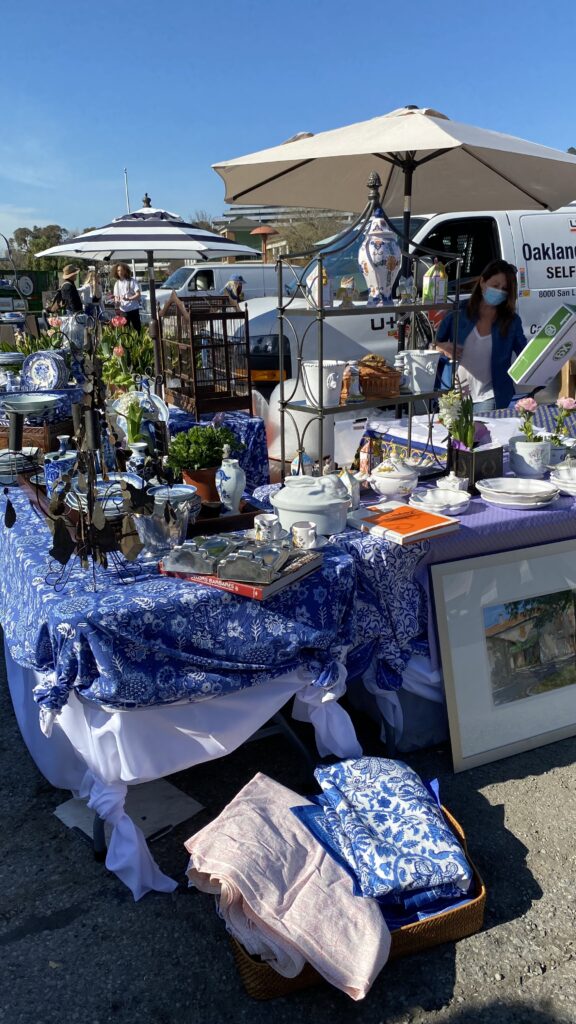 I like old paintings and landscapes.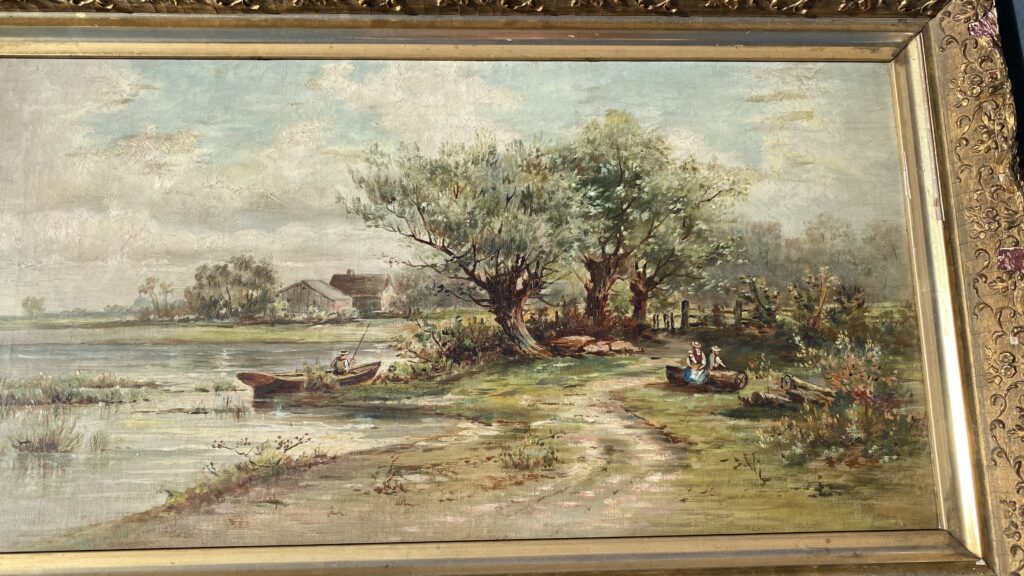 Ang init na, nakaka uhaw.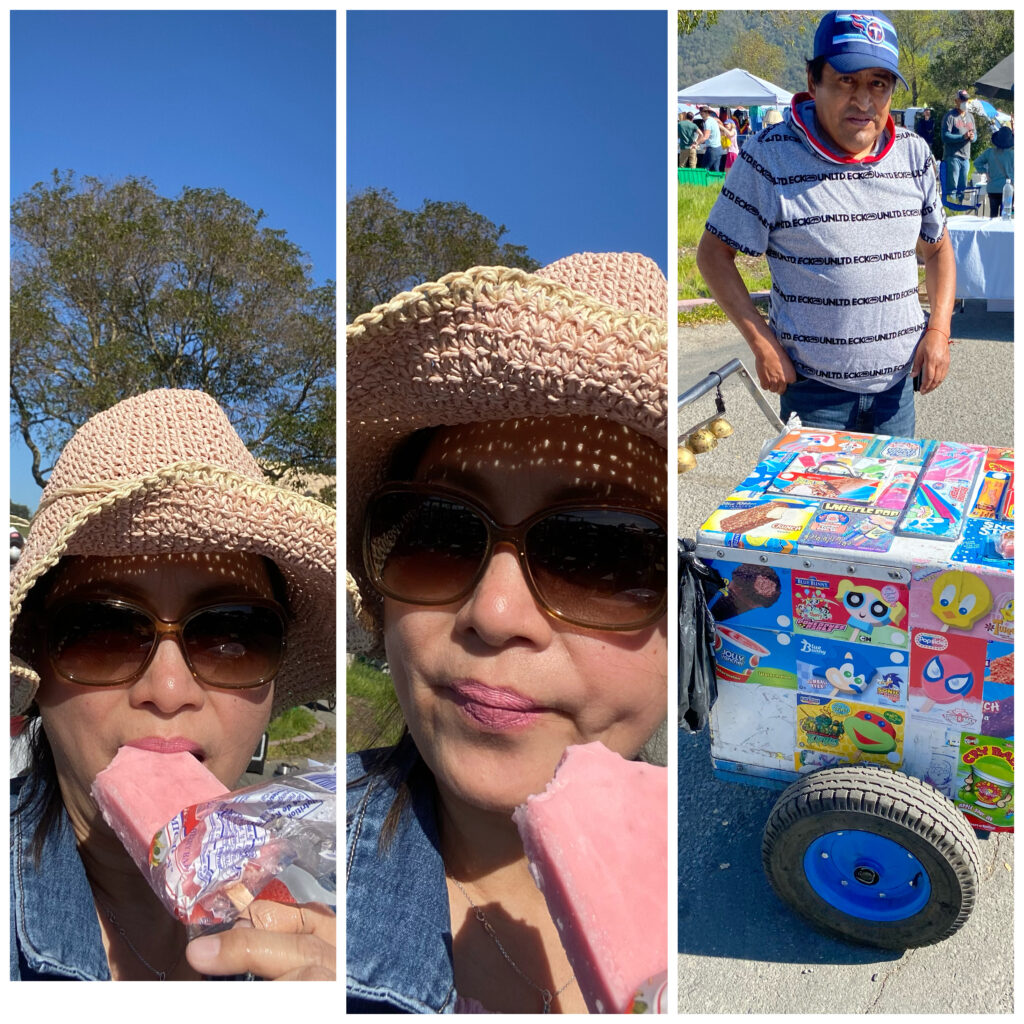 Buying popsicle from this hardworking fellow made me feel I was helping him earn some money at the same time it relieved my craving for Mexico strawberry popsicle. He also reminded me of the ice candy vendors my parents had in the late 60s to early 70s.
Tired na ako, and mainit na, na sunburn na ang mukha ko.
Time to go home.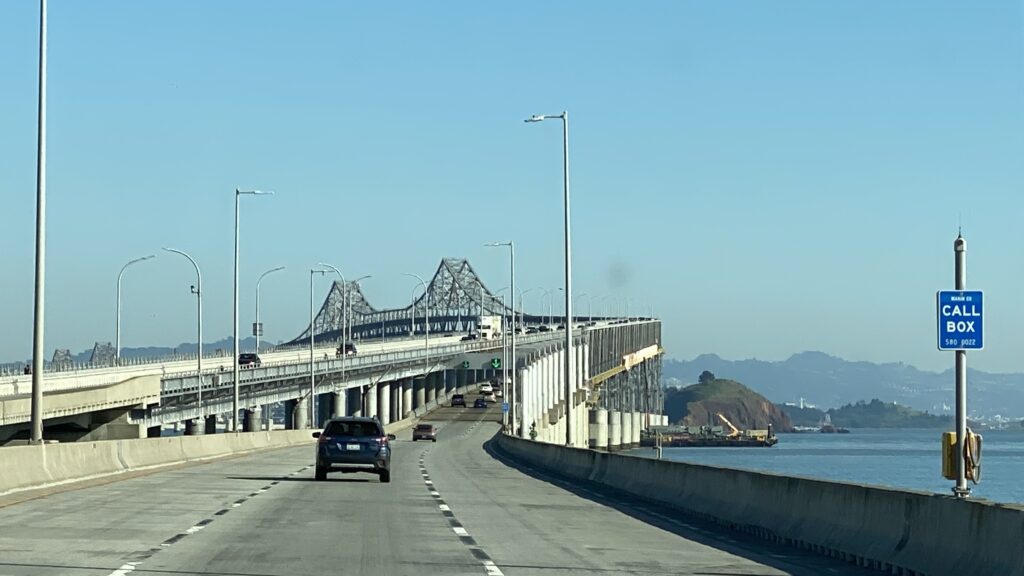 I paid $50 for this charming piggy with wings. I admit it was love, at first sight, the moment I laid my eyes on it. There was another lady who tried to negotiate but she balked at the $60 tag price. When she gave up, I asked the vendor for a discount and she initially said $55. I offered $50 and she hesitantly agreed.
$Aside from chickens, I am also enamored with pigs because when I was growing up, my father had a piggery in Wawa, Libis, Binangonan, Rizal. I had seen my papa taking care of the mother pigs and their babies, patiently feeding them in baby bottles.
According to the antique vendor, this Flying piggy is around 50 years old. It is soooo heavy. I read somewhere that many Hollywood stars like Ariana Grande, George Clooney, Jillian Michaels, Denise Richards, Megan Fox, Rupert Grint, Miley Cyrus, Paris Hilton, couple David and Victoria Beckham, have pet pigs.
Time for a good long bath.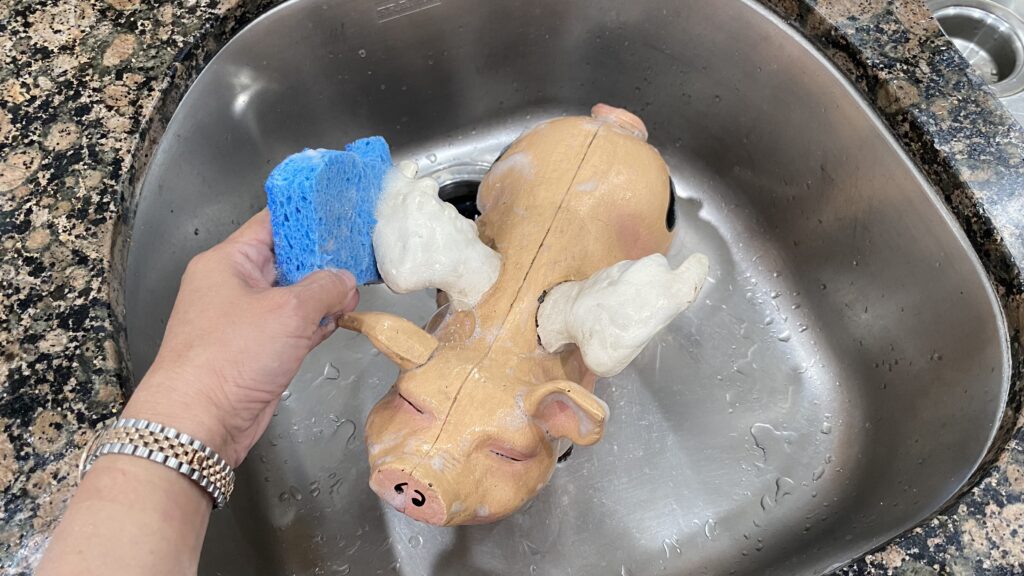 I let flying piggy dry in the sun for two days.
I think this piggy has magical powers that bring happiness to those around it.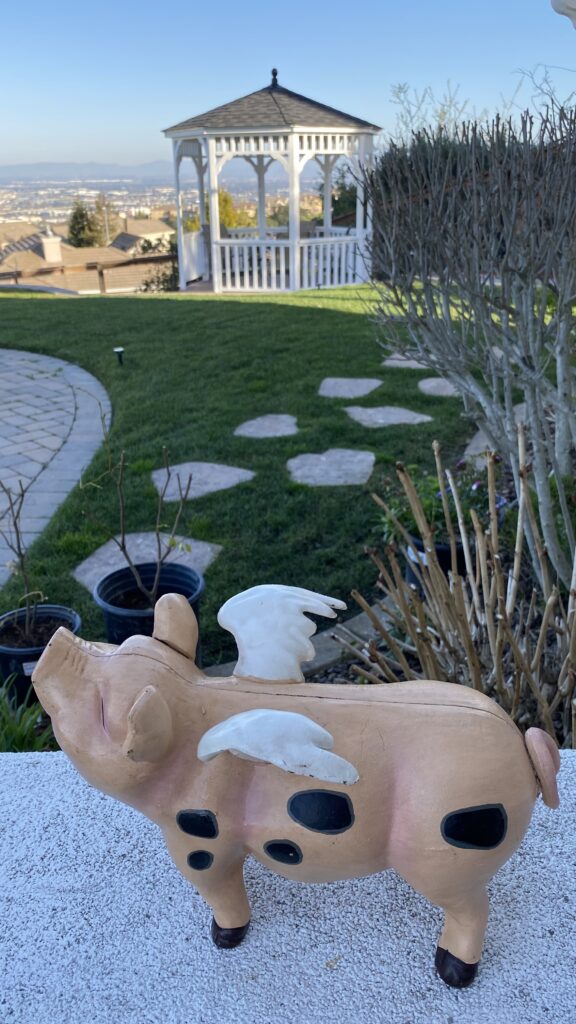 When Mochi first saw him, she barked and growled at Piggy. When Piggy ignored her,  Mochi stopped and left him alone.
Outdoor Antique Market
2nd Sunday of Every Month
9 am to 3 pm
The Marin Veterans Auditorium Parking Lot
10 Avenue of the Flags and Civic Center Drive
San Rafael, CA 94903, USA