While stuck in the US during the 2020 lockdown, I checked when our passports were expiring to be sure. I was aware that my Philippine passport was expiring this March 2021 but I wasn't eager to renew it because after having been trapped in the United States for many months, I was not very eager to travel again. And with the virus still hovering around the world, any travel to other countries is indefinitely postponed until further notice.
Last year, Oyen, Edmund, and I had difficulty getting seats to come home. PAL stopped their flights for a few months and when they resumed, it was really hard to get seats. Have you heard of paying $3,000 for a one-way ticket to Manila? Grabe di ba? Edmund and Oyen interchangeably spent an hour or two a day just to rebook their seats. The three of us left the US one by one because of the difficulty of getting seats.
I was the last to arrive home so I was the least eager to leave again. My plan was to travel to an Asian country or somewhere local after we had been vaccinated which in my calculation would be in May 2021.
In October 2020, before Edmund could even leave the US, he already wanted to come back because of his fear that if he catches the virus in Manila, he might not be able to find a big hospital with the necessary ventilators, medicines, to cure him. He was afraid of getting stuck in the Philippines because, in his mind, the US has more available hospitals. He was also worried that if I come home, the same thing could happen to me. In fact, since CNN has been reporting on the progress of the covid vaccines, my husband wanted me to wait in the US so I would be the first one in line to get the vaccine in October 2020. At first, CNN said vaccines could be available in October, then in November, then in December, then in January. I didn't want to hang around in the US waiting for the vaccines when I didn't know exactly when they would be available.
So I came home and my passport expired. My husband wanted to go back to the US in May or June. I told him he should just make the short trip. he actually just wanted to stay for two or three weeks. Two weeks to travel that far won't be enough to recover from jet lag. I told him to go ahead because my plan was to just spend Christmas 2021 in the US. He agreed that he would just be the one to travel. I just told him to wait after we had been vaccinated in May or early June. He agreed.
Then the spikes in virus cases started. From 1,500 cases a day it steadily climbed exponentially. My husband got so alarmed. He wanted us to leave right away but my Philippine passport has expired.
Oyen registered me online for an appointment but I was given June 30 appointment. Ang layo pa. I decided to just go personally to Megamall although I was afraid to get exposed to the virus. I went on March 23, early morning thinking that I would be the first in line, only to find two hundred people ahead of me.
I didn't fall in line and instead, I convinced the security guard to let me in. He did although his face looked confused. Sana pala I took his name and celphone number para maregaluhan ko naman sya bilang pagtanaw ko ng utang na loob.
There were lines at every counter at the Department of Foreign Affairs passport processing center in Megamall. I didn't want to wait long without knowing if my application would be processed, not because I was feeling special, only because I was afraid to stay long in an enclosed room with many people. Baka ma virus ako eh umikli ang buhay ko. I only wanted to renew my passport. I had no intention to say goodbye to Megamall for good.
After waiting for 15 minutes, I spoke to the old person in line. I asked his permission if I could just speak to the officer just to verify if they could accept my application. The old man didn't want to let me cut the line. He said "pare-pareho tayong nagmamadali." He said that na inis talaga, mainit ang ulo. I didn't know that the old woman sitting behind him was his companion. She looked at me and nodded. She said "sige, mauna ka na." I thanked both of them profusely.
I asked the counter if they could expedite my passport by accepting my application. Hindi daw pwede kasi there's a pandemic!!! I asked how I can change this situation. He gave me two email addresses I could contact.
I emailed the two persons without names. I had to explain why I needed to travel soon. Mahirap magsinungaling so I told the real reasons. My husband was so worried that we could get sick and no hospital would admit us. In fact, and this is the truth, Mister Yee is becoming paranoid that he was already planning to buy a fully equipped ambulance, yun daw parang hospital. I just didn't give my 100% support kaya medyo naudlot. He will park daw the ambulance in our garage. Ay sino doctor? Ay dapat may nurse on duty. Eh dapat may ready driver. I was actually pushing him to just leave me here and to go ahead and fly to the US to get the vaccines but he didn't want to leave me behind. What if I got sick daw then he would have to come back right away kasi no one is going to take care of me. He didn't want to leave without me. Together we stand, together we fall.
The DFA officer answering my emails noted my husband's predicament. He or she requested for a copy of Edmund's identification card. I thought that was irrelevant to my passport renewal. I was telling Edmund bakit ba nila kailangan yung ID nya? He said, "sumunod ka na lang kasi ikaw ang may kailangan."
I did email them a copy of Edmund's ID but I still couldn't control myself. Medyo pinahagingan ko pa na "I don't see any relevance of my husband's ID with my passport renewal." Hayun, he/she moved my appointment, from June 30 to May 30. Eh I requested kung pwede March 25 or 26. Tinarayan ko kasi.
The covid cases kept rising, till it hit the 5 figure mark. We were all in panic, most especially that every single day, no kid, someone we knew was dying.
My husband scolded me for not asking favors from people that I know would be able to help me. If you know me well enough, you would know that I hate calling friends, acquaintances to ask for favors. There were only two friends that I was comfortable bothering in the past. Pero nakakahiya, kung hingi ng hingi ng tulong. Ayaw ko na sila gambalain. I don't want to bother them anymore.
I was willing to wait till May to have my passport renewed without asking for anybody's help but my husband nagged me.
E——"Ang dami-daming kakilala, bakit hindi ka tumawag?" "Hindi mo ginagamit ang connection mo."
I didn't check my memory list of who I could call to help me. Ambassadors? Consul Gens? Undersecretaries? Secretaries? Kakahiya talaga. Neighbors? My former professors? Classmates who are now in positions of power? Ayaw ko talaga.
Out of my husband's pressure, I posted a message on one of my Viber groups. Tony responded right away and gave a name of the guy in our group who could help me.
Eh lock-down, sarado ang DFA. No office. No one was there to help me.
After three days my husband was already inip so he took it upon himself to message the one person we all knew could help me but like what I've said, ayaw kong humihingi ng favors, ayokong mang-abala. Demanding pa si Mister Yee—"Pwedeng two days processing?"
I went to the DFA office which was open but with limited operations due to MECQ. I was asked a few questions as to why I needed to expedite my passport. Sabi ko nga, mahirap magsinungaling so I answered her questions truthfully to the best of my ability. When asked when we were scheduled to leave, I told her April 26 was our booking. She asked for a copy of my ticket. Eh wala kasi PAL would not issue me a ticket without a copy of a valid passport, eh di ba nga my passport expired in March? I told her it's a chicken and egg situation. She said the earliest I could get my passport would be on April 30. I said, "okay, thank you." Masunurin naman ako, kung sinabi April 30 eh di I'll just wait. My husband was not content. "Bakit April 30?"
I paid for the passport renewal without realizing that I also paid for the courier fees.
Then I queued up to have my picture taken which up to now still makes my stomach sick every time I would think about it. . Ang pangit-pangit ko dun sa picture. Three tries and hiya na ako to ask for more retakes. For a split second, it crossed my mind to give him a tip so he would be willing to take a few more shots till I found one single photo that's at least decent-looking. Bawal magbigay ng tip. He might lose his job, kawawa naman, and it would be my fault.
Paano naman hindi ako nakasuklay, yung face shield nilagay ko sa ulo ko while waiting. I didn't have a mirror to put on some make-up. Mahirap maglagay ng kilay kung walang salamin. Hay, I looked so dreary, wrinkled, haggard, in short, ugly. And I have to live with it for the next ten years of my life and by that time, my wrinkles would have grown exponentially and when I renew my Philippine passport, my face would be the face of a crumpled raisin. Hay.
The following day my passport was ready. Hay bilis. Super-super fast. We couldn't leave naman immediately because PAL was fully booked.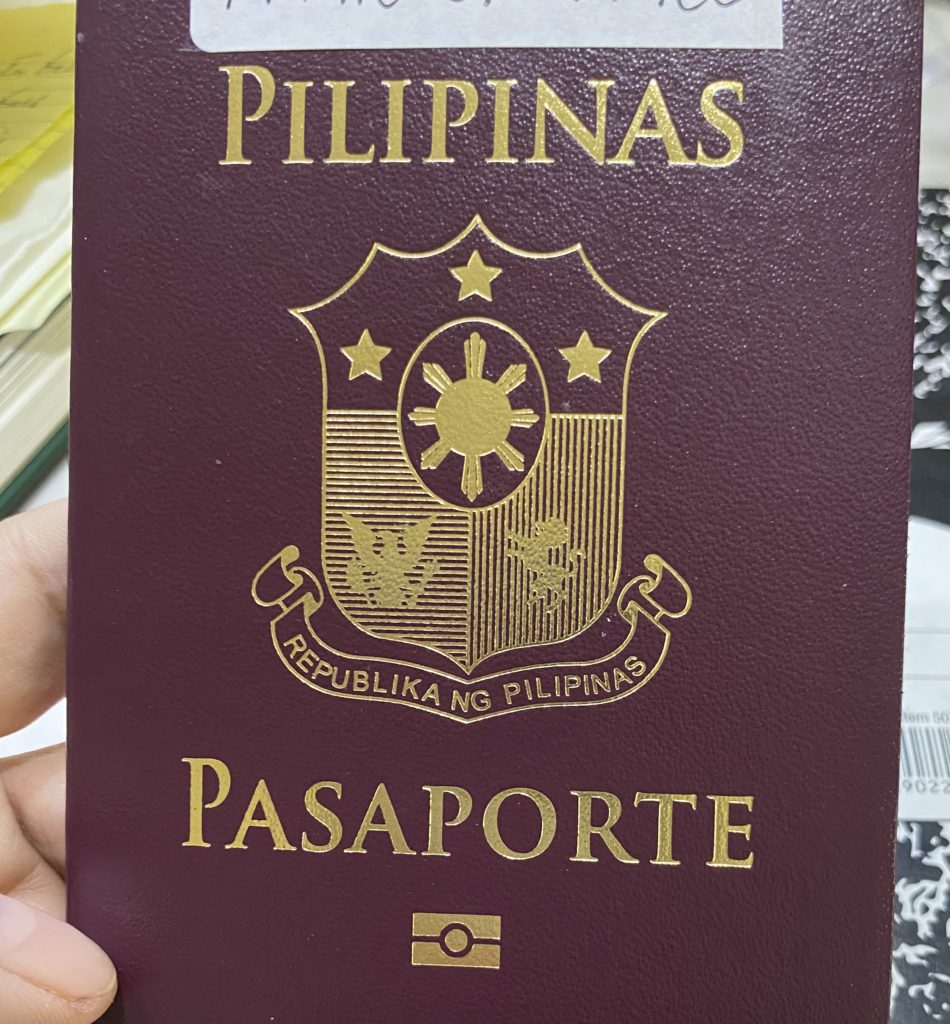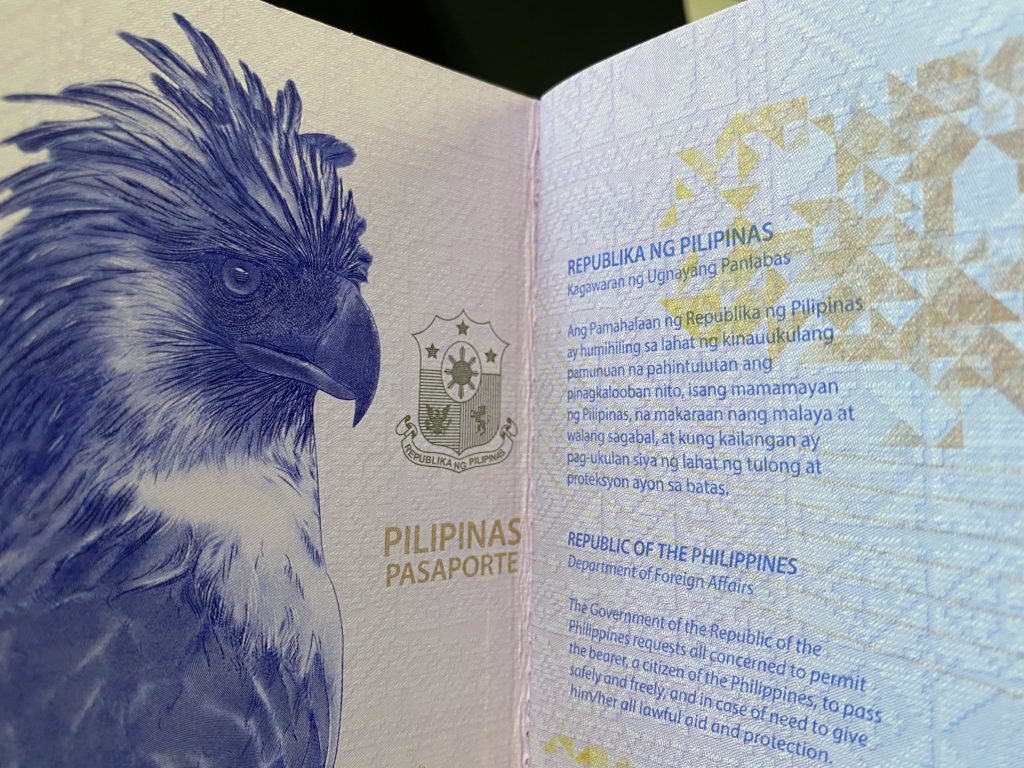 Thank you to all the people who assisted and willingly helped me. I have your names and a thank you lugaw is coming your way in two months.
Oh no, dear countrymen, please don't get mad at me. Don't contact me for help with your passports. I will not be able to help you. I don't want to ask for favors. I don't want to ask Mister Yee for a favor. Baka humingi ng bayad. I can only offer him free s e x but not sure if he would accept. He might be compelled against his will. Mister Yee did this one-time favor for me only, his wife, bedmate, and crush of his life.