When we were having dinner at Summer Palace on April 30, 2022, we saw Tony Ong, an acquaintance of my husband. They met some 35 years sgo when Edmund was always going to Wilcon Depot buying some construction finishing materials for Ford EDSA's original building.
Tony was the store manager at Wilcon's branch near Ford EDSA at that time and it wasn't called Ford EDSA yet. It was American Automotive Center.
Tony was wearing a red t-shirt and a mocha or khaki jacket over it when we saw him in Summer Palace. Edmund greeted him "Tony, BBM ka pala". I saw Tony's wife Rosemarie at the Christmas Party of Womenbiz and I knew she is an avid VP Leni Robredo supporter. During our dinner at Benjarong, she displayed intensity in VP Leni's presidential candidacy. Knowing this, I corrected my husband "hinde, pink sila. Yung wife nya pink." Rosemarie is currently the Chief Operating Officer and Senior Vice President of Wilcon Depot.
Tony told my husband he is attending a birthday dinner of his wife's friend.
While we were almost done eating, and just waiting for our bill, I saw Tony again, he walked by, presumably leaving the restaurant.
The next day, when my husband came home mid-day from playing golf, he told me the sad news about Tony. Right after leaving the restaurant that same evening he suffered a massive heart attack inside his car and passed away. I was so shocked. I had goosebumps all over my body. I couldn't process what had happened to this nice fellow. Mabait sya and mild mannered. Many times we would see him and his wife Rosemarie at the Christ the King attending the Holy Mass.
Why am I making kwento about Tony Ong? To remind all of us that life is indeed fragile. One day we are having a good time, the next minute it could be gone.
Just a few months before former Congressman Gilberto Duavit passed away, he told me over the phone "Ang kalaban namin ng Tiya Vilma mo ay oras". I will never forget what he said. He sounded upbeat telling me that he still goes to Capitolyo in Antipolo every Thursday and that he is writing a book about Rizal province. He sounded full of "things to do". He was in his 80s and yet he was like me, like you, like the rest of us, still wanting to live. No person wants to sit down and just wait for the coming of San Pedro.
Ang Kalaban Natin ay Oras. Tyo Bibit couldn't have said it any better. Our biggest enemy is time.
Knowing how precious and irreplaceable time is, I still waste a lot of it. I do feel guilty but I am thinking, shall I live like a machine gun go go go? Or am I allowed to sit quietly and just think of positive things? Is it okay to while away the most expensive commodity by just being an ordinary creature on earth, blown by the wind, and sometimes believing that this is what's meant to be my life? Or shall we tirelessly chase big dreams such as money, all other material possessions, awards, recognitions, and popularity?
Whatever life we have at the moment, be it simple, ordinary, fantastic, or whoever we may be at this point, rock stars, superstars, or the powers that be, there are a few simple things we can do while we are still alive, while time is still good to us: Respect others and yourself, be kind, do good, wag magkalat sa mundo, huwag dumagdag sa problema ng mundo. Let's be in harmony with our surroundings.
Me, at the farm with Cali (white dog), Jersey (dark dog), Victoria (hen), and Henry (rooster).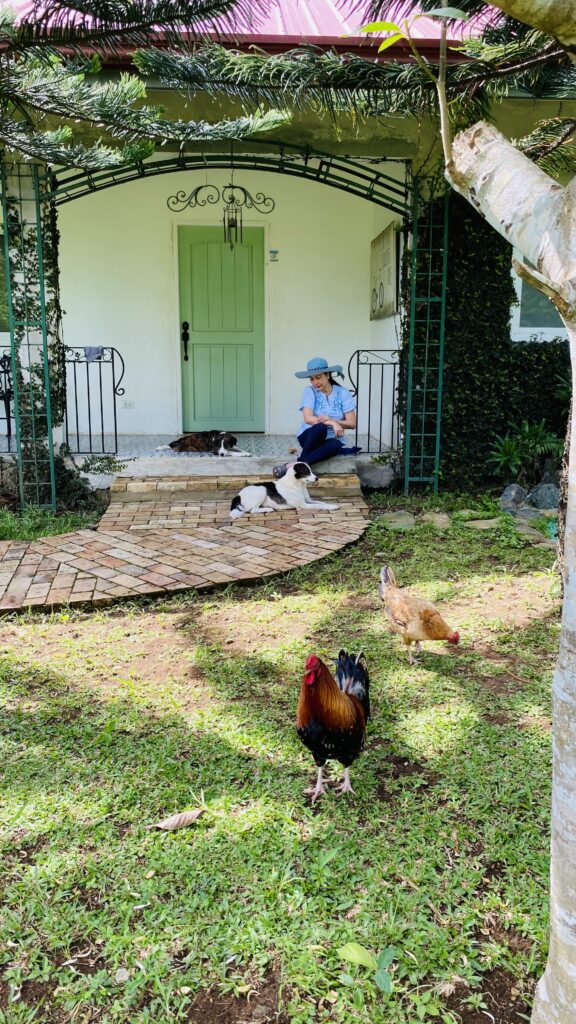 #bekind
#choosetobegood
#loveearth