Shabby Chic used to be my favorite beddings and linen's brand.   I was a big fan of the tv show and in fact,  when I received an invitation from American Express for a three day sojourn in Santa Monica to hang-out with the Shabby Chic founder, Rachel Ashwell, I jumped for joy.  It's not free. Amex Travel organizes exclusive tours for small groups of people and booking is first come first served. I very much wanted to join in this particular tour but I couldn't sign up because I would be here in Manila on those dates set.  It would be too much hassle to fly to and from Los Angeles just for that.  If only the dates coincided with my annual visit, then I would definitely buy that VIP package tour organized by Amex Platinum Travel.
My love for the brand brought me to their shop in SOHO, Lower Manhattan but only by chance. When one time I was visiting my daughter, she brought me to SOHO. We were standing at a corner when we saw the Shabby Chic store. I was incredibly impressed with the sprawling showroom with large living room sets, bedroom dressed in French country style, pillows, linens. chandeliers, candle holders from India, soaps, curtains, etc. I asked my daughter to leave me in the store somshe could continue to go shopping around SOHO.  I spent an hour just browsing.  There were many items that I liked but I only bought one breakable small candle holder cup made in India, and maybe some small stuff.  I don't even remember where those items are now.  It's been more than 10 years.
The second time I visited a Shabby Chic store was on July 3, 2015.  Edmund and I were driving around the hilly streets and admiring the rows of gorgeous multi-million dollar Victorian Homes.  The city is indundated with one way streets and when we hit  the end of Sacramento Street, we had no choice but to turn right because it was another one way street.  I heart jumped when I saw the unassuming store sign.
A—-"Ay tart Shabby Chic.  Bababa ako bababa ako!"
E—-"Teka-teka"
Masyado akong na-excite.
Edmund dropped me off but there was no parking in front of the store or anywhere close.
E—- "Iikot lang ako, babalikan kita."
The size of this particular store branch was much, much smaller than the one in  83 Wooster Street in New York City.    I wasn't even sure if they downgraded, maybe they did.
I was completely enthralled once I stepped into their tiny store. I totally forgot that I have a husband waiting while driving around the block. After 20 minutes I emerged from the store with a book and some table napkins made in India.
After the success of their tv show,  big venture capitalists bought into the company, expanded her line, and opened branches in Shibuyq-ku, Tokyo, in London, and in Round Top, Texas.  After only a few years, Shabby Shic suffered financial losses and was forced to close all its branches.
The talented British designer is keeping her roots in Santa Monica where her store is still open and thriving. They also sell online and offer design services. Rachel Ashwell's highly successful tv show disappeared on air.  They did reruns for a while but lately, I haven't seen it air.
They came up with a small line of beddings exclusively for #target and that's where I've been buying their stuff. They only have very limited designs and believe me I have the complete line. Hahaha, fan talaga.
Sayang nawala sa isip ko. I should've visited their store when we were in Santa Monica on December 22, 2017. Di bale, maybe I will have another chance next year.
Back to the present time:
I found this never-been-used Shabby Chic quilt tucked away in one of the drawers in the second-floor guest room.  It was still in a plastic shopping bag gathering dust.
Nakalimutan ko na talaga that I have this.  For sure I bought this from #target.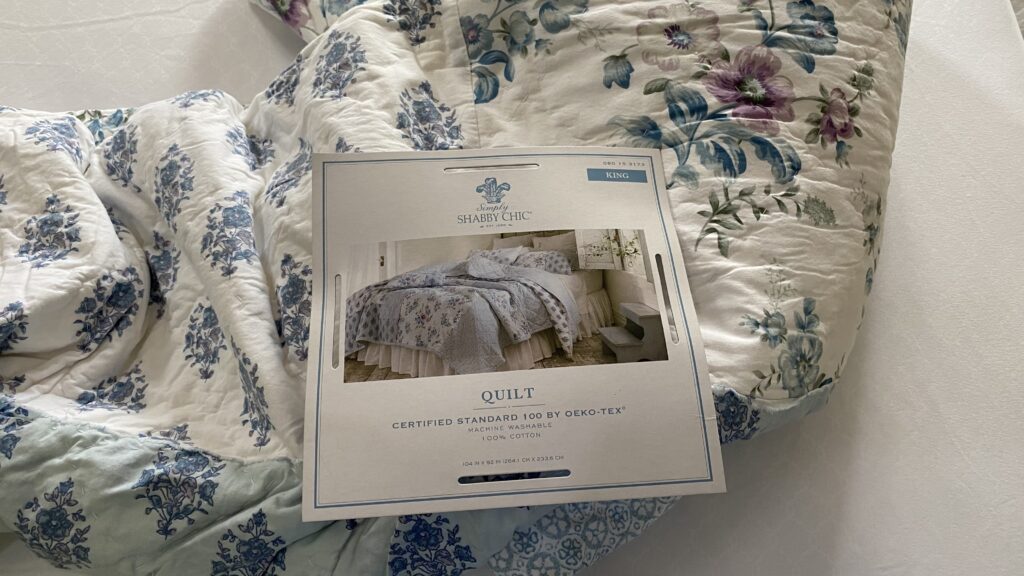 I am not fond of quilts kasi parang tagpi-tagpi but the reasons why I bought this is number one it's  color blue, and the brand is #shabbychic.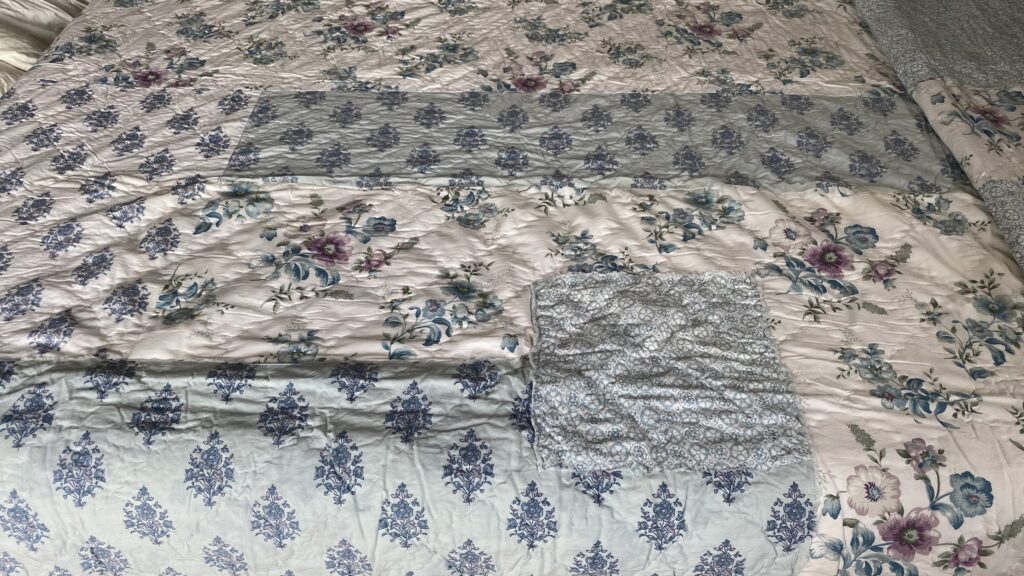 This is lola look.