May 26, 2019
Unlike in the past when I was always the host assisted by my sister, two thousand nineteen is the start of our hosting rotation. We now take turns in hosting our Tan family reunion and this time, my eldest brother Dr. Rick Tan Jr. and family are the hosts. His eldest son, Dr. Ric Tan III, is the officer in charge, assisted by his wife Jennifer, kids, and his brothers.
Relax lang ako ngayon kasi hindi ako ang punong abala.
This year's venue: Residence of Junjun and Jennifer in Davis.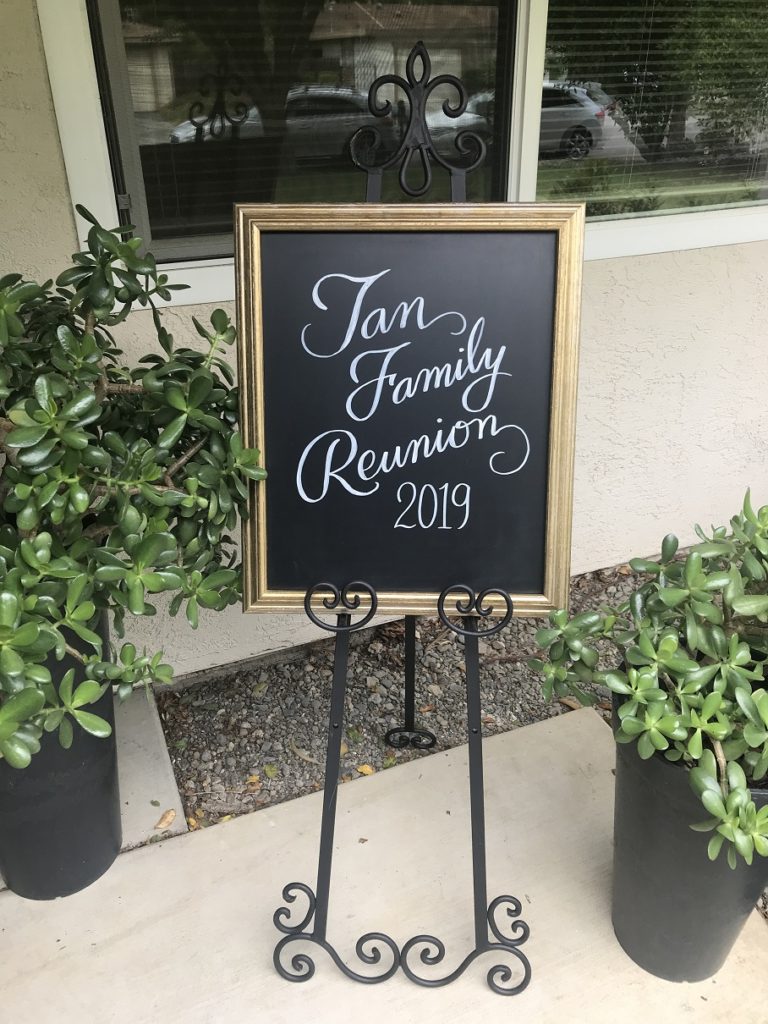 Registration table, name tags, t-shirts with the TAN logo of Tapat, Sipag at Tiyaga.

The duck stays with the host till it's handed-over to the next year's host. We made it a symbol because one of our father's main activities when we were growing up was duck-raising. He supplied the eggs to Pateros, etc., to those making salted eggs, balut and penoy.

My nephew and his wife Jennifer are multi-awarded events organizers, wedding coordinators, party stylists, musicians, artists, etc. Their company TAN Weddings and Events are always featured in wedding magazines.
They handpicked the food caterer, a kababayan who also caters to wedding parties in the Vallejo, Davis, Fairfield areas.

Despite either growing up or being born in the US, our nephews, nieces, and grandchildren love Filipino food.
No Filipino party in the US is ever complete without lumpiang shanghai

We're meat lovers.

This adobong pusit was the first to disappear.

Michaela is a staff at Tan Weddings & Events. She was there at our reunion assisting Jen and Jun.

The rustic and romantic garden setting was styled by Jennifer. She has done hundreds of garden wedding decors, floral arrangements, personalized ribbons, etc. She and her husband are very artistic, not to mention super talented.

I can't arrange flowers like this. This lovely floral arrangement is the work of a professional.

I want to buy dining chairs like this but they are not collapsible for compact shipment.
I hope there's an importer from the Philippines so I could buy 20 pieces.

Junjun and Jennifer wear many hats. They are school teachers too. They also run special classes teaching children arts, crafts, organic gardening, farming, music, etc.
Len and Bong

Kuya Junior's youngest son, Atty. Ryan, with Sherwin, and Kuya Romy

Kiefer and Mason have grown so tall since last year. Para bang isang ruler ang itinaas. We have the same birthday, they turned 16. When I told Mason not to date ugly girls because they might contaminate our genes, his dad, Doick couldn't help but laugh out loud. Ang gwapo nila sa personal. They were supposed to have a vacation in the Philippines this July but they chose to buy a car instead. Next year na lang daw.

We had parlor games. I was so funny, I gave ridiculous answers. Who parted the red sea, I answered Jesus. That's what happens when you're not Facebook friends with Moses. Kuya Junior got most of the answers right, Aileen was the runner-up. I had several correct answers like who was the 93 years old guest of honor at the British Airways' 100th year anniversary. I answered "the queen". She just had a birthday bash on April 21. When Junjun asked where would the Filipino soldiers who survived the military plane crash near Mexico and California be buried. At first, I answered San Diego, ngek, then I realized teka nga, buhay pa eh bakit ililibing na. My second answer was correct. The Filipino soldiers are not going to be buried because they are still alive. Sasali nga ako sa game show ni Willie Revillame. Ano ang kabaliktaran ng maganda? Sagot— "Malakas!"

Many were absent. Kuya Lito, Dimple, Patrick Jenny, and Justin were in Europe. Kay, Ronnie, and kids were in Sacramento, JR was at work, Oyen was in Manila busy at work. Tintin was also absent. Evelyn and Rae wala din.

Cheers everyone

I went back to the buffet several times.

It rained, it poured, so we had no choice but to abandon the garden.

Hayun tuloy, I forgot to try the pink-looking drink. It looks so refreshing, sayang.


Lemonade

Rick IV made this 3D prints. I ordered several of these to distribute to my siblings.

Len and Linden

A lot of people think Edmund's surname is Tan-Yee.

Dati-rati ang mga laro namin hindi kailangan mag-isip, ngayon, intellectual games. Kailangan i plug in ang brain charger.


I still call my nephews and nieces the same way I called them when they were little. I think I am the only remaining person who calls them by their "baby" nicknames. Junjun, Doick, Neng-neng, Kaykay, Tintin, Bingbing.

Yen sent 2 packs of MEMZ pork chicharon made by her friend. It was cut into small bite-sized pieces, crispy and delicious. I just couldn't eat so many because I have very high bad cholesterol. Buti pa ang Ate Linda, favorite nya chicahron pero mukhang hindi tumataas ang cholesterol.

Even when it was raining, the line at the halo-halo bar remained long.

Every Tan Family Reunion had halohalo.

I had four cups, without ube ice cream kasi masyadong tatamis.

The ube ice cream was a winner among the US born Tans.

Sisters' halo

Although all of them live in the US and are within driving distances to each other, they still don't see each other frequently. Lahat busy with their own families. Our annual reunion forces all of us to be together at least for a few hours in a year.
It's harder for me and my family because we still have to fly from Manila but it is worth the time, effort, and expense. It has made us closer and the younger ones are more comfortable and familiar with each other.

Kuya Romy and family would be the 2020 hosts. Naku sigurado bundat na naman tayo sa busog kasi super sarap ang kare-kare ng Kuya Romy pati na ang kanyang version ng bulalo. Si Edmund number one fan nya. Kahit saan kumain si Edmund ng kare-kare at nilagang baka, basta for him, mas masarap ang luto daw ng kuya Romy.
Last October 2018 – November 2018 Kuya Romy got very sick and landed in the ICU for two weeks. He scared all of us. We were already crying. Kuya Junior was talking about Kuya Romy pulling it through. I want and wish for my siblings (including me and you) to live up to 85 at least. Kung pwede lampas pa ho.

I would like to thank Junjun and Jennifer for organizing this year's reunion. The table setting, the flowers, the food, oh my God the halo-halo, the games, everything was perfect. Even if the rain drenched the beautiful table decors, it was still a wonderful afternoon. We all had fun and I personally can't wait to see you all again soon. God bless to all.