I was trying to continue watching the Netflix series New Amsterdam last night when I passed out. I was so tired from stress and I didn't realize the exhaustion. I slept through the night from 12 midnight to 8 am. The first thing that my husband told me when I woke up was there was a fire at 2 in the morning that killed 5 residents. I am a light sleeper and this is a rare night when I didn't even hear the sirens and firetrucks coming.
Oh my God. One bad news after another.
I checked the Viber messages and yes indeed there was a fire. There was confusion about whether Architect Gilbert Yu still lives in that house. One said he moved to Forbes Park and the house is being leased. Someone said it's owned by Gilbert Yu, another Gilbert Yu, not the famous architect.
My husband was awake at 1:30 am kasi masakit daw ipin nya. His friend, Manny Zamora, a Chinese-Filipino businessman who owns two firetrucks and who generously volunteers his own time and resources responding to emergencies like this, texted Edmund at 2 am informing him there's a fire. Edmund went up to the deck to check but he couldn't see the smoke.
The huge house is made of adobe stone and occupies the whole lot which is approximately 1500 square meters or more. They have two driveways and according to the report, the firetrucks couldn't enter either of the driveways because they were full of cars. The drivers couldn't get the keys too to enter the burning house.
This village has two firetrucks parked near Gate #1 and they are always filled with water. The security guards and maintenance crew are the first responders in situations like this while waiting for the professional firefighters.
Five people perished from the fire. Gilbert Yu, 65, his wife Charito, 62. Rita Yu, 57, Ryan Yu, and Abegail Yu. Three people sustained injuries and are now in the hospital. An elderly woman, 92, and her nurse, including two drivers and seven maids were all safe. They were sleeping on the ground floor.
I learned that firefighters and paramedics were seen literally carrying the victims from the house trying to save them.
There were a total of 23 fire trucks that came and all helped, some destroyed some of the house's window grills to get the residents out. A young girl jumped out of a window and was able to escape with minor injuries.
Fire brigade volunteers were at the scene doing their best to save lives and property.
According to the initial reports, the cause of the fire was a cellular phone charger in the servants' quarters that caught fire and quickly spread to the adjacent storage room. Those sleeping on the second floor were trapped by the heavy smoke and couldn't find the keys to their fire exits.
Many years ago, three members of the family who owns the Rolex store Washington Watches, perished in a fire that started from their Christmas Tree. It happened at 7 pm. According to the reports, the maids and drivers escaped unhurt because they were on the ground floor. The mother and her two teenage sons got trapped inside the master's bedroom. Their bodies were found inside the master's bathroom huddled up together. The firefighters couldn't get them out because of the iron window grills. We were out of the country when that happened, I think December 28. Our guard, Sgt. Jerry messaged me to say "Mam, merong nasusunog na bahay dun sa may likod". He updated me every several minutes and assured me "nakabantay sya." The fire could be seen from our backyard.
Nakakatakot yang sunog. Ubos lahat. Nuong maliit ako, I always heard my mother say "manakawan ka na huwag lang masunugan". Pero syempre mabuti na rin yung hindi ka manakawan.
Let us revisit our emergency guide:
Check!
Matagal na kaming meron nito, like years and years. Recently I bought several for our offices pero I haven't turned them over to the staff. This accident reminds me that I should send the emergency ladders to the office on Monday.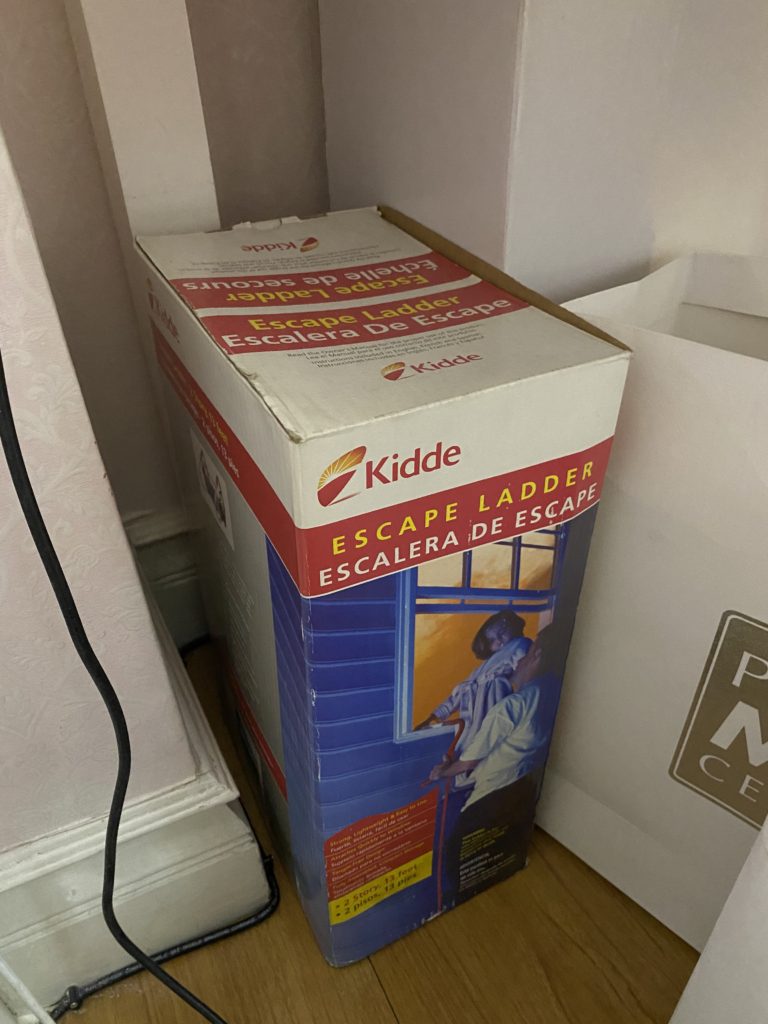 Fire blanket— I have this too. One is near the stove in the kitchen, in our bedrooms, and one here.
This cannot cover your whole body but you can use this to cover a fire that's just starting and it will also protect you in case you really need to run while passing thru small fires.

I also bought fire extinguisher balls as big as a basketball from Amazon.com I have them in the US by the kitchen stove and in the pantry. And I kept two more somewhere (I forgot). If the temperature around it goes up to 1,000 degrees, the balls would self-detonate in 3 seconds, explode, and scatter non-toxic chemicals to extinguish the flames around it.
Fire extinguishers— Let's do an inventory and replenish or buy new ones. Train me, you, maids, drivers, employees, security guards, how to use them.
I told the household staff to unplug their cellphone chargers before they go to bed, and not to leave them forever plugged during the day. Electric fans and irons are also fire hazards.
I will have an emergency alarm installed.
VERY IMPORTANT: CHECK YOUR WINDOWS, DOORS, ESCAPE ROUTE IN CASE OF EMERGENCY. If you have window grills, cut a portion as an emergency exit. Don't padlock it. If you live in a secure village, mabuti pa remove the grills na lang.
My husband has been thinking of converting my van which I haven't used for one and a half years, to a fully equipped ambulance. We will just park it daw in the garage. If our neighbors would like to borrow daw, ipapahiram namin. Ang problema, who's going to drive the ambulance? Where is the nurse or paramedic?
E—–"Siguro kung bilyonaryo ako, meron akong dalawampung ambulance. Naka standby sa iba't-ibang lugar, para kung merong may kailangan, mabilis lang makaka respond".
A—–"Nung isang araw, merong ambulance sa EDSA, wang-wang ng wang-wang hindi gaanong maka usad kasi ang traffic. Pwedeng mamatay na ang pasyente, hindi maka abante."
Me naman, I have been dreaming of having my own firetruck parked beside our house. I guess I am not the only one thinking of this right now.
A—–"Tart, gusto kong bumili ng firetruck."
E—–"Milyon yun. si Manny Zamora merong dalawa, sya pa daw ang nagda-drive dati"
A—–"Sa bagay yung bulok lang na truck isang milyon na."
A—–"I also need to train firefighters."
E—–"Maraming magbo-volunteer."
Ambulances and two firetrucks in every barangay— this we should ask from our politicians. Yung walang pintura ng pangalan at picture nila.