Aug 9, 2021
An old friend from ages ago once invited me (12 years ago) to visit a place called Muir Woods. I didn't go but the name of the place got stuck in my head most especially that I hear it quite often these days.
My niece Tintin just came from a hike in Muir Woods with her boyfriend. It was a light bulb moment, Aha! That's where I want to go.  I asked my son about it and he told me I might not be able to climb the steep trails. I told him Daddy and I will just drive by and see what this redwoods craze is all about.
Hindi pala pwede just to drive by. We have to go a little deep into the park for a better appreciation of the area. Parking too is limited and a prior reservation is required.
Edmund Googled the Muir Woods National Monument site and was able to reserve a parking spot.
Here we are, in Muir Woods, on one pleasant Monday morning.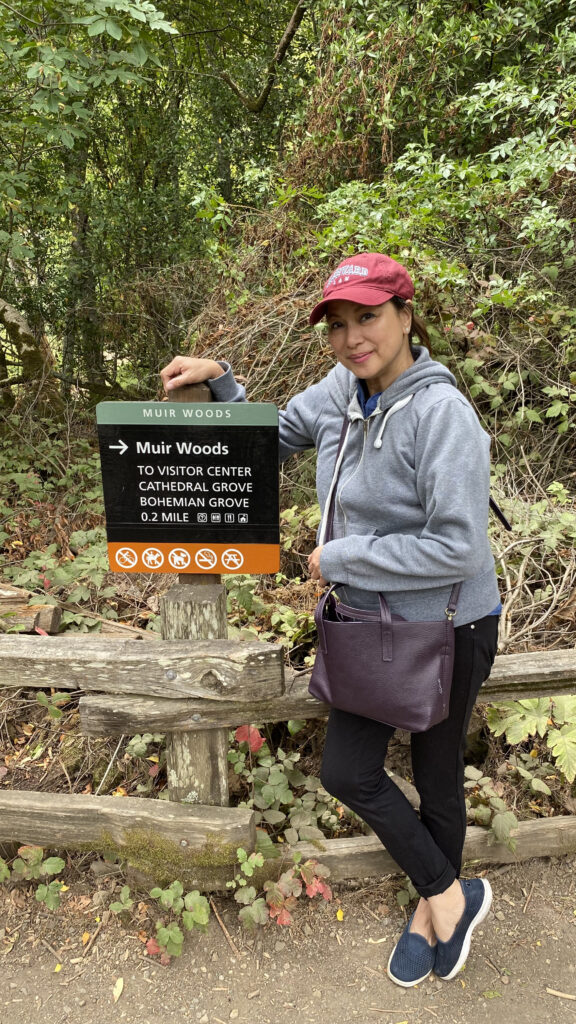 My goal is to be able to see one big redwood tree, take a photo for souvenir, and to show my children that dad and I have been there. Simple goals.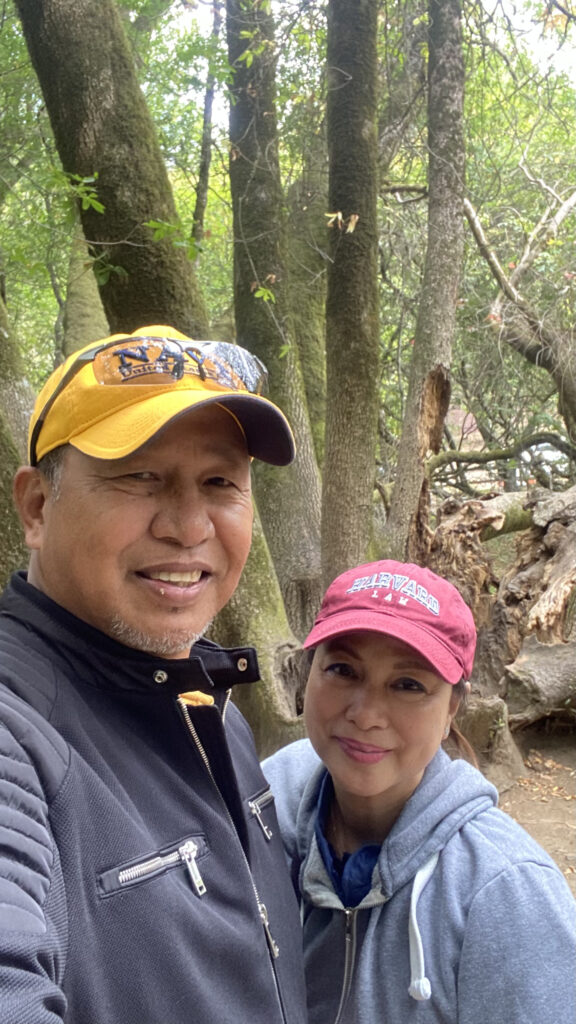 Hiking has become even more popular nowadays. Visiting national parks is also a nice way to get out of our cabin fever due to the lockdowns and virus risks. Immersing in nature and breathing the freshest of air are both liberating and good for our soul.
I have simple goals for today and it doesn't include entering and getting lost in the forest. We also don't have emergency food or water.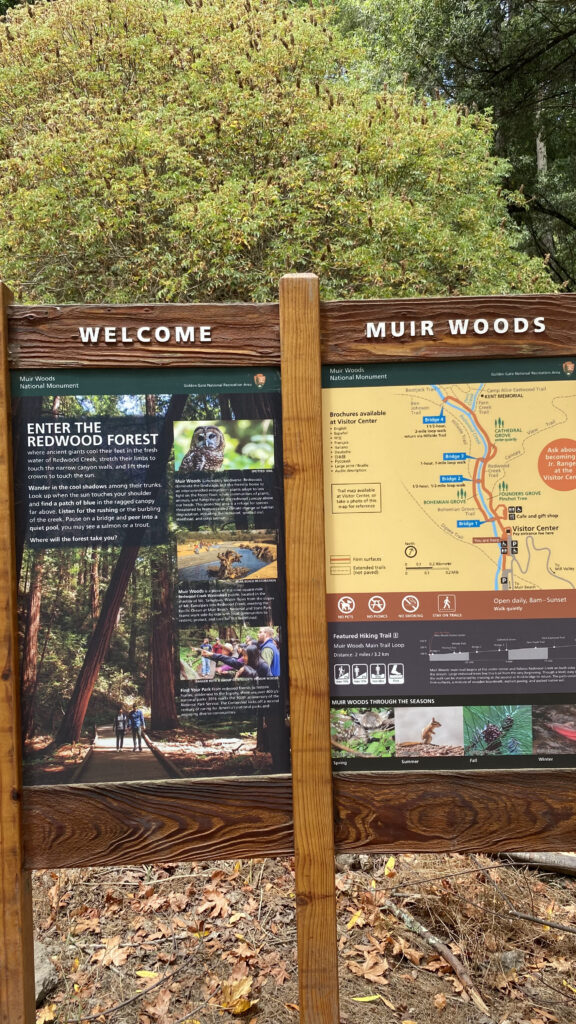 We have to buy entrance tickets pala.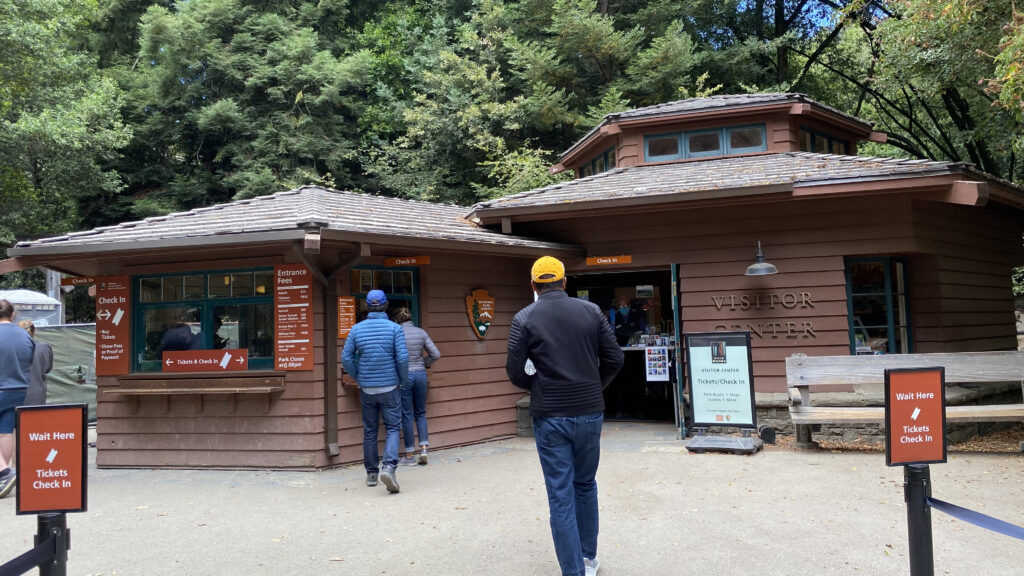 We are looking at the big trees,  yan na ba redwood para maka selfie na kami then uwian na.


Buying tickets means we really have to go inside the forest otherwise we'll waste our money.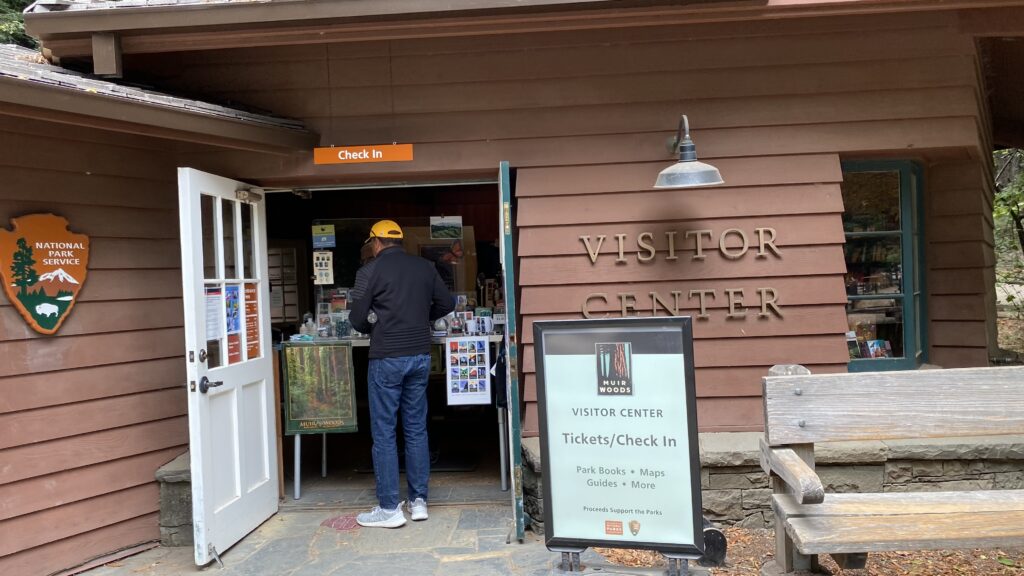 We are asking each other if we are really doing this.  Haha.  It's no big deal to most people but since I don't do any exercise or even short distances walking, my husband's concern is I will not be able to do it.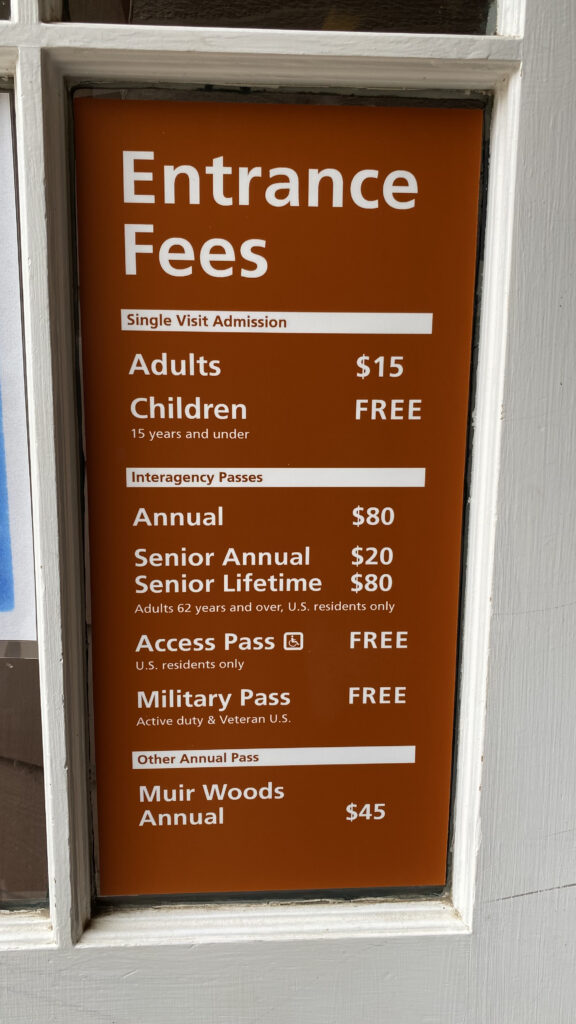 Here I am,  communing with nature. It feels so good to be here.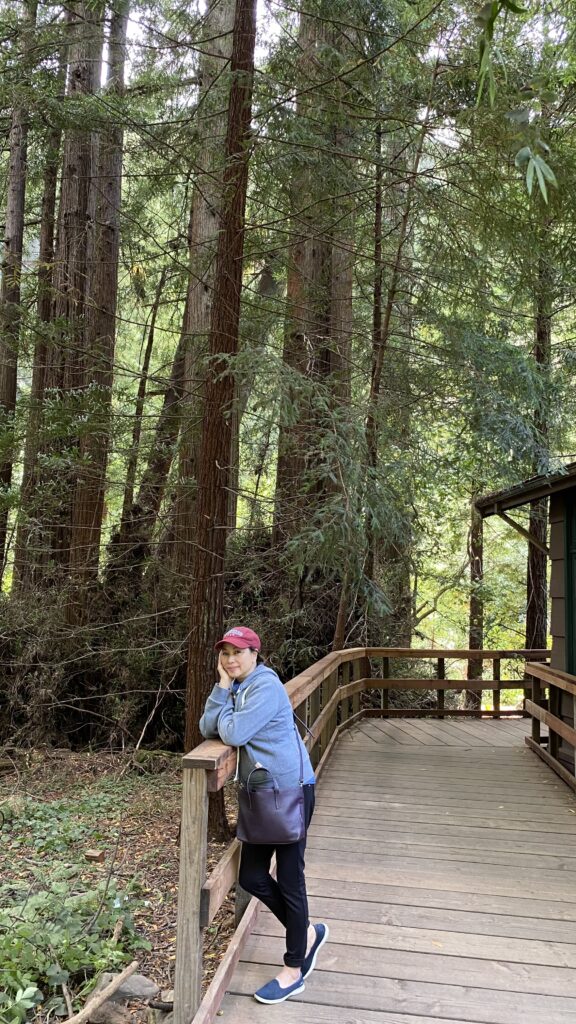 I am imagining that I live in this wooden cottage surrounded by tall trees. But nowadays it's no longer as safe to be deep in the jungle. Wildfires are real and present danger in California.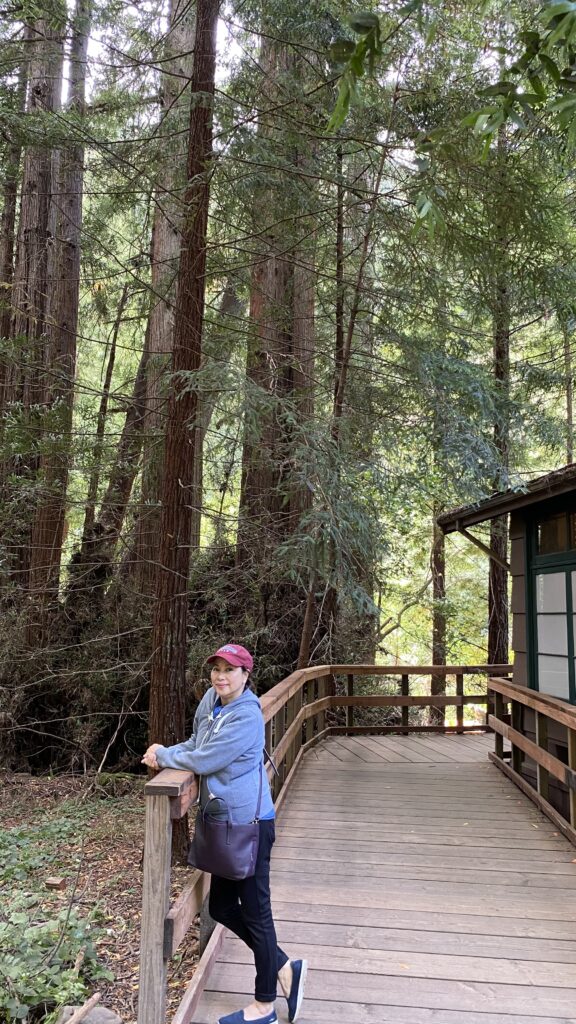 We haven't started walking or hiking yet I feel so content already.  Happy na ako kahit dito pa lang kami sa bukana. I am so pleased that we are here.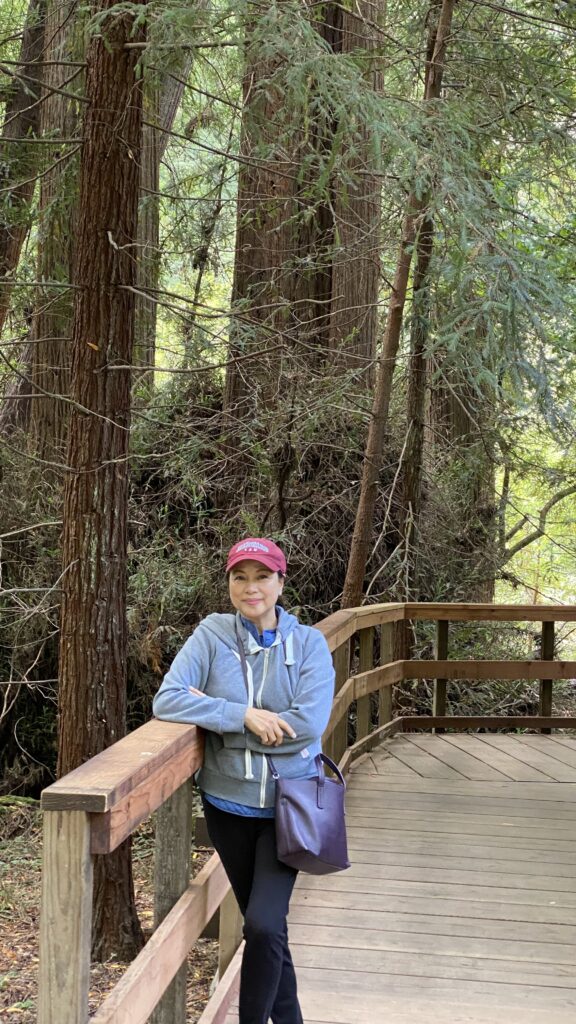 Hindi pa kami nag wo-walk timeout na agad.  Coffee break.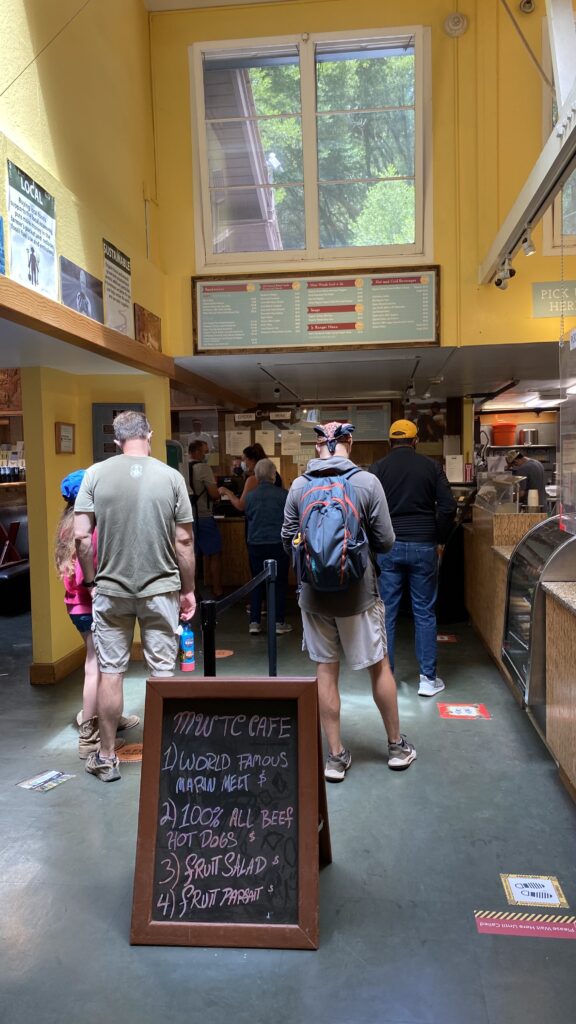 Before stepping on this short bridge,  my husband asked me kung tutuloy kami.  He can walk several kilometers because he plays golf two to three times a week and aside from that he also walks around the village.  Me, nothing.  He is asking me if I am up to the challenge.  Eh I am here already, sayang naman.  The weather is perfect and I am enjoying the serenity and calmness of my surroundings.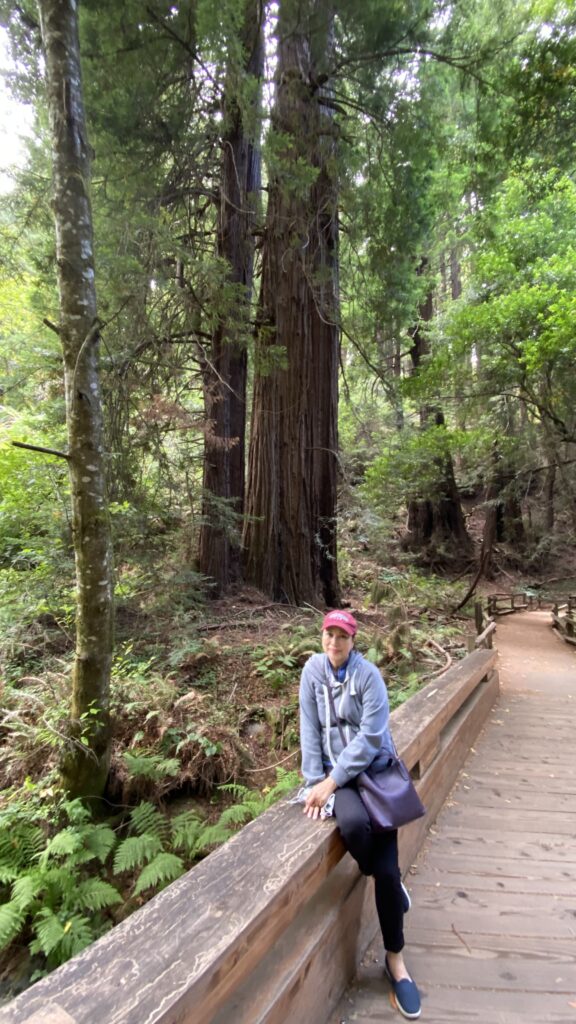 Another hiker offers to take our photo together.   Thank you.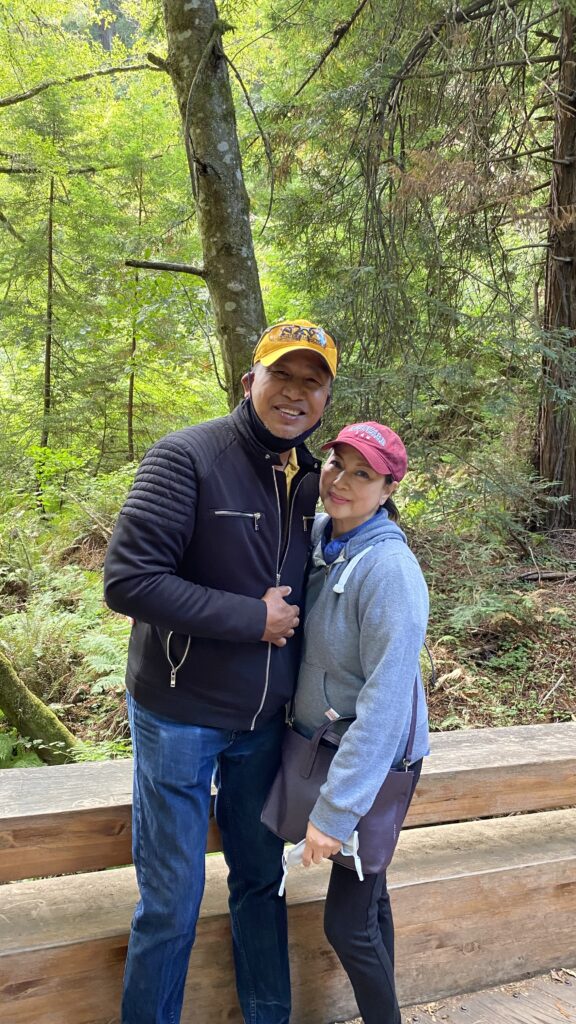 We are taking a lot of photos kasi nature is truly inspiring.   Gwapo mo 'dong.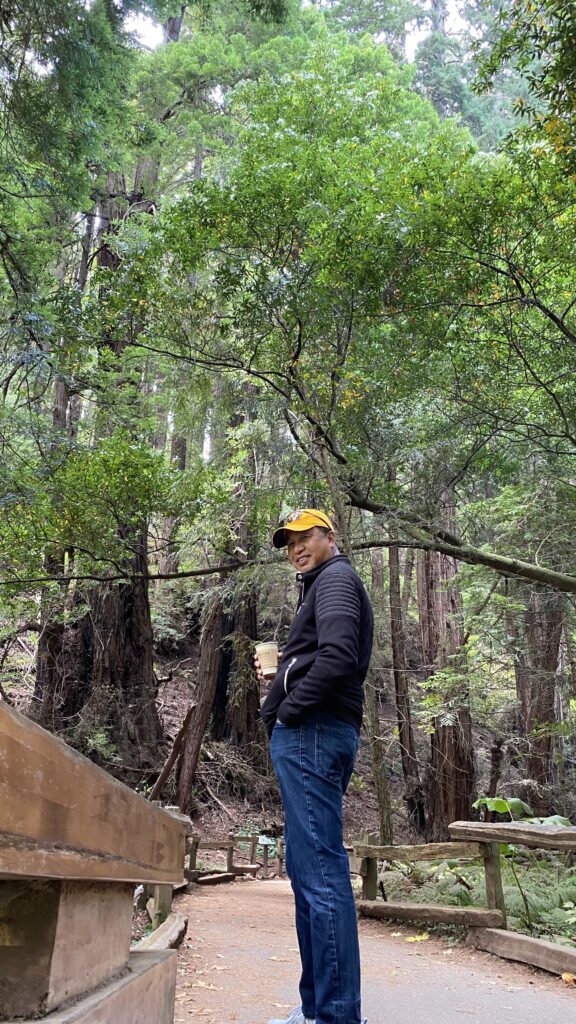 And you too majestic tree. Gwapo ka din.  Super.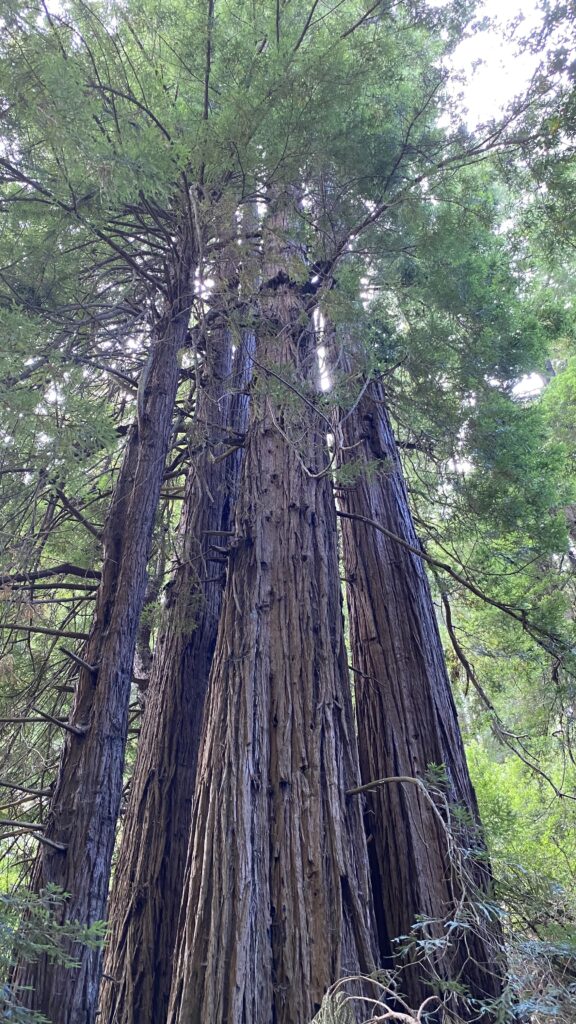 The century-old trees serve as natural umbrellas which keep the temperature cool and moist whole year round which is vital for plant growth. No heatwave here.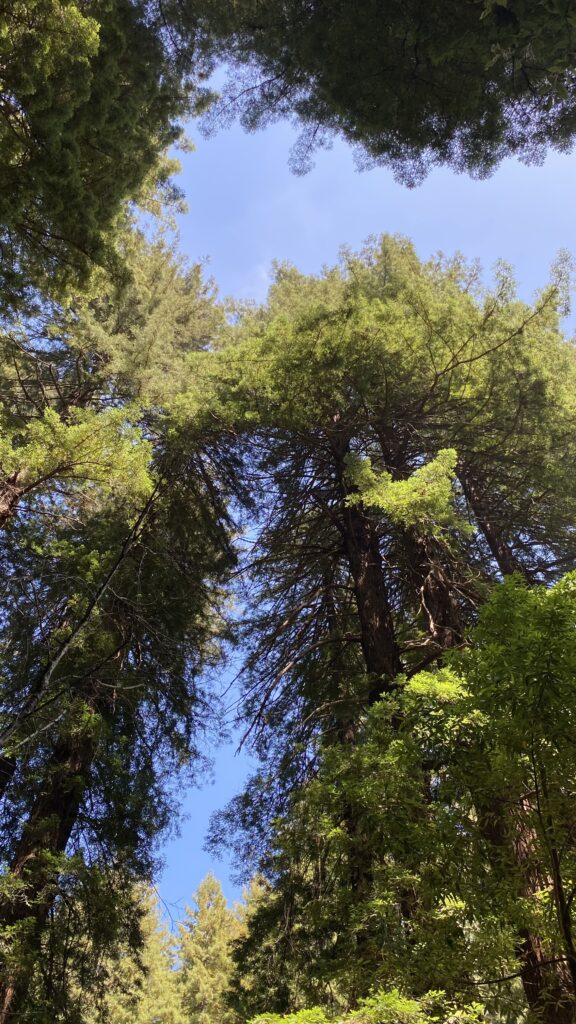 We are having fun while exploring  this redwood forest named after John Muir, a Scottish-American naturalist.   There's also a hospital named after him.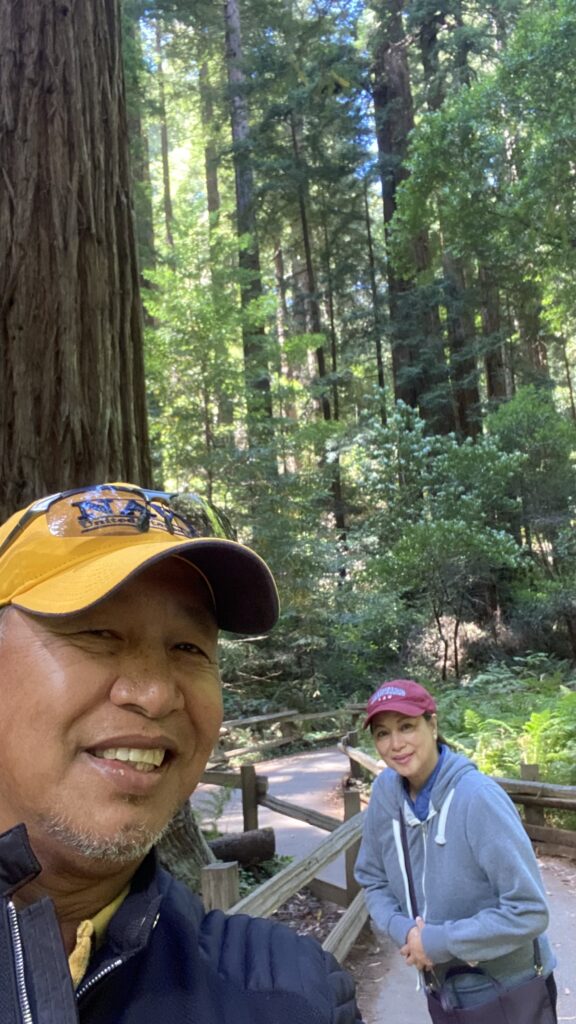 We are just too scared to wander off and get lost.  Many people lose their bearing and sense of direction.  We don't want to create trouble by becoming the center of attraction.  People who hike and who are so confident that they know how to get back safely,  some get lost.  A massive search would be launched and American tax payers' money would be spent looking for those brave hikers.  Some end up dead.  We don't want to end up like that, bother a whole lot of people, and ending up dead or seriously injured due to our daring adventure.  So dito lang kaming dalawa,  sa sigurado na makakauwi pa kami.   Stay on trail.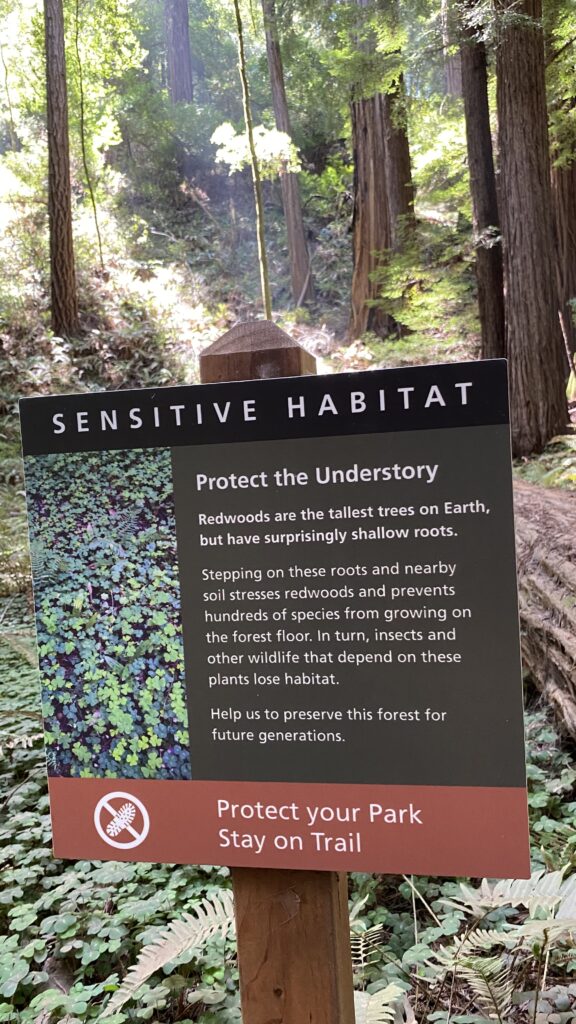 Some trees die and fall flat.


Most of the giant redwood trees here are old growth and are between 100 to 2,000 years old. In some areas, some are older than that.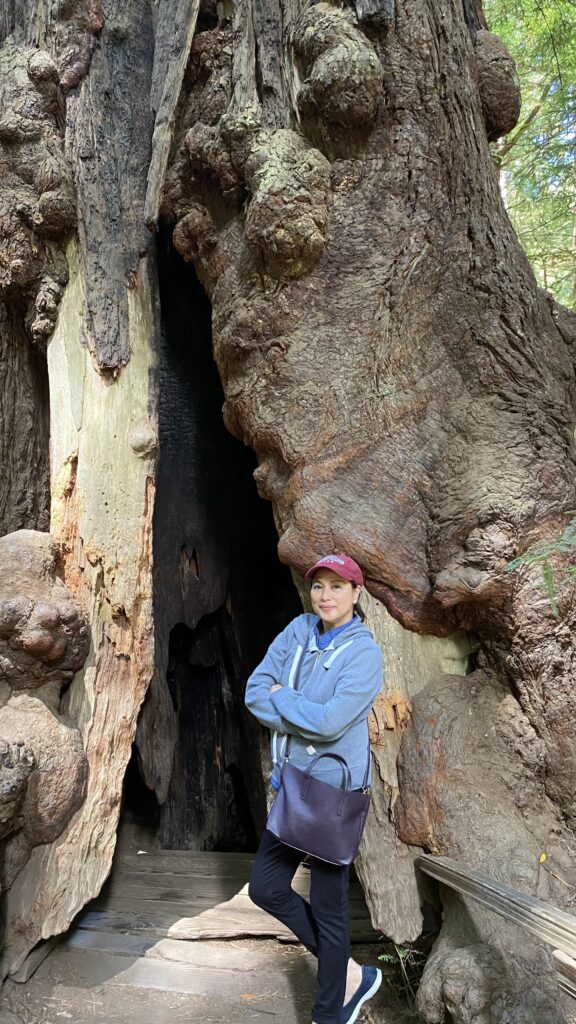 We are in Lilliput Land.  We are the miniatures.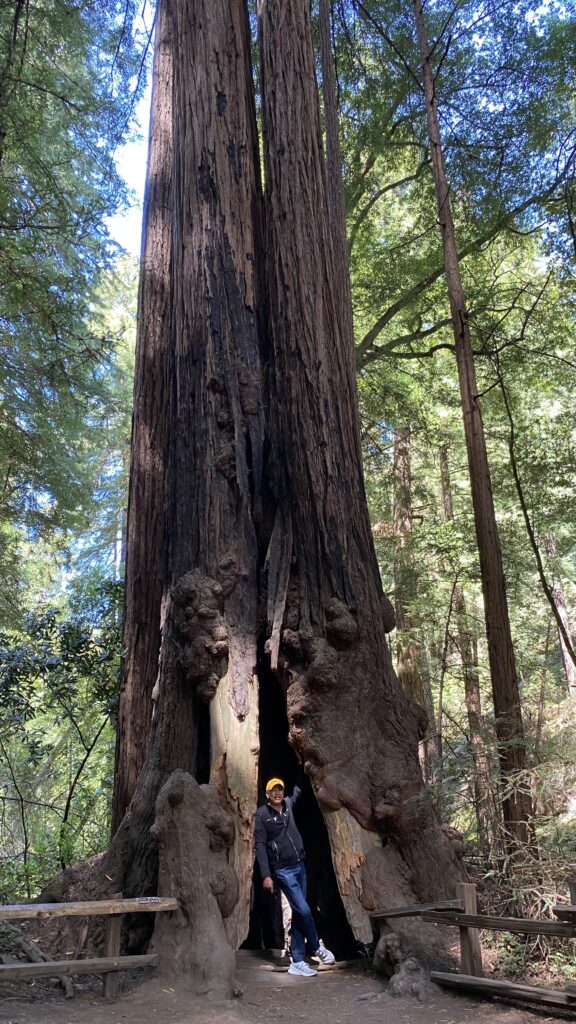 Redwoods are officially the tallest  trees on earth.  They can grow to as much as 300 feet or more.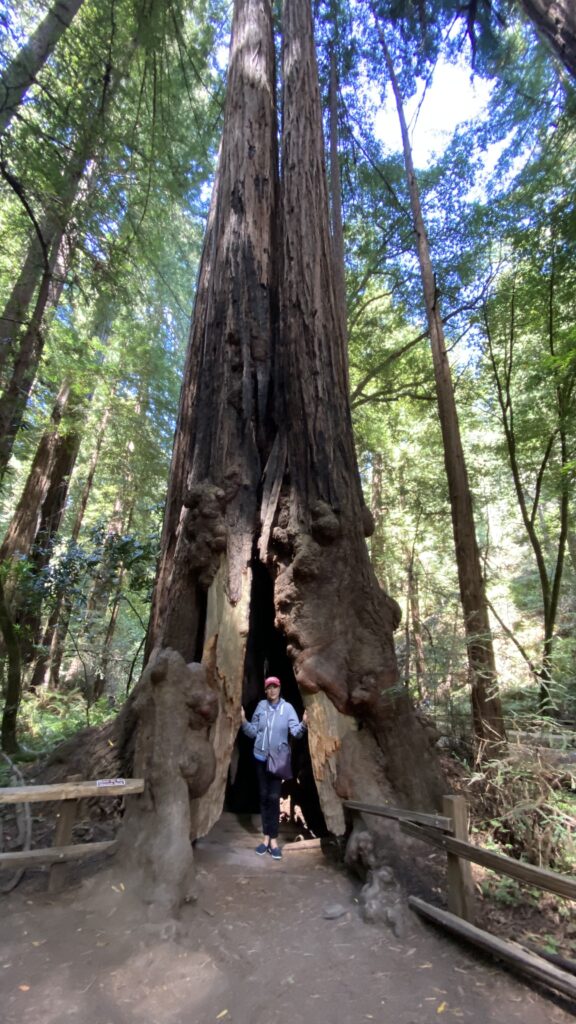 Another dead tree has fallen.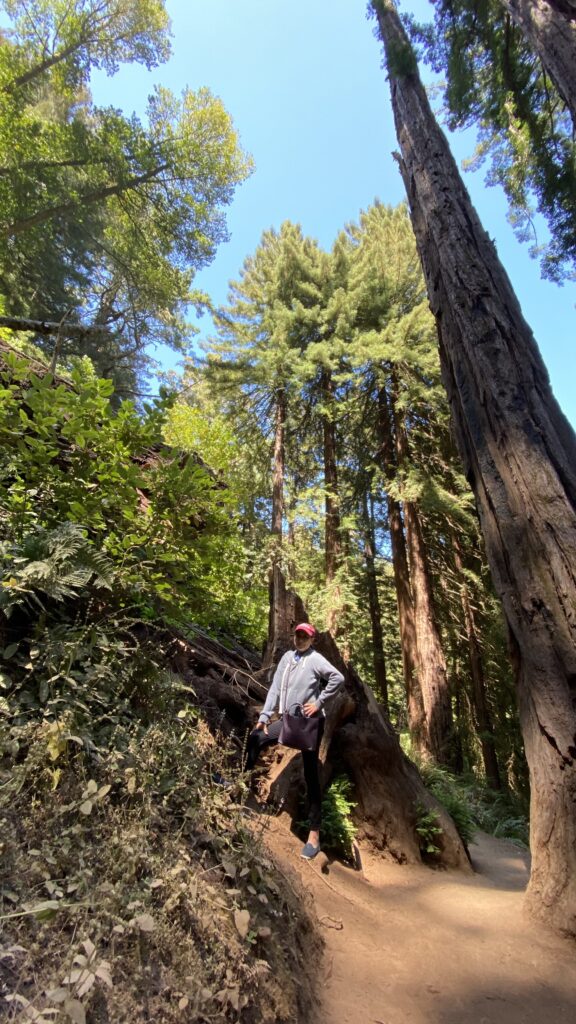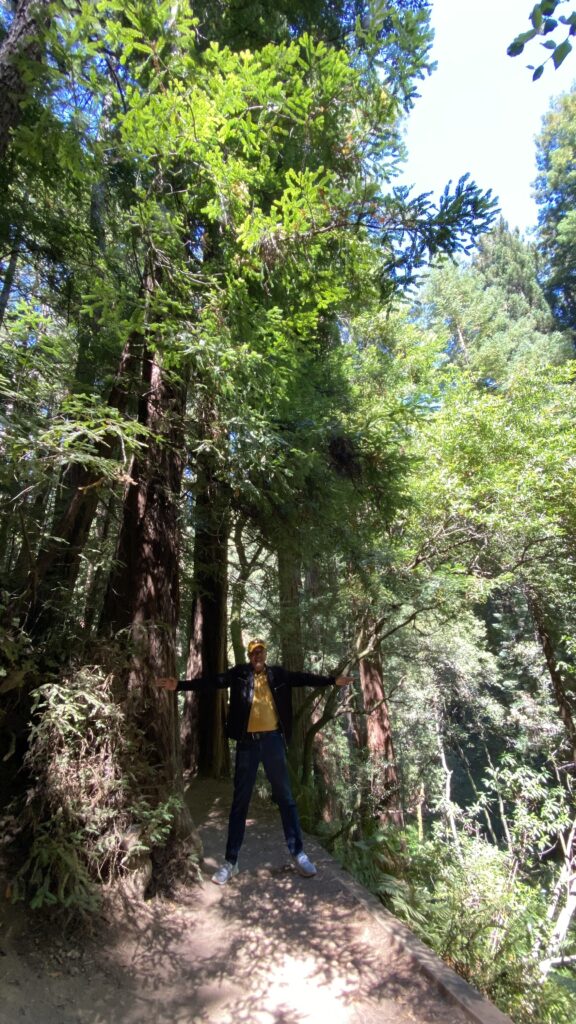 Redwoods first appeared on earth 240 million years ago after the dinosaurs became extinct, and before humans and other animals came into being.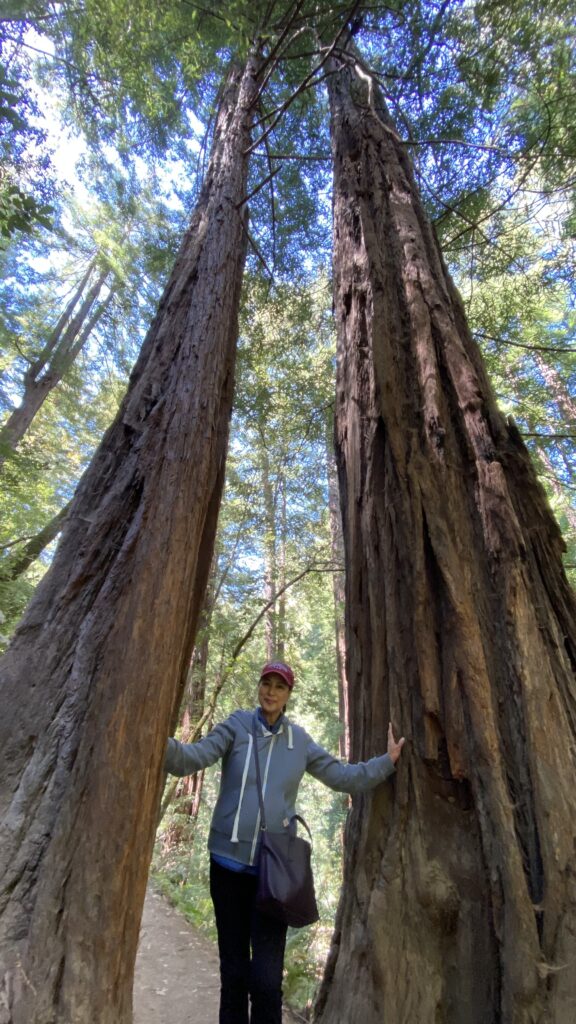 We climbed some steep terrain and walked on very narrow and slippery trail beside cliffs. Don't hike in late afternoon or when it's dark, or drizzling, Never come here with someone who doesn't like you or you and your partner are fighting. Believeme, he/she can easily push you off the cliff. Be careful too when there are other people walking with you. There are very narrow trails that are less than 1 meter wide. You can slip for whatever reason or while avoiding them. Or they can accidentally bump you and you could fly off the ridge. Yes I am paranoid. Better to err in abundant caution that ending up a natural fertilizer for the plants and trees below.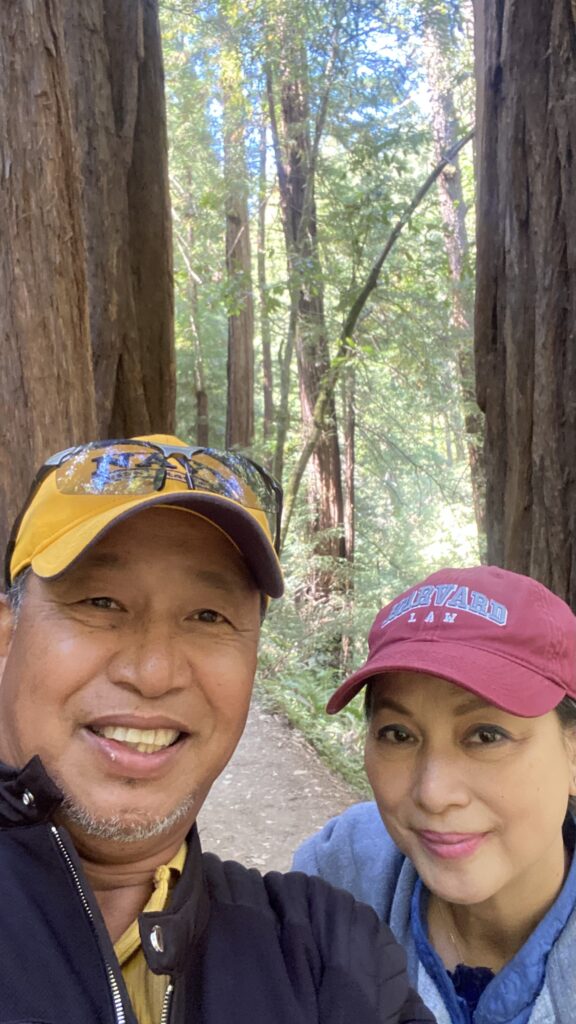 a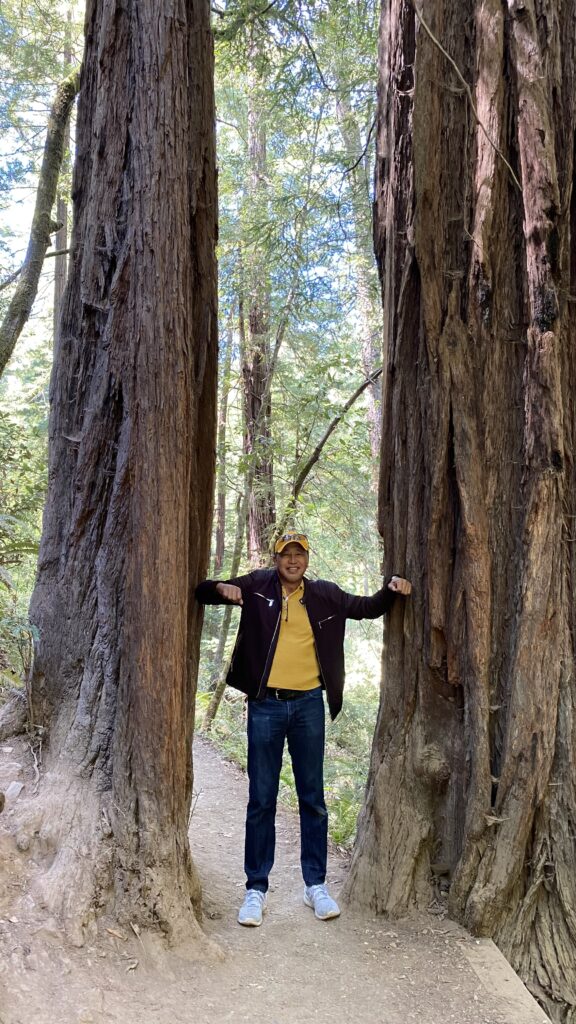 We thoroughly enjoyed our short hike which lasted for almost an hour and some 8,000 steps. I was so proud of myself. My kids were impressed I was able to hike and walk.  I achieved my simple goal for today and more.